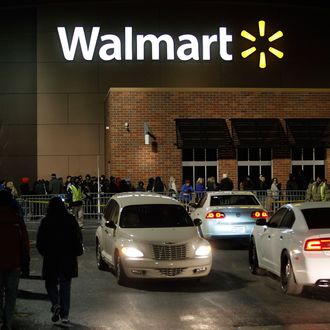 One-stop shop for all your cake and drama needs.
Photo: Joshua Lott/Getty Images
Employees at a Georgia Walmart are in trouble for refusing to make a "thin blue line" cake for a police officer's retirement party because they said it would have been "racist." Fox News has been keeping everyone in the loop ever since Taylor Wilkes, a friend of the cop's family, posted about the incident last Thursday on Facebook:

The officer's daughter (whose identity has been kept anonymous) told Fox's Todd Starnes that she initially requested a cake that looked like her dad's police flag. The bakers said the design "could be perceived as racist," and rejected it. As a backup, the daughter suggested a chocolate-frosted cake with a blue line across it, and the workers reportedly said they didn't "feel comfortable" with that idea either. In the end, she went to Kroger's bakery instead.
After Wilkes posted about the exchange on Facebook, Walmart's manager got wind of the situation, apologized, and donated a $50 gift card, plus "some extra stuff" for the party. A company rep called the employees' refusal a "misstep," yet the family reportedly feels the manager's apology was "very scripted and not very sincere."

The Walmart manager also offered to make the cake anyway — which the daughter in question agreed to. The cake decorators still wouldn't budge, though. "So the manager told me that he would decorate it," the daughter says, adding the result "looked terrible. It doesn't look professional." She shared a pic with Starnes:

Wilkes has since posted her own update calling for a Walmart boycott, explaining that while "the mistake was 'made right,'" she still won't be shopping at Walmart "due to the 'quality' of employees they hire."