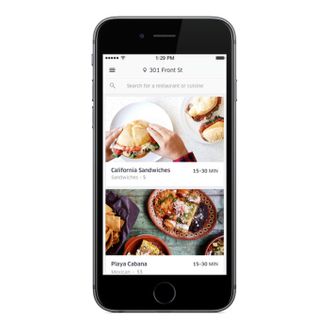 Still can't use it in most of Brooklyn.
Photo: UberEATS
If you're in Europe or the Middle East and short on decent delivery options, UberEats may be stepping in to save the day. Uber's food-delivery service, which has been expanding aggressively in recent months, is already in 27 U.S. cities plus another 6 globally, but Reuters reports today that the app is going to pop up in "at least" 22 more countries, which brings the total to more than one-third of the number that have ride sharing. Service starts Thursday in Amsterdam, and the company says it will also add Dubai, Johannesburg, and six other cities by the end of the year.
A spokesperson tells Reuters they're doing this because they feel "incredibly confident" that UberEats is "resonating across the footprint of the cities in which Uber operates." That may be true — it's doing well enough in New York — but another spot where it might start resonating soon is in the courtroom. The food-delivery side's market entry in particular hasn't been without controversy: Riders in London have protested that their pay, which they say started fairly high (£20 an hour), quickly fell below the city's living-wage threshold of £9.40. And in New York City, bike couriers are petitioning Attorney General Eric Schneiderman to see if UberEats' independent-contractor model is even legal (riders get no safety training and aren't entitled to workers' comp or even minimum wage). The company describes its expansion plans as "aggressive," and Reuters notes it posted beaucoups of new UberEats jobs, so surely someone in the group is bound to understand local labor laws.