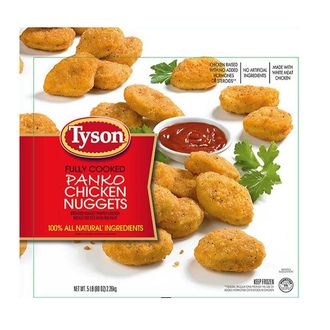 Bad news for the people who secretly binge on breaded pieces of chicken mush at 4 a.m. Tyson Foods has voluntarily recalled 132,520 pounds of chicken nuggets after discovering they could contain hard plastic.
The company was made aware of this chicken-nugget situation by a consumer who reported "foreign material" in his nuggets. (Never mind that, like, 60 percent of every chicken nugget could be considered "foreign material.") No illnesses or deaths have been reported, but the recall has been designated a class I, meaning there's "reasonable probability that the use of the product will cause serious, adverse health consequences or death." Put another way: Do not eat those nuggets.
The company has recalled five-pound bags of Panko Coated Chicken Nuggets with a use-by date of July 18, 2017. The company has also recalled 20-pound bulk bags of something called Spare Time pattie fritters, which were shipped to Pennsylvania and have a production date of July 18, 2016.