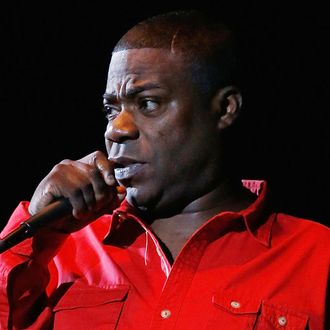 "It's like a small comedy show, and this is the stage."
Photo: John Lamparski/Getty Images
Two years after his near-fatal car crash, everything is finally in its right place: Tracy Morgan is back on tour, and he's once again prepping for shows in the way only Tracy Morgan can — by testing out jokes at restaurants without warning. He reportedly met his manager this week at Old Homestead Steakhouse, a favorite of his, and started trying out new material for his next "Picking Up the Pieces" stop in California in between bites of his two-pound rib eye. "Page Six" hears diners basically scored a free stand-up show, but somehow the paper managed to get none of the jokes.
However, as Grub once discovered at a dinner with him, Morgan used to test a lot of material at Benihana, where the awkward-communal-table situation presents "a built-in audience":

Morgan notices a guy at the next table listening. When asked what he likes about the vibe, Morgan answers loudly, for the other guy's benefit: "It's romantic. I go up to the hood, get a chicken head, bring her here and I'll wrap her up. It's fancy." Guy at the next table is loving it. "That's my thing, going up there in the hood and getting them chickens pregnant." Tracy's talking directly to the table next to us now. Everyone, about seven strangers, is on the hook. "I'm old-school. I don't be pulling out. I ain't wearing no rubber, either. If you ain't willing to die for it, you didn't really want to have it."
So, probably safe to anticipate a punch line involving him, a T-bone, and somebody ending up pregnant.