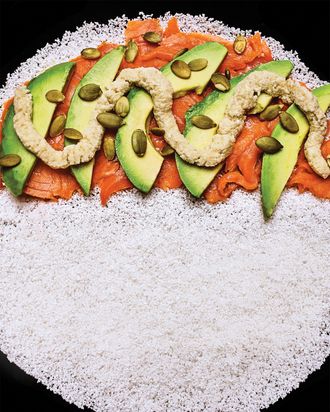 OCA's oca No. 6, with salmon and avocado.
Photo: Bobby Doherty/New York Magazine
There was a time in New York when tapioca meant pudding. Then it meant bubble tea. Now, at least in a handful of cafés around town, it has come to mean the brittle-chewy, pearlescent crêpe originated in northeastern Brazil and eaten for breakfast and as a snack all over that country. The tapioca crêpe is made from starch derived from the cassava root (also called yuca or manioc), which, when finely sifted into a hot frying pan, magically coheres into a sturdy, if soothingly bland, package for any number of sweet and savory fillings.
You will find various incarnations at the Beach Bistro 96 surf shack (95-19 Rockaway Beach Blvd., Seaside; 718-474-6000) in the Rockaways, and at Market Ipanema (66 Kenmare St., nr. Mott St.; 646-329-6144) in Nolita, where the kitchen rehydrates the tapioca with beet juice, turning the shell crimson and mildly sweet. Two blocks north, they are the featured attraction at OCA (250 Mott St., nr. Prince St.; 212-966-0622), a stylish nook that serves seven folded "ocas," as the owners have branded the crêpe, and two open-faced "egg 'n' ocas," which blend the starch with egg for a softer, suppler, more crêpelike liner.
OCA's ocas, served on what look like cross-sections of tree trunks, are well constructed and inventively filled — especially the sweet and tangy No. 4 (grilled pineapple with red pepper, feta, and mint), and the No. 6 (a good-fats feast of wild salmon, avocado, pumpkin seeds, and cashew-nut cream). They are listed, along with precise calorie counts and nutritional breakdowns, in a glossy catalogue-size menu that makes a case for the food's New Gluten-Free Age healing powers. Combined with the shop's excellent cashew-milk smoothies (and açai bowls and forthcoming salads), this is a side of Brazilian cuisine new to New York, where beef-happy churrascarias and sludgy feijoadas paved the way.
Of course, the crêpe itself might just be the harbinger of a grander commercial enterprise: Both OCA and TAP NYC (267 Columbus Ave., nr. 72nd St.; no phone yet), a rival crêpe shop slated to open this winter on the Upper West Side, will market their own boxed tapioca for the home cook, carving out an exotic alt-flour niche in a post-pancake world.
*This article appears in the September 19, 2016, issue of New York Magazine.