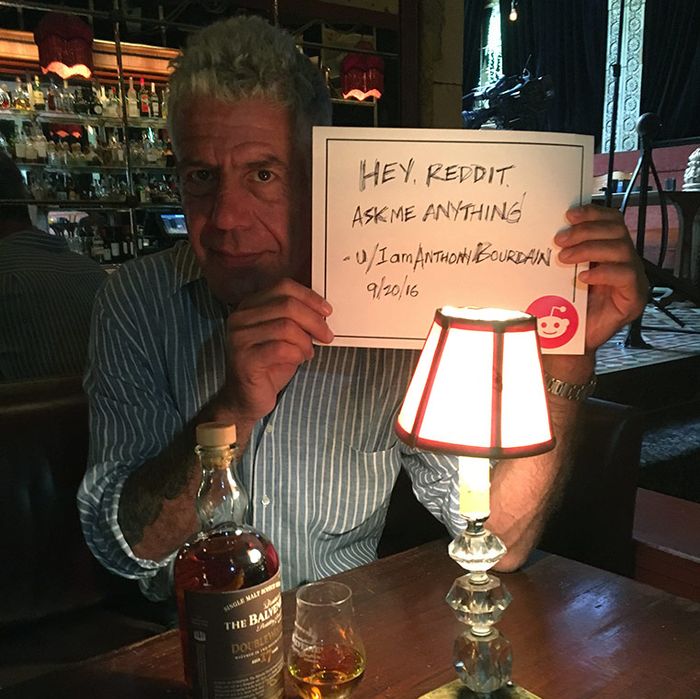 Does not get down with artisanal potato chips.
Anthony Bourdain hopped on Reddit Tuesday to do one of the forum's famous Ask Me Anythings. He's fresh off winning yet another Emmy for Parts Unknown, and his "working-class joint" meal with President Obama in Vietnam will air on the show's next episode. Now a veteran of interrogations by internet users, he happily answered questions about his turn on Yo Gabba Gabba! and the most embarrassing things that have happened to him while filming television. Here are a few of the very best bits.
On his fast-food cravings: "During the morning I get these horrendous cravings for Popeye's mac and cheese, and, uh, I will often disguise myself to try to slip into Popeyes."
The word that really bothers him: "[O]veruse of the word 'artisanal.' You know, an artisanal potato chip? What does that mean other than it's an expensive potato chip?"
He also doesn't want attitude with his microbrew: "Oh, I'm also no big fan of the judgmental barista and beer nerds. I mean, I like a good craft, but don't make me feel bad about my beer choices. You know what kind of beer I like? I like cold beer."
On his dream project: "You know the show I haven't been able to make yet, I'd like to do a show with Keith Richards. I'm working on it. He's an enthusiast and a voracious reader. He's very interested in British naval history. Maybe visiting the site of great British naval battles with Keith Richards, eat bangers and mash, cooking steak and pie together would be really fun."
Hinting at a possible wardrobe change for Parts Unknown: "It would be interesting to show up on a show with like a Trumpian Cheeto tan. Actually, I should try that."
On the most dangerous experiences he's had filming, including the Democratic Republic of the Congo, Libya after Benghazi, Beirut in 2006, and: "immediately after eating Nashville Hot Chicken, that was truly, truly terrifying. And if you're considering going to Nashville, by the way, please notice that Nashvillians themselves don't eat the extra-hot fried chicken. They know better. Unless you've got three or four days to spend in a bathroom, I really advise against that."
On the guiding principle behind editing Parts Unknown: "If I'm miserable and humiliated and everything goes wrong we show you that. I would draw your attention to the notorious Sicilian octopus fishing scene as a particularly unpleasant example of that. We really don't cut much out, if anything. Another example, Thailand. The famous Lady Boy Cabaret. It's filled with outrageously good looking transexuals or transvestites. Who kisses me on the mouth? The one girl who looks like Ernest Borgnine."
Discovering that Obama is super chill: "Rarely have I seen someone enjoy drinking a beer from the bottle as much as the President."
How his daughter reacted to his guest appearance on one of her favorite shows, Yo Gabba Gabba!: "But crazy enough when my daughter saw the show and saw me doting over Tootie–who as I recall, I was helping through an illness–she became really jealous and pissed off at me, that I was being so nice and attentive to Tootie."
Why he stopped taking every shot offered to him by a fan: "I know people offer those things with the best intentions but I'm a dad now. I'm the 60 year old dad of a 9 year old. I have to at least try to stay live long enough to get to the eye rolling stage of my daughter's life."
On realizing he has nowhere to go but down after Archer: "It was pretty much the high watermark of my career. After that, everything is meaningless."
He's still taking potshots at Guy Fieri: "Anyone who would insist on putting BBQ in a Nori roll, kind of offends me."
What kind of restaurants he doesn't approve of: "There is a restaurant in Vegas, I think it's called The Heart Attack Grill, where if you are over 350lbs you eat for free. I think that should be pretty much a war crime."
His advice for young aspiring chefs: "Look, you're either the sort of person who likes the restaurant industry, or you're a normal person … You're probably not going to be on TV, you're going to go home every night smelling of smoked salmon and garlic."
Finally, he weighs in on the very crucial hot-dog debate: "No. I don't think it's a sandwich. I don't think a hamburger is a sandwich either. The fact that it's in between bread–the bread is a delivery system, a ballistic delivery system. It is not a classic sandwich, in my view.
"I mean, if you were to talk into any vendor of fine hot dogs, and ask for a hot dog sandwich, they would probably report you to the FBI. As they should."