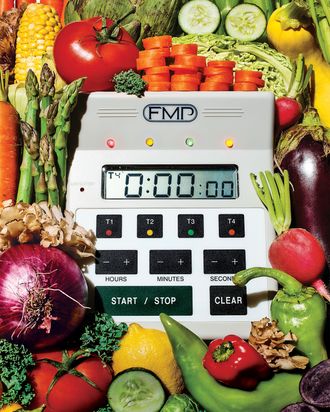 "This timer is loud. Performance-art loud," says Superiority Burger's chef Brooks Headley.
Photo: Bobby Doherty/New York Magazine
"I discovered the FMP 4-in-1 Digital Timer working at Campanile in Los Angeles, and at every other restaurant I have worked since, I have purchased one of these. Most convection ovens have a timer built into them, but they are quiet and always break. So then you get a little timer — the kind you can get at Duane Reade or a kitchen-supply store — but they're small and will fall behind the fridge. This timer is loud. Performance-art loud. We tape over the speaker, and it's still loud — so loud it makes you angry, even though it's serving its purpose perfectly. You could be in a large house and you could hear this on the other side of the house.
It's also got four separate timers, so you can have a really long one going — like when we do gigante beans in a low oven for six hours — while setting another timer for something that needs just a few minutes to finish up. When we opened up Superiority Burger, I was too caught up in thinking about all the other tools that we would need to think about timers. I didn't have one of these for a long time, until something — I think it was crispy potatoes or some other special — got burnt, and that caused me a lot of anguish. Smoke was pouring out of the oven because we just forgot about it. I got this timer the next day. All it takes is one tray of burned anything and the mental agitation that comes with it to justify the $50 cost of this timer. And it's big, so you can't lose it." —As Told to Priya Krishna
Buy the Timer: $47 on Amazon
Buy Brooks Headley's Cookbook: $19 on Amazon
The Strategist is a series of smart, obsessive shopping guides from the New York Magazine section of the same name. We've scoured the web to bring you the best of the best. Some of our latest conquests include rolling luggage, water bottles, umbrellas, Korean beauty products, white T-shirts, and nail clippers. If you buy something through our links, we may earn an affiliate commission. Please note that all prices are subject to change.
*A version of this article appears in the September 19, 2016, issue of New York Magazine.