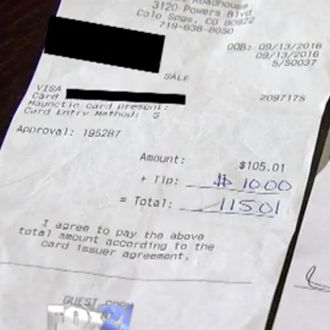 Time for Texas Roadhouse to go tip-free.
A Texas Roadhouse in Colorado Springs says it got scammed by a couple who claimed servers secretly altered their credit-card tip not once but three separate times. Per the original telling of the story, Doug Woodward, a supposed disabled vet, called up management after noticing receipt disparities for purchases at that location, and was told it was because an employee had upped the bill's tip. Worse, he claimed that server knew they were ripping off a veteran because he'd requested the military discount. As Fox 21 put it: "Needless to say, he steered clear of that particular Texas Roadhouse location." Well, the Woodwards claimed they waited a year, then returned two weeks ago, at which point this allegedly happened:

Woodward and his wife were treating another couple to dinner. When they got the bill it was $105.01. Woodward's wife was the one who paid with her card and left a $10 tip, bringing their grand total to $115.01.

But when she looked at her bank statement, that's not what she was charged. … "Clearly there was a small zero added to the zero here and a straight line drawn through the 5 to try to make that appear to be an 8," said Woodward.
While their (supposed) tip wasn't spectacular, that obviously would have been no excuse. Woodward told the news they're on "a budget like no one's business," and treating their friends to dinner was kind of a splurge ("For us to do this, that was huge"). Texas Roadhouse originally said it had investigated the Woodwards' claims and confirmed that their receipt "was tampered with by one of our employees." The restaurant refunded what was stolen and terminated the server. Woodward added at the time, "I think the odds of being struck by lightning are probably better than this happening to the same person three times at Texas Roadhouse."
Texas Roadhouse gave Fox 21 a new statement Monday that said, "Sadly, we have discovered this was a scam. We have rehired the server, banned this gentleman for life from any Texas Roadhouse, and are considering legal action."
This post has been updated with new information throughout.