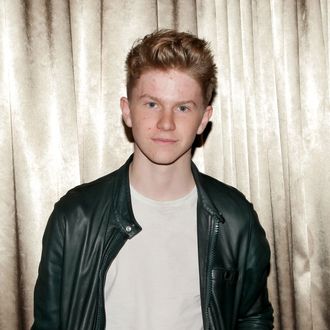 You can't knock the hustle.
Photo: Tibrina Hobson/Getty Images
Seventeen-year-old chef Flynn McGarry made a name for himself when he launched a supper club at age 11 in Los Angeles — and then spent time in the kitchens of Alinea, Eleven Madison Park, and Alma — but he's working to put down roots in New York. As a follow-up to Eureka, which earned its fair share of criticism but also admiration from the Platt family, McGarry will cook at Kava's West Village location.
On October 1, McGarry's daytime menu will kick off with a few toasts, salads, and sandwiches, and on October 18, he'll debut a dinner-only, $160 tasting menu at the eight-seat counter. The latter will be offered Tuesday through Saturday, with one seating at 6 p.m. and another at 9 p.m., and the tentative menu includes sea urchin with carrots and coffee, poached oysters with fresh tofu and potato skins, and "an aged beet."
The residency will last six months, and you can make a reservation starting on September 20. The front of Kava will be transformed into a wine bar, if you'd just like to get a drink and ogle McGarry's pop-star hair and wunderkind ways.