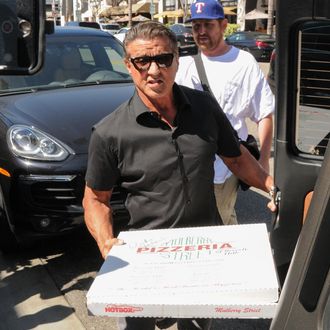 Sly's already a big fan.
Photo: BG002/Bauer-Griffin/Getty Images
Sylvester Stallone is at work on a new TV comedy, and it's based on the actual life of the owner of Beverly Hills' Mulberry Street Pizzeria. Richie Palmer, who runs the "world's most famous pizzeria," is a Bronx native who Stallone realizes has been in Hollywood's circles long enough (ex-husband to Raquel Welch, ex-fiancé of Oscar winner Cathy Moriarty) to have built up a reservoir of juicy stories.
Fittingly, the show's just called Pizza Guy, and Palmer's bud A.J. Benza, a former Daily News gossip columnist, is writing the pilot. He tells "Page Six": "Sly called me one day and said, 'Richie's life is insane. He's sitting on a gold mine with all the stories and characters that place has.'" Palmer started the restaurant in 1992 with Moriarty's help and quickly morphed it into a celebrity haunt; since then, he's ridden the momentum and grown it into an L.A. mini-chain, and now even bottles his own sauces.
Pizza Guy is supposed to be funny, so hopefully Sly clears the room for any pizza-eating scenes. The last time he ate onscreen, it was a tragedy involving yanking a box from the freezer and consuming a cold, hard slice while wearing leather gloves: