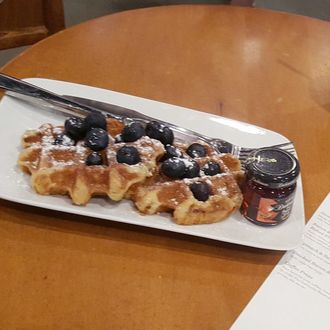 Sweet.
Photo: Starbucks Melody
Starbucks is making a bold, possibly even McDonald's All-Day Breakfast–level move in the fast-food breakfast wars: It's trialing an official brunch menu. Company chronicler Starbucks Melody discovered the chain began quietly testing at 78 Portland- and Seattle-area locations last week. The weekend-only menu includes standard fare like baked French toast and two different cage-free-egg quiche options (spinach and Swiss, or bacon and Swiss), but the real star is plainly the Belgian waffles that come topped with fresh blueberries, powdered sugar, and syrup.

Company reps tell her there's no firm end date yet, but Melody guesses the test will run maybe six to eight weeks. Customers can order the items anytime from 8 a.m. to 2 p.m., or until the items run out. Like hot sandwiches or other goods in the pastry case, they arrive premade each morning, go in the fridge, then get warmed up before serving. That means the waffles aren't fresh off an iron, but Melody notes Starbucks's TurboChef ovens do a surprisingly good job imbuing what could be a mess of sad, spongy dough with a nice crunch.
Starbucks has tested waffles twice and the other brunch items at least once before, so the commitment to bringing fast food's most overlooked meal to the masses seems pretty strong at this point. Of course, there's no stopping this train once it's in motion, so up next is obviously a full-scale mimosa test at stores that serve "late night" alcohol.