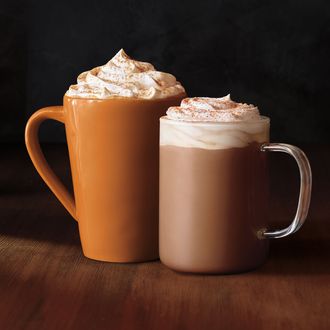 Suddenly feels unseasonably warm.
Photo: Kathryn Barnard/Starbucks
The weather is muggy, everyone's tan is getting okay, and your calendar unambiguously states it's summer — clear signs that Pumpkin Spice Latte season is upon us. Technically, next Tuesday is the official D-Day, but Starbucks is releasing the seasonal beverage today to people whose Labor Day barbecues simply must involve pumpkin flavoring. This year, early access requires obtaining a PSL Fan Pass, according to @TheRealPSL, which awoke from its months-long slumber about a week ago and delivered this "breaking news" last night dressed as a mock anchor for station KPSL:

The new PSL products rolled out for 2016 suggest Starbucks thinks it's found its Air Jordan — something people can't get enough of that could blow up into practically a stand-alone brand. For instance, it's now possible to "make" PSLs at home in a Keurig, grab bottled Frappuccino versions at stores, and even interact with an incredibly basic PSL chat bot on Facebook Messenger ("basic" in both senses, including "technologically rudimentary").

To really sell everybody on the idea that it's autumn, the coffee chain is also debuting a new cold-weather drink — a Chile Mocha. Baristas add a few spoonfuls of spicy cocoa powder to the milk before frothing it, creating something akin to an espresso Mexican hot chocolate. Whip cream and a dusting of ancho, cayenne, cinnamon, paprika, salt, and sugar go on top.
Time to bundle up in that cozy sweater, light a fire, and sip a 165-degree beverage.