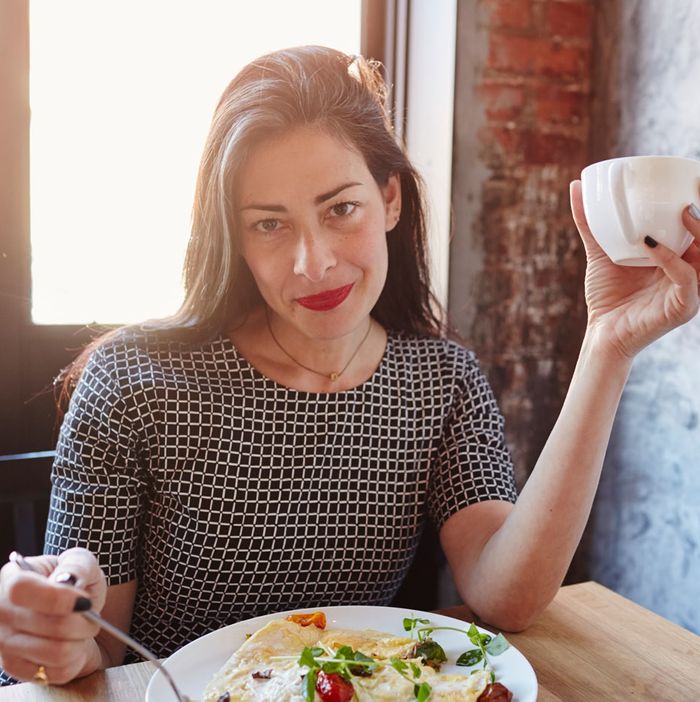 "I mean, at least I didn't have any martinis."
Photo: Nick Onken
The Grub Street Diet debuted ten years ago, and to celebrate, we've asked some of our favorite subjects to once again chronicle everything they eat and drink. "If you haven't read my last Grub Street Diet, you might want to look at it after this, as it's in stark contrast to where I am now," says Stacy London, the former co-host of What Not to Wear, who now reports for outlets like Access Hollywood. Fortunately, London's no longer abiding by a restrictive Paleo diet ("I've never been more boring in my whole life"), though she does have some second thoughts about eating cookies, honey peanut butter, and Tootsie Rolls the night before the Emmys.
Saturday, September 17
I wake up and wolf down a Dale's raw protein bar. My boyfriend lovingly goes to get me a coffee from Smith Canteen while I finish packing and, in addition to the coffee, brings back a quinoa bowl with eggs. More protein!
At the airport, I pick up a few magazines and mosey over to my gate. During the flight, I meditate, and as I'm coming out of my stupor, the flight attendant offers me a veggie wrap. "Gluten-free, right?" she asks sweetly. I'm not hungry, but I take it. And the gluten-free cookies (three) she has for me, too. And I eat everything. Now I'm trying to be mindful here … Am I eating out of the boredom and sleepiness I always feel on planes, or is it something else? Could I be anxious and nervous about the Emmys tomorrow?
I get off the plane and treat myself to a nondairy ice-cream pop. That's it, I think to myself. I'm done for the day. I go to stay with some close friends in Venice. My girlfriend Erica and I go get mani-pedis because that's what one does before a red-carpet event. Then on to Whole Foods. I say I'm not hungry, but I get two cans of sardines, four avocados, a literal vat of fresh-ground honey peanut butter, which is literally my favorite food on the planet. (It used to be almond butter, but I've reverted to my youth.)
Erica feels like grilling steak, and we get Brussels sprouts and oyster mushrooms. I wind up making a mushy dip of skinless, boneless sardines and avocado with salt and pepper, and serve them with gluten-free crackers. I don't want to seem weird for not eating, so I have Brussels and mushrooms and two slices of steak. After, I suddenly announce, "I'd love some Tootsie Rolls," to no one in particular. And just like a genie, Erica quips, "We have some." So after about eight Tootsie Rolls, I think it's time to hit the hay.
I pretend like this day of massive eating and travel with no exercise will not have any effect on me tomorrow. I mean, at least I didn't have any martinis.
Sunday, September 18
I wake early, shower, and get all my shoe options and insanely beautiful jewelry together before wolfing down some big spoonfuls of honey peanut butter. Most of the day is sitting in a trailer, going over facts about each nominee and presenter while getting my hair and makeup done. My dress gets steamed, and then I just wait. I meditate and eat another Dale's bar with a coffee and almond milk (I don't even use Splenda anymore!) and wait. I get dressed and walk out into the heat to see the two hosts of Access Hollywood looking stunning and as if they run four triathalons a week each. Gulp. I'm not exactly feeling my dress choice.
It's just about now that I'm thinking a week of green juices before this moment might have made this entire process feel a little easier. My suspicions about my dress are confirmed pretty much right away when I subject myself to being photographed on the red carpet. The photographers in the pit aren't super-enthusiastic. The Emmys themselves go off without a hitch. Obviously, all these actors aren't human and live on green juice, so I know they are going to look great. By the time the carpet is done, I'm sweating buckets and drinking vats of water. I'm exhausted. The roundup of the fashion looks is tomorrow, and my call time is 6 a.m. so I go back to Venice to watch the Emmys with Erica and eat sardines and avocado. Needless to say, I didn't make it to any parties.
Monday, September 19
I wake to find I'm on more than one worst-dressed list (why did I walk the red carpet?) and wonder if I've ever been on one before. Pretty sure I haven't.
I eat much of the vat of Whole Foods peanut butter before I go, throwing a little away, smugly thinking, I didn't eat the whole thing. I grab some coffee and almond milk on set. On Access Live, we talk about me being on a bunch of worst-dressed lists, and I try to take the whole thing in stride. It's one dress, for Christ's sake. More importantly, I've been critical of so many people's red-carpet choices for so many years that this karma shouldn't come as a shock.
We tape a few segments for the Access show that evening, and Kit [Hoover] recommends I get an egg-white omelette with avocado and jalapeño from craft services before I get on my flight. I start to eat it in the car on the way to the airport and dump too much salt on it. I eat it anyway. On the plane, I meditate. The flight attendant brings me some salad, and I take a few bites and stop. She brings me some salmon. I take one bite and stop. I don't eat the dark-chocolate gelato, but the pretty skinny lady next to me has it and it looks delish. I notice that Zac Posen is sitting in the row ahead of me and wonder, since we're kind of trapped up here, if I can convince him to make me a dress for the next awards show.

I get home, drink some Harmless Harvest coconut water, and go to sleep.
Tuesday, September 20
I don't have time to wallow in dress self-pity. I have to do a new podcast for MTV called Lady Problems. (Boy, do I have a bunch to share.) I eat another Dale's bar. The producers give me water and coffee with soy milk, because there is no almond, and I wind up talking so much that I have time to drink neither. An hour and a half later, when I'm in a car, I eat another Dale's bar.
My boyfriend and I decide to stay in and cook. Correction: We will go shopping together at Whole Foods, and he will cook. We do our stock favorite meal: It's two dishes — the first is baked bacon, Brussels sprouts, oyster mushrooms, garlic, shallots, and pine nuts, all sliced up into a warm shredded salad. The second is hot, spicy chicken sausage with jalapeño sauerkraut. We stop off at the new Bedford Cheese Shop and get some sriracha mustard to go with the last dish. Everything is so insanely good.
Before bed, I see a guy has mimicked my Emmy dress with black trash bags and made Sharpie polka dots on his body. There are obviously two choices here: Get hurt, or laugh. I choose the latter and retweet it, saying I'm pretty sure he looks better than me. We go to bed, and I wake up in the middle of the night unable to sleep (I have wicked insomnia), and munch on some dark-chocolate Bark Thins.
Wednesday, September 21
I have a peanut-butter-banana-blueberry smoothie with almond milk after dropping off the jewelry I borrowed and exchanging a mascara at Sephora. This food-diary thing always gets me to actually think about what I'm eating. Why don't you guys make me do this more often?
I pick up a make-your-own salad at Nectar in Carroll Gardens and work on the speech I am giving in Las Vegas next week. After, I go check out some open houses in Red Hook, and then I meet up with my college pal at Soho House. They have Dorothy Parker gin, so that's at least one martini. I have salad for dinner.
The Golden Globes are in January.