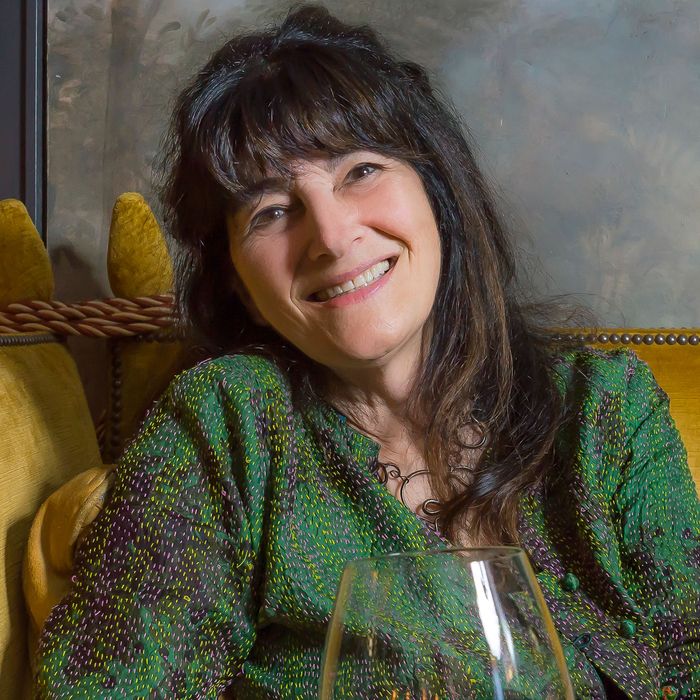 "I loved the whipped mangalitsa fat that came alongside the butter," Reichl says of Le Coucou.
Photo: Noah Fecks
The Grub Street Diet debuted ten years ago, and to celebrate, we've asked some of our favorite subjects to once again chronicle everything they eat and drink. Beloved food writer Ruth Reichl — the former New York Times critic and editor-in-chief of Gourmet, as well as the author of many books — has actually shared her food diary twice before, in 2009 and again in 2012 during a trip to San Francisco. Now Reichl spends most of her time in upstate New York, eating Parmesan-topped biscuits and pulled pork. "I don't think my diet has changed at all," she says. "I'm an omnivore, but I have very catholic tastes — some days I want to eat sushi, and some days I want to eat French food."
Saturday, September 10
Blueberry-buttermilk cake — my recipe. Coffee — Peet's Major Dickason's with Highland Farm Jersey milk.
Went to the Great Barrington Farmers Market, where I ran into Gray Kunz and his family; he has the most adorable grandson, Jean-Luc. Sean Stanton was grilling sausages — he raises the best pigs — and the smell was so enticing I couldn't resist. Ate it while I walked around the market.
Bought a ton of tomatoes, lots of garlic (I'll hide it in the basement, where it will, hopefully, keep until Christmas), jalapeños, and onions. Came home, roasted tomatoes, onions, and garlic in a hot oven, and whirled them into tomato soup. We ate that for lunch, along with a quick and dirty version of the jalapeños in Chinese black beans I'm testing for my new book — a Gourmet memoir. Like with all my books, I've put recipes in place of pictures, so you can taste the moment.
Here's this one: I was looking for a new art director, and I had a jones for Grand Sichuan, and Richard [Ferretti] just happened to drop in unexpectedly as I was eating spicy, greasy, incredibly fiery food. I thought, Oh my god, this is not the image of the Gourmet editor I should be projecting to this man I want to hire. I handed him the dan-dan noodles, thinking, These are safe. He unerringly goes, "What are these over there?" to the chiles in black beans. And the two of us just sat there, reveling in the spice, and we knew we wanted to work together. I'm trying to re-create the dish.
Went to Coco Cost's 1-year-old birthday celebration. The food was fantastic: Coco's dad, Bruce (of ginger-ale fame), made pork buns with pork belly that almost evaporated in my mouth, with hoisin and scallions. Spicy eggplant. Cucumber salad. Sesame noodles. Shredded chicken. It was all wonderful. And, of course, birthday cake.
Home. Glass of rosé. Okay, three glasses of rosé. And the raspberries I bought at the farmers' market, with a splash of cream.
Sunday, September 11
Pulled the last of the biscuits from the freezer. Put them in the oven. Also put in a couple of tomatoes, topped with olive oil, to roast. Put the caramelized tomatoes on the warm, buttered biscuits, sprinkled on a bit of grated Parmesan, went outside, pinched off a couple leaves of basil, and scattered those on top. Also, coffee.
Lunch: pulled pork (courtesy of barbecue pitmaster John Markus) on a potato bun. Mustard sauce. Whipped up a fast coleslaw to go with it. He lives near us in the country, and we have become friends. He'd brought me some pork that I had put in the freezer.
Dinner at a friend's house. Grilled spicy flank steak. Corn sautéed with mint. Homegrown vegetables, sliced heirloom tomatoes, kale salad, sautéed potatoes. Dessert: grapefruit ice and fantastically spicy gingersnaps.
Monday, September 12
Raspberries and sliced peaches topped with Ronnybrook cream.
One fried egg. Toasted Little Ghent farm bread. Sour-cherry preserves from Talbott & Arding — it's wonderful to have a shop where you trust everything. Jacüterie bacon.
For lunch, I made a little pizza (I made pizza for dinner one night last week and froze a third of the dough) and topped it with sliced tomatoes, anchovies, mozzarella, basil, and a smattering of Parmesan. It was so good I wished I had more dough to make another.
Drove into the city, parked the car, and then indulged in my usual ritual when I've been away a while. Walked over to Gray's Papaya for a hot dog. I like mine with onion sauce and mustard. I grew up on 10th Street, and there was a Gray's on the corner of 8th Street and Sixth Avenue. It's like a taste of my childhood. If there's a steady thing in my diet, that's it. I come to New York; I want that taste. They closed the one on 8th Street, and if they close the one on 73rd Street, I'll be really sad.
Dinner with friends at Little Park: bread and butter, yellowtail with chiles and cucumbers, tomato pasta with summer squash, beet tartare with smoked trout roe, and lovely Chablis. Pleasant but not earth-shaking, but it was a great choice for a business meeting.
Came home and had a midnight snack of Seed + Mill halvah with sea salt and chocolate, which I bought at Talbott & Arding.
Tuesday, September 13
For breakfast, I walked over to Zabar's and got a bagel, cream cheese, and lox. Also, half a rye. Ate a slice on the way home, then made myself a toasted bagel. I'd been hoping for salmon roe, but they didn't have any. Bummer!
Met a friend at Via Carota for lunch. Olives. Fried calamari. Big green salad. Lemon risotto. Also, a taste of my friend's watermelon and sheep-curd salad. Recognized our waitress, and as I was trying to place her, she said her parents run Mayflower Farm in South Egremont. I buy their lovely lamb.
Dinner at Upland: the fantastic raw fluke with green strawberries, shiso, jalapeño chiles — I loved the crisp texture of the fish, and the way the flavors danced around in my mouth. Loved the heirloom salad, too, which had a kind of brilliant sesame dressing. It's a flavor combination I would never have conceived myself. And I love Justin Smillie's version of cacio e pepe; I could happily eat it every night.
Wednesday, September 14
Had to be at the hospital at 5 a.m. Took a couple of Maison Kayser croissants with me to eat while I chewed my fingernails in the waiting room. Drank too much Starbucks coffee while I waited.
Nick and I went for a walk around the hospital while Michael was in surgery. Looked at all the menus along the way, and it reminded me of all the reasons I don't like the Upper East Side. Ended up eating extremely mediocre sushi at a little place whose name I don't even remember. It was the usual cheap sushi lunch special: tuna roll, yellowtail, etc., and I left most of it. The only decent thing was the extra uni sushi I asked for on the side.
Nick and I left the hospital at 9 p.m. (the operation was a success) and shared a very late dinner at Le Coucou. It was fantastic. I loved the whipped mangalitsa fat that came alongside the butter, and gobbled most of it up. We shared a lot of dishes, but taken together, they reminded me how much I love classic French food. It was like being in a really great restaurant in Lyon — only buzzier and bigger — with a more impressive wine list.
The warm oysters in seaweed butter, all sexy slither. Crépinette with plum and foie gras — another one of those dishes I could happily eat every day. Loved the flavors together. Tripe, breaded so it seemed more like Japanese pork tonkatsu or a Viennese cutlet than anything that once lined a steer's stomach. Daikon, cooked to resemble sauerkraut, topped with caviar. Really fantastic. Gorgeously cooked sweetbreads in tomato tarragon cream. A big fluffy cloud of quenelle in an intense lobster sauce Americaine. Daniel Rose downplays the richness of the sauce, which underlines the texture of the quenelle. So satisfying. The rabbit, in three separate preparations — if anything could convince Americans that they want to eat Thumper, this is it.
To drink: Alice et Olivier de Moor Chablis. Clape Saint Peray. Rice pudding. And the perfect ending: a stuffed poached pear, still in its skin, so you get that wonderful textural play of rough skin against velvet flesh.