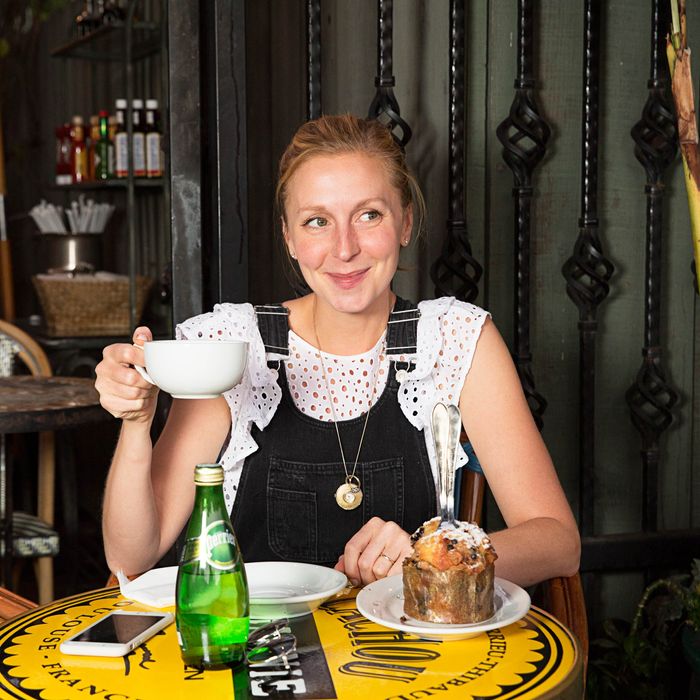 Tosi at Aroma, her favorite Los Angeles coffee shop, which sells killer bread pudding.
Photo: Bradley Meinz
The Grub Street Diet debuted ten years ago, and to celebrate, we've asked some of the best-ever subjects to once again chronicle everything they eat and drink. Momofuku Milk Bar's Christina Tosi, who's now a judge on MasterChef and MasterChef Junior, used to live off cookies and cereal, but now she has expanded her diet to regularly include spaghetti carbonara, pepperoni pizza, and, yes, the occasional salad and green juice.
Thursday, September 15
5 a.m.: Alarm goes off and I pop out of bed. This is going to make me sound like a complete lunatic, I know. But I'm in L.A. most weekdays for the next month or two filming MasterChef and MasterChef Junior, and not only do we film early in the morning, but staying on the same East Coast schedule is vital for me. I meditate for 20 minutes, then lace up my shoes and go for a moonlight run, just until the sun starts to come up.
I stretch, shower, chug two bottles of water, and hop in the car and head to the studio. I take my earbuds out and hop on a conference call while I snack on a handful of macadamia nuts — my favorite for a post-run snack.
There's a strong, hot cappuccino waiting for me when I arrive, and it goes down easy. As I hop on another call to the East Coast, type away on my laptop, and get dolled up in hair and makeup, I chug a Real Talk. We've been testing shipping our new LIFE line of juices at Milk Bar, and now having a front doorstep in L.A., I'm the No. 1 recipient of any and all tests, which means I also have no excuse not to drink my veggies in the morning.
We go into our morning meeting at 7:15 a.m. and discuss the challenge we're tasking our top 15 home cooks with today. Gordon and I check that the ingredients are all set and that the pantry is stocked to our liking, and we're off!
By 9:45 a.m., the home cooks are on their way, and I hop around to their stations to taste and slurp and nibble on the purées, broths, and garnishes. It's a strange but welcome way to think about a breakfast-tasting menu, I suppose. Once time is up, we snake our way through the kitchen to take a look at the final dishes, deciding which flavors impressed us the most.
I drink sparkling water nonstop on set and throughout my day. I don't know why the bubbles and hint of acidity is so addictive, but it is.
By 11:15 a.m., we're tasting their dishes. This is where I really love the adventure of any and every day, working with and around food. You just never know what you're going to eat. I have a bite of beautifully cooked lamb chop, a decadent rice pudding, a so-so burger, and an otherworldly, somewhat-spicy goat curry. A pretty well-rounded, er, breakfast, right?
We break for lunch. I created a rule for myself last season that when mealtimes come, what I really need is salad. We're talking raw, fresh vegetables. I order a quinoa salad from Mendocino Farms with corn, cotija, black beans, and the dynamic duo of California goodness — avocado and kale. Okay, fine, I barely touch it. But I'll force myself to be virtuous later in the day. I put the salad in the mini-fridge of my dressing room and instead go for the tempestuous snack basket someone fills my room with each day: dried pineapple, a peanut-honey bar, two packs of cookies, and some cheesy crackers. I hop on a few calls, catch up on email, and make myself a to-do list for remaining Milk Bar items I need to tend to once I'm done on set.
Back out in the studio, we shoot some more, then I hop into the kitchen on set and work on some fun potato ideas for an upcoming challenge — salt-and-vinegar potatoes, potato dumplings, pomme soufflé.
We wrap our day around 5 p.m. I change back into my street clothes and land on the couch of my dressing room. I want more snacks, but the wiser voice in my head says, "Salad, salad, salad, salad." So I do the right thing and reach for that very tasty salad, munching as I work on my laptop.
I head for home around 7:30 p.m., and by 8 p.m. I'm slicing a Milk ID cake the team sent me last week, to test out our pilot program of allowing folks to curate their own layers of a Milk Bar cake. Mine is layers of birthday cake, strawberry frosting, "liquid cheesecake," passion fruit, and Milk crumbs — we tried as many "weird" combos as we could to make sure we weren't setting anyone up for failure.
I hop into bed by 9 p.m. and catch up on TV before drifting off to sleep.
Friday, September 16
It's 5 a.m. and I'm up again for the regular routine. I must say, I'm rather routine-averse — much more "variety is the spice of life" kind of gal — but I'm working my bod seven days a week like it's at war, and I know I need to stay focused and predictable. Meditate. Run. Stretch. Shower. Water. Macadamia nuts. Phone calls on the way to work.
Cappuccino. This morning I go for a Hardbody, because greens are welcome.
The home cooks do a great job with the challenge. For some reason, they all think I'm going to be an insanely tough critic, which, of course, I will be. But mentoring folks around dessert, specifically, is what I do back in New York, so there's a gentle enthusiasm and soccer-mom-like approach to being proud of them all, even the ones that didn't rise as far as others to the sugar-laden occasion.
Lunchtime comes and I order … salad! This time, one with figs and blue cheese from Sweetsalt, with candied walnuts, romaine, fennel, kale, and purple cabbage to balance the sweet and funk (two of my favorite things). I eat most of it.
We go back to set, finish up the episode (so vague, I know, but I can't tell you much about it, just in case fantasy MasterChef becomes as big as fantasy football). I hop on a scooter that the team from Meadowood gave me this summer when visiting, and zoom down the hill to a meeting at a local coffee shop nearby, Aroma, on Tujunga. It's my go-to for meetings, since it's close to both home and the set, and it becomes doubly fun because I can be a knobby-kneed kid again, riding my scooter like a lunatic on the sidewalks. Aroma is, to the naked eye, a fun neighborhood coffee shop, but the pastry case is always on point, filled with insane layer cakes, cheesecakes, pastries, cookies, and their epic bread pudding — the size of three of my fists.
I pop in to find my contact, grab a sparkling water, a small coffee, and, how could I not, bread pudding. We chat about a TV show I have an idea for, a travel type of premise with a high/low USA road trip of food and fun, woven between a game of telephone recommendations. My favorite way to travel is based purely on passionate recommendations — if you're bold enough to ask, everyone has an amazing place they've been that's off the beaten path. That's how you find a drive-in movie theater playing the latest Jason Bourne flick with an insane candy collection smack-dab in the middle of Nowhere, South Dakota.
We chat, make a plan, and I excuse myself, call for a car, fold up my scooter, grab my backpack, and hoof it to LAX. I've got a red-eye to catch. In the car, I chug a Real Talk. My new secret to any long flight is chugging a green juice before boarding. Why don't airlines get real and up their game here? I fall asleep only to be awakened by the part of the JetBlue flight I always look forward to: Mah-Ze-Dahr Bakery cookies that they hand out on the final descent. The coconut shortbread is my favorite. It may be 6 a.m., but nothing will convince me those two cookies are not meant to be in my belly right then and there.
Saturday, September 17
I get home around 7:15 a.m. I'm newly married, which comes with many, many amazing things, but after a red-eye on a Saturday morning, it's a cuddly, loving body to crawl into bed next to. I peel myself out of bed at 10 a.m. to find a cappuccino (brownie points, new husband) waiting for me.
The Milk Bar team has been working on a new cake for the holidays, playing off of flavors of vanilla, chocolate, and mint. It is officially my day off and I choose to eat cake and Candy Bar pie for breakfast. I force Will [Guidara, the co-owner of Eleven Madison Park] to follow suit, and man, does it set the tone for the day. We tie up our shoes and giggle our way down to what will soon become our home. We're renovating an old apartment and need to check in. Most of the inside is grown up and lovely (my old-lady patchwork flair will come later; he doesn't even know what he's up against), with a brand-new kitchen. I check in on the patio area, and I have grand plans — an outdoor movie theater, an old shed that I'm turning into a bungalow, probably with bunk beds, that I intend to sleep in every Friday night so it feels like vacation every Saturday morning.
It's a beautiful day, so we stay outside. For lunch, I brought the next round of food tests to sample. This time, it's savory food! We're working on a LIFE line through Ando. Over lunch, we study for our DMV motorcycle-permit test we'll take next week. Will has a Vespa but no motorcycle license, and I want to both drive and ride on said Vespa. He's more of a rule breaker, and I am a rule follower (thanks, Mom), but he's agreed to let me be the boss and get us official.
It becomes somewhat overcast, and we head back home and watch a movie midday. Then I go for a run down the Westside Highway. My sister and I plan a half-marathon each fall, and I have to keep myself in check even when flip-flopping between coasts.
I get home, stretch, shower, and chug water, and Will and I decide we want a luxurious evening out, so we get dressed and head to the bar at Del Posto, one of our favorite places to have a drink and feel inspired by great food … but not leave feeling overwhelmed with hospitality and too much food. The team there understands this balance and restraint perfectly.
We hop on Citi Bikes (my preferred mode of transportation to and from dinner), and head over. I start with a Negroni; Will a Manhattan. Then a lovely bottle of Barolo. The bread course at Del Posto is so on-point right now: It's a mini baguette, warm and fresh as if it just came out of the oven, and a ball of what looks like mozzarella, but they call "just butter." Just before it becomes butter, they fold in crème fraîche and the residual liquids, and dress it with a little olive oil, salt, and pepper. We order a few pastas and call it a night.
We hear about the bomb on 23rd Street. In amazement, we're glad we're safe and hope everyone else is, too. We bike home, only to find that our block is completely shut down due to a second bomb. They won't let us in. What a strange yet beautiful thing it is to have the man you love seem like he has everything to give you in life that you might ever need. I'm exhausted and we head over to the NoMad, check in on his team there, take a room, and crawl into bed for rather unsettling sleep.
Sunday, September 18
We wake up early, and without much issue, I make it to Milk Bar HQ in Williamsburg. We've got a big visit to our partner kitchens in Boston and New Hampshire coming up and want to get a few new recipes tested.
I clean off the mountain of items on my desk and eat two cornflake-peppermint cookies, chug a green juice, and realize I need to start heading back into the city.
At Emmy Squared, I grab a spicy-meatball sandwich for Will and a Roni Supreme (spicy pepperoni) pizza to have for later in the week. Not only is the pizza insane when eaten on site, it's also crazy good reheated in the oven for multiple days, too. I gotta stay sharp with my wife game, you know.
Back at home, I test through some Blueberry Pie Rice Krispie treats I'm working on for Maple, and nibble my way to a decision on recipe tweaks.
Will keeps time-checking me (I infamously try to squeeze two additional projects I have no business starting when I need to be somewhere). We have a standing Sunday dinner date with Daniel Humm. He always cooks Italian-American food, and the two have become so obsessed, they'll open Mama Guidara's on Sunday nights only at the NoMad Bar in early October. It'll mean I can't take off my shoes while crushing spaghetti carbonara and chicken Parm, and I'm pretty sure they will no longer let me do the dishes, but I'm sure I'll get over it.
I call a car and head to the airport. Sundays are always the best for the dinner of my dreams, but bittersweet, because I still have to go through security and a six-hour flight before I can crawl into bed. A chug of green juice and some coconut shortbread later, and I'm there.