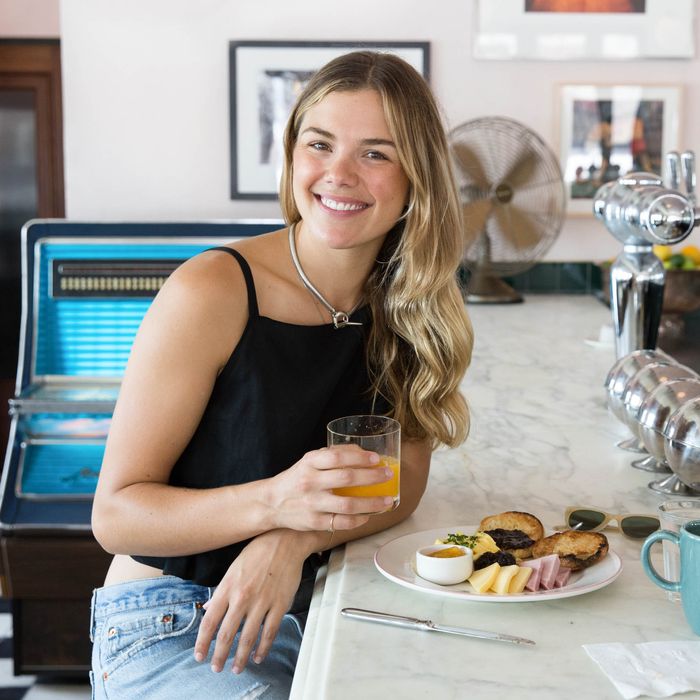 Haney at newly opened June's.
Photo: Whitney Devin
Tyler Haney, the founder and CEO of athletics-apparel company Outdoor Voices, tends to split her time 50-50 between New York and Austin, but, lately, Texas is getting the edge. In fact, the Boulder native likes Austin so much that she's opening an office there. (It helps that her boyfriend, Larry McGuire, is one of the city's most successful restaurateurs, so she certainly eats well.) This week, in between launching a collaboration with A.P.C. and serving as Bon Appétit's Feast or Fashion 2016 partner, she enjoyed some downtime in Austin — involving frozen margaritas drunk boatside, fried-chicken sandwiches, and, of course, many, many tacos. Read all about it in this week's Grub Street Diet.
Thursday, September 1
At 6:35 a.m., I wake up still buzzing from a high-stakes ping-pong match last night. I'm not too, too tremendous at ping-pong, but I had a run. This morning, I'm up early about to leave for the airport for Austin, but first I drink my vitamin latte. I first discovered it after a facial at Cap Beauty in the West Village. I've been starting each day whipping up a cup. It's really simple, and it gives me Energizer Bunny vibes. I sip it down and I'm off to JFK with Tony, my puppy, in tow.
Mid-flight, hunger sets in. I order a Delta omelette and eat the fruit and bagel with jam and fork some eggs to the pup. I always travel with little vitamin C packets to keep the flight bugs at bay.
We land in Austin at 1 p.m., and it's straight to Las Trancas for tacos. I'm a creature of habit and tend to stick to a favorite order at every spot. I order two veggie tacos and one al pastor. We've conveniently just signed a lease for an Outdoor Voices office a block away, so I'll be a true regular here soon.
I'm off to scoop some Outdoor Voices recruits from the Hotel San Jose, which is owned by my friend Liz Lambert. The San Jose, along with the Continental Club, were the pioneers of South Congress. It's hot as heck, so we grab Turbos, a delicious milky coffee with crushed iced, from Jo's Coffee next to the hotel, and head to Barton Springs for a quick dip.
I head to dinner at the newly opened June's at 8 p.m. June Rodil, the inspiration and master sommelier, greets us with a glass of Pipeños Pais from Chile saying, "It's new-school funky and fresh." Hell ya! I have the Boston lettuce with truffles and a chilled artichoke. Once you get through the flower of the artichoke, they whisk away the heart and it comes back topped with a mini egg salad. For dinner dinner, I have the couscous with a veggie kabob.
Friday, September 2
At 7 a.m., I'm up and at 'em with a quick jog around Town Lake. I swing by Josephine House for two morning drinks: in one hand the Goldeneye, a turmeric–almond milk coffee drink, and in the other a spicy-ass Green Juice, which is your standard, but with a lot of jalapeño, Texas-style. I grab a Nutella bun to go and head off to a product meeting.
I grab a toasted turkey sandwich with extra-spicy mustard from Sweetish Hill and take it to a finance meeting at Clark's Oyster Bar. I love a simple sandwich for lunch, though I keep eyeing the crab cake and burger with shoestring fries next to me.
By 6:30 p.m., I hop on the boat with a cooler full of Lone Stars and Coors Lights for a sunset surf. On the way back, we drop two friends at the Hula Hut dock and pull in for a frozen margarita. It's a lively spot on a Friday evening — before my first visit to Austin, I envisioned a crunchy, dusty, hot desert, but, boy, there are many bodies of water in Austin and a big-time boat culture.
At 9 p.m., I try to eat at Justine's, but it's way too busy, so we play a round of bocce ball and Fare (no Uber) back to June's. I get the chicken paillard.
Saturday, September 3
I wake up and jog the three-mile loop, and then go to a warm yoga class at Wanderlust. I get the Joyride smoothie at Castle Hill Cafe on the way back home. It's got all the goodies — rice milk, almond butter, hemp protein, spirulina, cacao, banana.
Lunch is at Maudie's with my friends Will and Noel, who own Deep Eddy Cabaret (best bar north of the river) and Antone's, the blues club they recently reopened with Gary Clark Jr. The chips and salsa are top-notch, and I keep it simple with one hard and one soft chicken taco.
At 8 p.m., I'm back to Maudie's with my boyfriend, Larry, and my dad, Bob. This time, we have the "Regular Dinner," which kicks off with an appetizer of the best Tex-Mex chorizo taco I've ever had.
I'm dancing at June's by 11 p.m., where there's an old jukebox with all the new and old tunes.
Sunday, September 4
I walk my dog through my neighborhood, and my friend Jordan Fronk swings by to deliver one chocolate and one normal bottle of her test-batch almond-milk brand. It is tremendous and will be hitting the delivery circuit soon. You heard it here first!
Lunch at Elizabeth Street Cafe. I always get the #44, the fried-chicken bun, and this time I add a lavender macaron baked by my friend Jennifer Tucker, and a delicious yuzu Arnold Palmer. I eat it on the patio under the misters with Tony.
Hookem! I walk through tailgaiting to get to the season opener — my first University of Texas football game. I see lots of burnt-orange dresses and cowgirl boots, and have dinner with a side of dancers, Bevo the Longhorn, and cannons. I eat a few bites of a chili dog in a friend's suite.
After two overtimes, I swing by Josephine House, where the Labor Day Keg Party is winding down. There are still a few pieces of fried chicken, and I'm tempted, but not tonight.
Monday, September 5
I sleep in for Labor Day. And at 2 p.m., I text friends and assemble at Perla's patio for a very chill lunch. I start with oysters and ceviche — though I go for a few helpings of saltines with cocktail sauce and horseradish. It's Burger Sunday (personal routine), so I order up the burger with a single patty — it's fast-food style with top-notch ingredients. I like flat burgers, so when it arrives I push the bun down to flatten it.
I check into the Hotel Saint Cecila for a tiny staycation before I head back to New York on Wednesday for a week of eating to celebrate Bon Appétit's "Hot 10" list. My friend AP, who's part of the Outdoor Voices team, and his girlfriend Rosie come by for a spicy margarita, and we pick out some records from the front desk to play in the room.

Then I head to Fresa's for family-style chicken al carbon and fresh tortillas. You eat a lot of tacos in Austin.