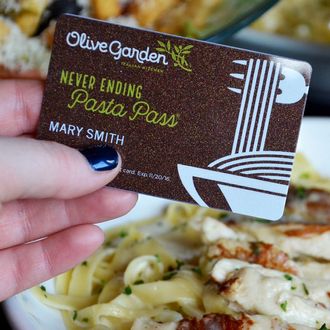 You could regret this, Mary.
Photo: Darden
September means just one thing to Olive Garden superfans: time to fight for a $100 Never Ending Pasta Pass. The annual cards entitling holders to bottomless carbo-loading from October 3 to November 20 go on sale this Thursday, only this year the chain has announced there will be ten times as many. For the past two Septembers, passes have sold out with alarming speed — all thousand or two of them in mere minutes. So for 2016, availability's been upped to 21,000 passes, a fact that will hurt their black-market resale value for sure, but let's hope that will also help kill the artificial demand for something that sounds an awful lot like cruel and unusual punishment to some people.
Then again, maybe it won't: In its release this year, Olive Garden mentions last year's cardholders showed up "an average of 28 times over the seven-week promotion," suggesting the majority of purchasers got their money's worth. Many also were in the habit of "bringing along groups of friends," so, to just quote Olive Garden's executive vice-president of marketing, the chain mined guilt over dropping $100 on all-you-can-eat-pasta cards as a way to make customers "serve as brand ambassadors." Anyone who can't snatch up a pass but wants to understand this Dantean circle of infinite pasta hell can also buy a single-meal pass for $9.99. Not the same deal financially, but in every other way this route is vastly superior.