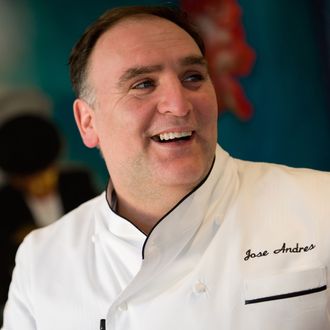 Well done, chef.
Photo: Sarah L. Voisin/Washington Post/Getty Images
Next week, chef-restaurateur and Trump Organization arch-nemesis José Andrés will be honored as one of 12 2015 National Humanities Medal recipients in a ceremony presided over by the president himself. A fan of the chef's, Obama has patronized Andrés's D.C. eateries, called him the "quintessential American success story," and even once brought him to Cuba as official U.S. culinary ambassador, so it will probably be a touching moment. The National Endowment for the Humanities says the award recognizes the Spanish-born chef for "cultivating our palates and shaping our culture," describing him as a pioneer in the kitchen as well as an inspiration to new Americans. (He famously and proudly won U.S. citizenship in 2013.)
He's not the first chef to win the medal, and in fact follows immediately in his "great friend" Alice Waters's footsteps. Still, gotta give props to Obama for celebrating a tremendous chef in a way that also raises a casual middle finger to his would-be replacement.