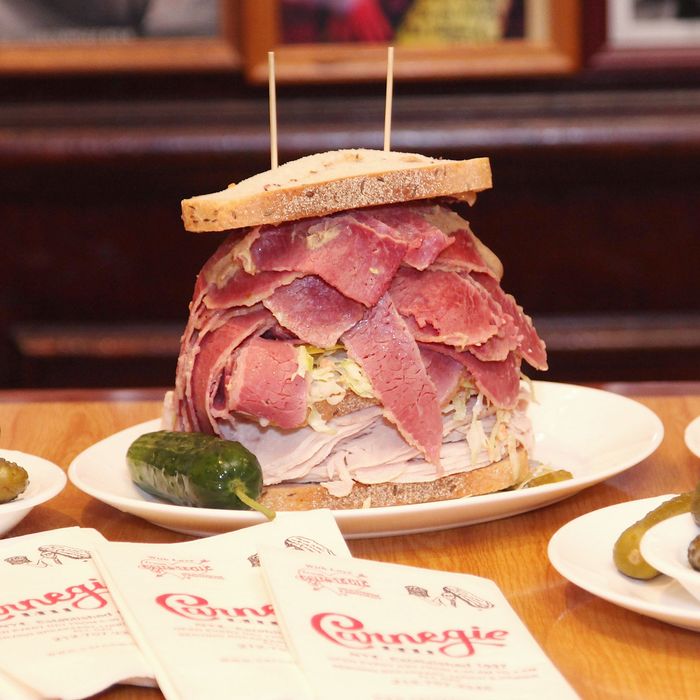 Time to say good-bye.
Photo: Donald Bowers/Getty Images for PMK-BNC
Just shy of its 80th anniversary, the iconic Carnegie Deli — home of comically large sandwiches named after celebrities — will close for good at the end of the year. Along with those huge and expensive sandwiches, the restaurant became known for waiters who were not interested in being friendly to you. Its location in midtown also helped solidify its position as a tourist destination and one of New York's most recognizable delicatessens.
News of the closure comes only months after the restaurant reopened in February after Con Ed shut it down because of an illegal gas connection. This, however, was just one issue that plagued the business recently. Two years ago, a court ordered owner Marian Harper Levine to pay over $2.6 million in back wages to employees, a problem that she blamed on her then-husband, Sandy Levine, who managed the restaurant. At the time, the two were involved in nasty, prolonged divorce proceedings.
In the end, though, none of this drama is the cause of Carnegie's ultimate demise. Marian Levine owns the building that Carnegie calls home, and will simply close it voluntarily, telling the New York Post she's tired and needs "to take a step back." Carnegie will live on in products and through licensed branches in Las Vegas and Bethlehem, Pennsylvania, so those giant sandwiches will still have homes, albeit ones outside New York City.