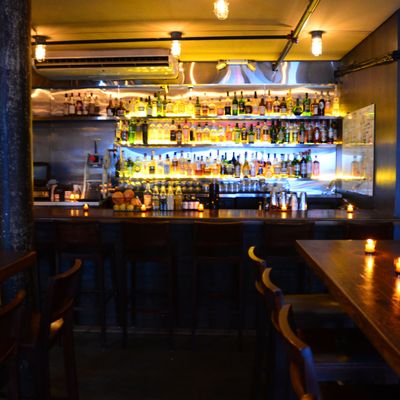 October 15 will be the last day for carbonated gin-and-juices here.
Photo: Emily Denniston
After ten years of Korean bo ssäm feasts and too many pork buns to count, David Chang plans to temporarily close Momofuku Ssäm Bar in order to, the company says, give it a makeover. Unfortunately, the retooling is accompanied by the surprising news that, after five years, food-science expert Dave Arnold's cocktail bar Booker and Dax, one of New York's best cocktail destinations, will vacate the space it currently occupies at the back of Ssäm Bar.
The news is mostly shocking because the place always seems to be busy. (They also make one of the best martinis in New York.) Thankfully, Arnold says he plans to relocate to a stand-alone space, though no reopening date has been announced, and it sounds like a specific space has yet to be found.
Booker and Dax isn't the only thing going, either. Signaling the end of an era, Eater reports that Chang will also get rid of Momofuku's famous backless stools in favor of actual chairs. No word on what, exactly, will happen to the stools, but one could argue they may end up being one of the year's hottest restaurant trophy items.