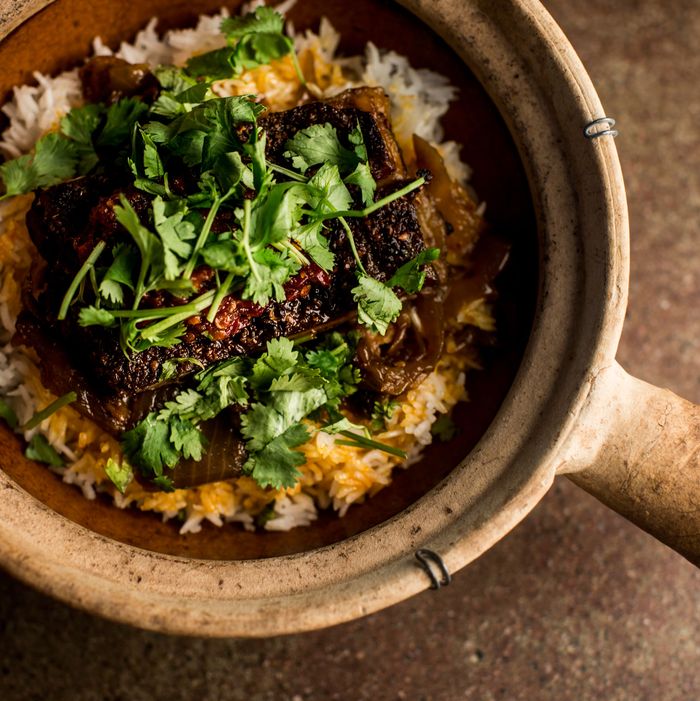 A dish from L.A.'s Cassia, the first restaurant outside the New York area to receive a starred Times review.
Photo: Melina Mara/The Washington Post/Getty Images
Ever since Craig Claiborne introduced restaurant criticism to the pages of the New York Times in 1963, the paper has maintained an exclusive focus on New York–area establishments. Write-ups of restaurants outside the city have appeared regularly, but starred reviews have been exclusively limited to places inside the New York metropolitan area. As of this week, that's changing.
Times critic Pete Wells has given three stars to Los Angeles's Cassia. It's a shift in focus for the critic, for sure, but one that's in keeping with the paper's movement toward a broader focus aimed at a larger potential readership. It also comes on the heels of the discontinuation of local cultural criticism, including non-starred restaurant reviews, in areas surrounding New York.
In his Cassia review, Wells writes that "one of the most appealing things about Cassia … is it's pointed lack of interest in being confrontational." Writing about blackened pigtails and a charcuterie plate that includes "Vietnamese pork meatloaf, liberated from banh mi at last," he praises chef Bryant Ng for being "more focused on balance than extremes" and not maxing out "the fat and the funk" like so many other American chefs cooking various Asian cuisines.
So that's a huge deal for Cassia, and something of a tip-off for chefs around the country, who in theory are all potential subjects for a Times review. (And editor's note on the review clarifies that the critic will still be required to make three anonymous visits before reviewing a restaurant.) The piece also marks another development in what's already been a big week for Wells: The move to review other cities' restaurants was first noted in a lengthy New Yorker profile of the critic that's well worth reading. In it, writer Ian Parker notes that "Wells is a vestige of newspaper clout," one whose authority now apparently knows no geographic boundaries.