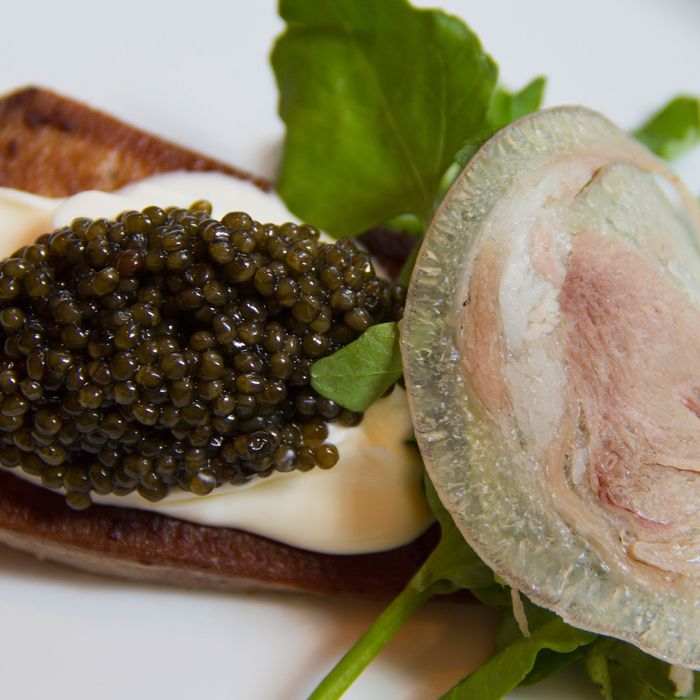 Veal tongue with caviar.
Photo: Jemma Hinkly/New York Magazine
There are many things about Stephen Starr's lavish new dining venture Le Coucou that will remind restaurant grandees of the glory days, before the rabble of kitchen slaves stormed the bastions of what used to be called "haute cuisine" and their world turned upside down. There is the retro theme (classic French cooking), brought to you by the traditional restaurateur, who puts together his productions the old-fashioned way, like elaborately costumed Broadway shows. There is the star of this production, a chef who comes to us from the storied kitchens of Paris (albeit by way of his hometown, Chicago). There is the stylishly mannered, though quietly frenzied, preview rollout, which has gone on for months now and been attended, like in the olden days, by breathless insider chatter (and, because this is 2016, a blizzard of tantalizing Instagrams).
The star of this show is Daniel Rose, an intense young chef who made his Michelin-approved reputation conjuring clean, seasonal recipes from the old French canon at a small Parisian establishment not far from the Louvre called Spring. For his New York debut, however, Starr has provided the kind of grand, ostentatious stage you rarely see anymore in this populist era of chef burgers and haute pork buns. The T-shaped space, on the ground floor of a new downtown hotel called 11 Howard, is lit with rows of circular chandeliers that look like they've been heisted from one of the castles in Game of Thrones. The banquettes feel plush and feather-stuffed, like an antique sofa, and the walls are decorated with a great mirror gilded in gold. The spacious, open kitchen looks almost baronial by today's pinched standards and is populated by a small army of cooks wearing the kind of tall white toques you see in faded cookbooks of French masters like Fernand Point, Soltner, and Bocuse.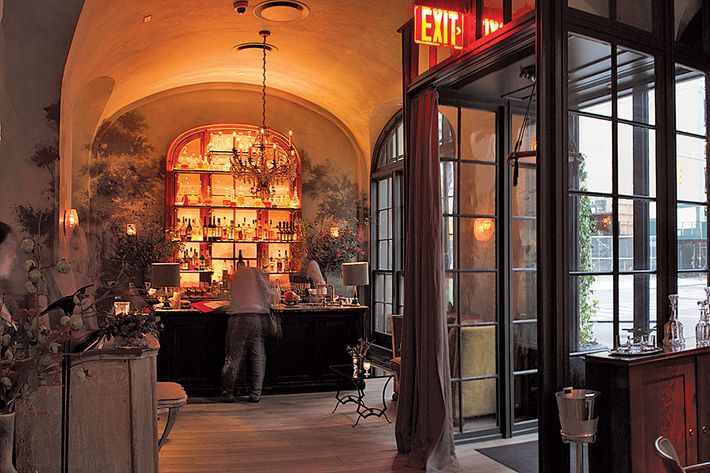 Glints of this kind of old-fashioned grandeur are visible throughout the menu at Le Coucou, which includes foie gras and lobster served in numerous ways (poured, sautéed, baked, even stuffed in squash blossoms), along with enough velvety-rich creations from the saucier's station (beurre blanc, bone-marrow sauce, sauce Lauris, sauce américaine, to name just a few) to cause even the most seasoned fresser to pause between bites and feel for the canister of statins in his (or her) breast pocket. Classic country delicacies like veal tongue are here topped in high gourmet style, with crème fraîche and dabs of Osetra caviar, and if you inquire about the tripe appetizer, your impeccably dressed (and trained) server may intone, like mine did, that this tripe is sourced not from the stomach lining of standard-issue pigs or cows but from pampered herds of America's version of Kobe beef.
Devotees of Rose's pure, uncluttered style may be slightly taken aback by this kind of aggressive opulence ("This place is so New York, Dad," said my daughter Jane, an ardent fan of Spring), not to mention the New York pricing (two small, perfectly realized lamb chops will cost you over $40). As the meal progresses, you get the feeling that Rose, an avowed Francophile and no fan of the overheated New York dining scene, may be experiencing a similar sense of disorientation. Possibly in an attempt to conjure up a sense of bistrolike intimacy, my faithful if slightly overcooked version of quenelle de brochet was poured, lobster sauce and all, into a little bowl that looked like it was designed for the consumption of country-hotel breakfast porridge. The aforementioned veal tongue is plated in a similarly dainty way, which does not detract from its general deliciousness. Ditto the house terrine de veau (softened with foie gras, among other goodies), and the Wagyu tripe, which is sizzled like Japanese tonkatsu in a layer of bread crumbs and garnished with bits of seasonally appropriate green tomato.
Unlike at the grand old French dining palaces uptown, the entrée list here is bistro-­size, but the best things on it are worth a special trip downtown. These best things do not include the fillet of sole (served with a thin green-tomato sauce and wedged into one of the house porridge bowls) or the filet de boeuf, which caused experienced New York beefeaters at my table to offer up a collective Gallic shrug of indifference. The lamb (pay attention to the eggplant garnish) and black bass (poured with a lustrous, custard-colored beurre blanc) received much better reviews, but if you wish to be transported back to Rose's old stomping grounds across the Atlantic, call for the intricately plated tout le lapin ("all of the rabbit"), or the bourride, the keys to which are the gently perfumed fish fumet and the aïoli, which makes everything it touches taste like the essence of the Côte d'Azur.
There are other things about this ambitious little restaurant that manage to achieve a similar kind of effect, including the relatively deep and learned wine list and the almost obsessively meticulous service, which may or may not continue at this frenetic level after the fraught opening period has ended and the restaurant begins its normal run. Several of the desserts have their charms, although like the rest of the meal, the tension between Starr's showy, theatrical style and Rose's more modest comfort zone is on full display. You can get a decent country rice pudding or a wedge of chocolate opera flecked on its glass-smooth top with bits of gold leaf. The decadent chocolate mousse is topped with slices of shaved chocolate, piled like feathers in a bowl and dusted with powdered sugar, and simple summer berries are tossed with leaves of candied tarragon and served with a trio of choux pastries stuffed with strawberry sorbet, each one of them softened with a little scrim of crème fraîche.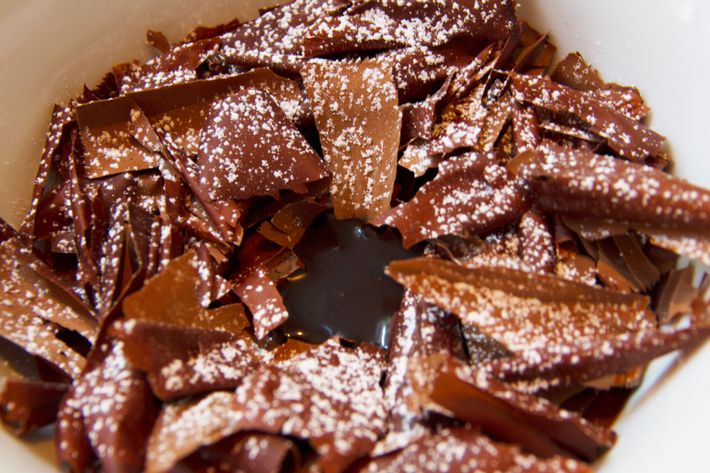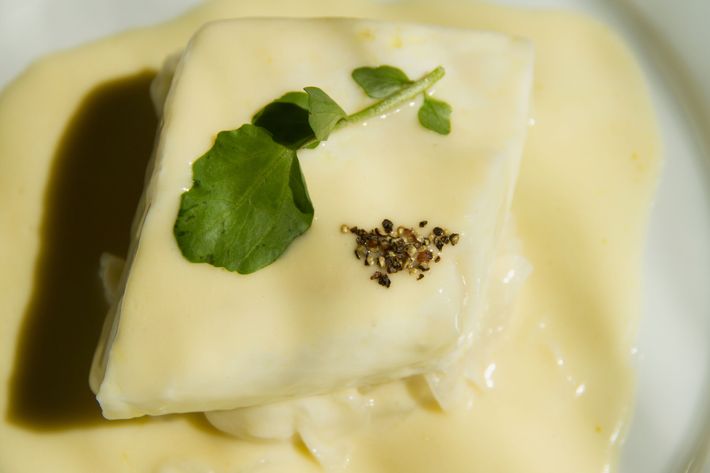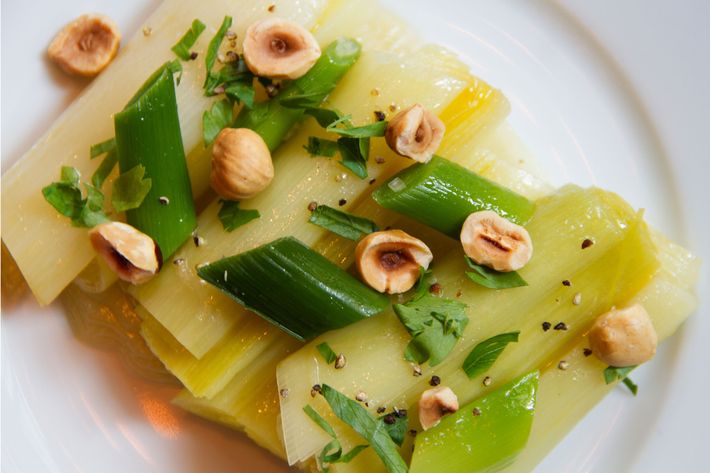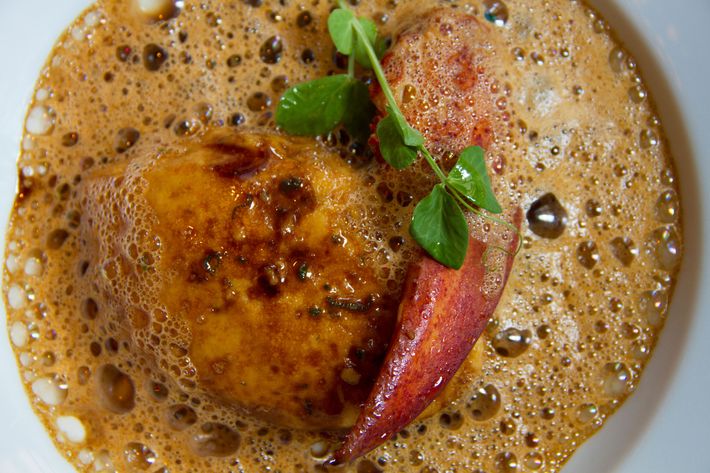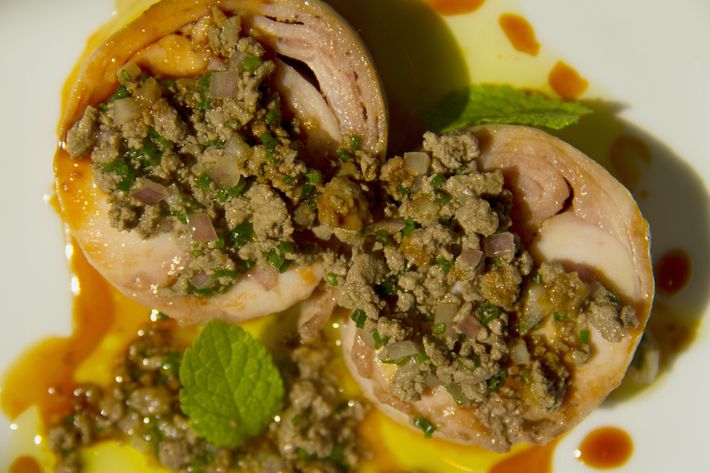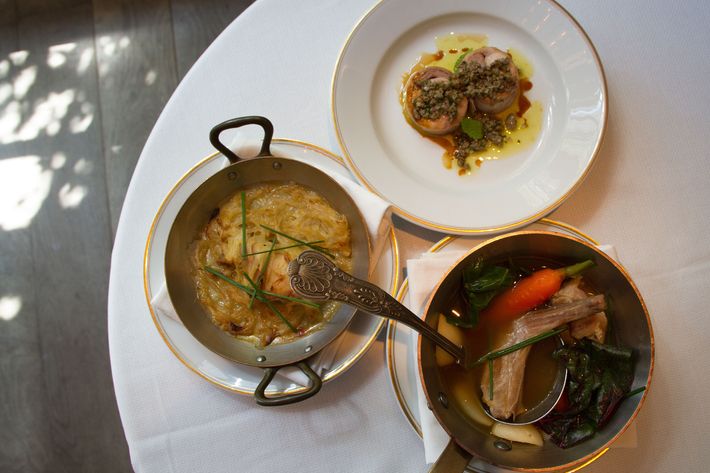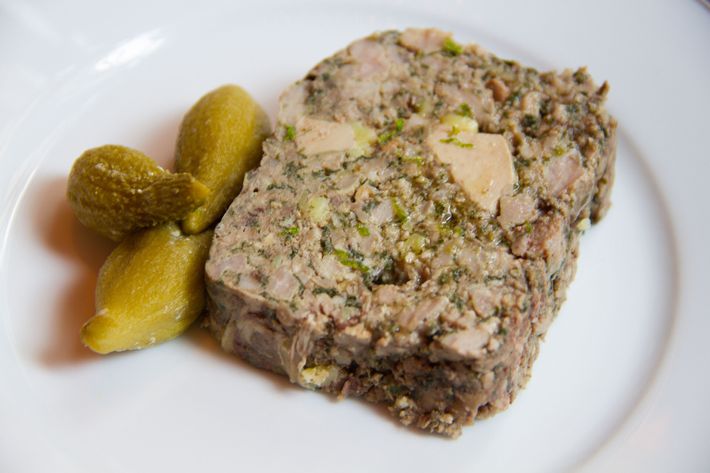 Le Coucou
138 Lafayette St., at Howard St.; 212-271-4252; lecoucou.com
Open: Daily for breakfast and dinner.
Prices: Appetizers, $11 to $38; entrées, $36 to $48.
Ideal Meal: Leeks and hazelnuts, terrine de veau and/or veal tongue with caviar, bourride, and chocolate mousse.
Note: "Look for bargains among the Loire Chenin Blancs," counsels one of my wine-geek friends.
Scratchpad: One star for the ambitious New York setting (although beware of the ambitious New York prices) and two more for the best of the elevated bistro cooking and the impressive classic French technique.
*This article appears in the September 19, 2016, issue of New York Magazine.