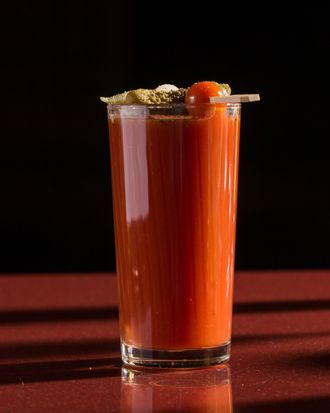 Cheers!
Photo: Kopitin Georgiy/Getty Images/iStockphoto
Governor Andrew Cuomo has signed his "brunch bill" into law, bringing New York weekends squarely into the 21st century. With his signature Wednesday, the legislation, which was introduced after a gubernatorial panel mercilessly blasted the old law, allows restaurants and bars to sell booze on Sunday mornings beginning this weekend. Until now, this was illegal because of an anachronistic ban on the books since the Prohibition era (women can vote now, too, so clearly some modernizing was due).

When Albany passed the bill back in mid-June, there were rumors the changes could go into effect that very weekend, which sounded within the realm of possibility given Cuomo's opinion of the outdated blue law ("It is the most bizarre, arcane, frustrating, maddening law that you could imagine"). Obviously, there was a bit of a delay, but it's finally happening. The time to pencil in is 10 a.m. — which means, sure, the effects of last night's hangover will be stronger, but think of it as a chance to get that first hair of the dog in you two hours earlier.

Finally, New York City's community boards weren't having this one, but spots outside of the city can also apply for $35 "special occasion permits" (12 per year) that allow first call at 8 a.m. They'll become available on November 6.