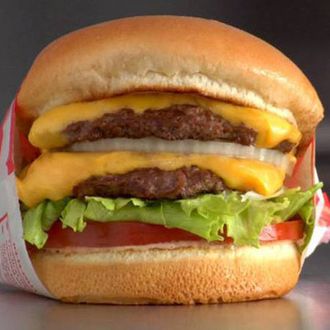 Imagine a bean-and-veggie patty in there.
Photo: In-N-Out Burger
In-N-Out is one of the planet's most obstinate burger-makers. To convince the chain's powers that be to change anything on the menu is nearly impossible, which must make it something like a food activist's white whale — otherwise, why badger them to do things they'll just never do? Case in point: A new group has started a Change.org petition asking it to please provide them with a proper meat-free-burger option.
Past efforts to persuade the chain have of course always been futile, including one by prominent vegan activist Ari Solomon in 2013. This newest petition looks strong, though. Right now it has 17,500 supporters — a thousand more than Solomon's — and was created by the Good Food Institute, a nonprofit advocating for meat alternatives that's run by the guy who directed PETA's Meet Your Meat documentary.
In an open letter to In-N-Out CEO Lynsi Torres, the group says, "As a company that prides itself on both customer satisfaction and ethical business practices, adding a meat-free option is a no-brainer. And by making this single addition, In-N-Out would be making a huge statement that it truly cares about its customers health and the health of the planet." The petition then points out that even White Castle has veggie sliders.

A rep for Good Food tells the Orange County Register that a "cheese slathered bun" is the best option meat-avoiders have right now, and that it's a terrible option. "I don't think that satisfies people's desire for a full entrée," the rep says. David Chang is an avowed In-N-Out fan, and even he understands the power of a good veggie burger, so maybe there's still some hope here?