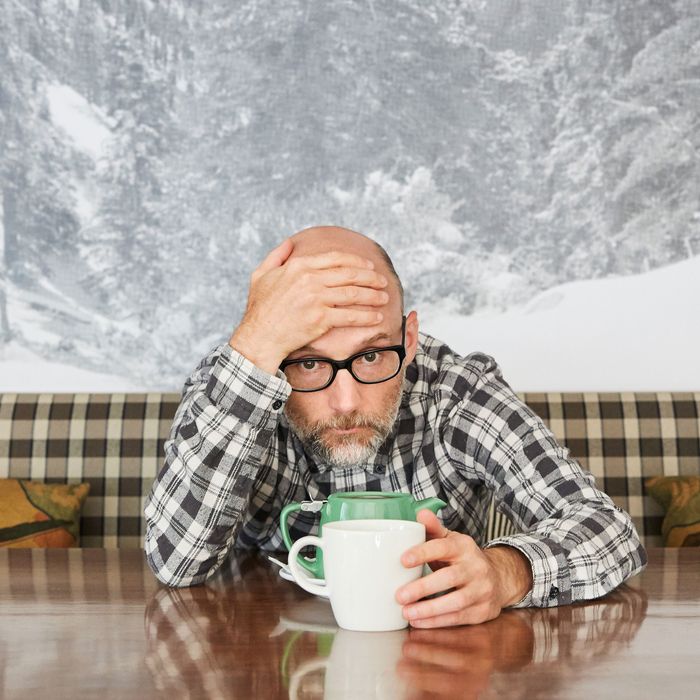 "It's probably easier and less stressful to just burn your money in the front yard."
Photo: Yuri Hasegawa
The Grub Street Diet debuted ten years ago, and to celebrate, we've asked some favorite subjects to once again chronicle everything they eat and drink. Six years after his first Diet, Moby is still a vegan, of course, but he also now owns a restaurant in Los Angeles, Little Pine — which drives him a bit mad.
Monday, September 5
I woke up and had my usual breakfast smoothie — kale, broccoli, purple cabbage, beet greens, strawberries, turmeric, ginger, banana, cranberries, and DHA oil.
I've been a vegan now for 29 years. My smoothie ritual started about 15 years ago on one very hung-over morning. I've since stopped drinking, but I used to drink way, way too much, which is why I don't drink anymore. Anyways, I was in New York and very hung-over, and I made this really simple smoothie, and it made me feel better. So every time I was hung-over, I would make a similar smoothie. Then I got sober, and I kept making these smoothies, adding ingredients and researching what should be in them, until I came up with what seemed like the perfect blend of phytonutrients, protein, fiber, and omega oils.
Mid-morning, I had a pot of white peony tea.
For lunch: Ezekiel 4:9 cinnamon-raisin English muffin with cashew butter and apple butter. Even before I became a vegan, when I was growing up, I'd go to my friends' hippie houses and see this Ezekiel 4:9 bread. It's one of those things, like Dr. Bronner's soap, that has just been around forever. What I love about it is that all the grains are organic and sprouted. They become more digestible and healthier, so I've been buying the bread for decades now.
I also had Bragg's apple-cider vinegar with water and lemon and agave. After years of spending time in health-food stores and reading weird pamphlets, I know a lot about the importance of benign and beneficial bacteria. I really, as much as I can, try to have as many fermented foods in my diet, because it seems like one of the reasons why we have weird, disparate health problems in our country is that we take antibiotics. Apple-cider vinegar is an easy way to have some beneficial bacteria.
Mid-afternoon, I had tea with peppermint, rose hips, and licorice.
For dinner, I made conchiglie pasta with black beans, ginger, kimchee, olive oil, and walnuts. It's my go-to if I'm home alone and want to make a really satisfying and healthy dinner very, very quickly.
Tuesday, September 6
I had my same breakfast smoothie, and, mid-morning, a pot of sencha tea.
For lunch, I made soup with potatoes, black beans, corn, garlic, tomatoes, with hot sauce. It's also an incredibly simple recipe. You basically just boil potatoes until they're soft, and add the rest of the ingredients. I drank cold mint tea, and then peppermint-licorice tea in the mid-afternoon.
Dinner at Little Pine: asparagus-and-mint risotto, summer-squash ribbons with basil vegan ricotta, a farro-walnut salad, maitake-mushroom crostini, and a pot of turmeric-ginger tea. We opened about a year ago, but I eat there only a couple of times a week, because it is more on the indulgent comfort-food side of veganism. If I ate there every night, I might — I don't know, I tend to eat more monastically at home, and I like to balance it with a couple nights of more indulgent food. I'll always round up some friends, head over, and order a whole bunch of things, to make sure that they are being cooked okay.
I run the restaurant as a nonprofit, so any money generated by the restaurant goes to animal-welfare organizations. Of course, this is a weird form of entrepreneurial-ism, when you can't make money from something. But it helps me deal with the frustrations of running a restaurant. I don't know why any sane, rational person would think about opening a restaurant.
I sometimes will compare it to writing a book, making a record, or making a movie — at some point, the work is done. But if you open a restaurant, you work really hard, and then it has to be perfect 12 to 14 hours a day, seven days a week, forever. And the climate has to be perfect, the design has to be perfect, the food has to be perfect, and it all has to be legal, every single second of every day that you're open. If you're really lucky, you break even. When I hear people say that they want to open a restaurant, I want to stage an intervention. Because I like my restaurant a lot — it's a beautiful space, the food is really good — but if it wasn't ideologically driven, I would not run it. Doing it for purely entrepreneurial reasons, I don't know why anyone would do that, unless you're super smart, like Keith McNally. But for almost anyone else, it's probably easier and less stressful to just burn your money in the front yard.
Wednesday, September 7
Breakfast smoothie. Mid-morning pot of white silver needle tea.
For lunch, I had Ezekiel 4:9 sprouted tortillas with hummus, fresh basil, tomatoes, orange peppers, balsamic vinegar. Lemon water.
There is no shortage of good vegan places in Los Angeles. I'm not being diplomatic; I love all of them. But my favorite newish place is called Vege•ta•ble. Unfortunately, it's in that long tradition of cringe-able puns applied to vegetarianism and veganism, but they have an approach to food that I find very inspiring. I had butternut squash on focaccia, roasted carrots in maple syrup, broccoli in vegan cheese sauce, a kale salad, and corn cakes in mango salsa.
Thursday, September 8
Breakfast smoothie. Mid-morning pot of white peony tea.
For lunch, I had Real Food Daily's vegan lasagna, and a kale-cucumber-ginger lemonade. Real Food Daily is a vegan restaurant that's been in Los Angeles for a long time. Everything they do is quite good, and the lasagna is gigantic. It's like the size of War and Peace. And it's so traditional. There's a precedent in the world of veganism — sometimes people will take something traditional and screw it up, just in the interest of screwing it up. Like, you order gazpacho and you just want a simple gazpacho, and they've made it out of zucchini and black garlic and you're like, I kind of just want it to be normal. So this lasagna is so traditional, and everything about it is perfect. The pasta is perfect, the ricotta is perfect, the spinach and the basil is perfect, the marinara is perfect.
For dinner, I made brown rice with sautéed tempeh, onions, steamed broccoli, toasted sesame seeds, and sea salt. Cold mint tea. This has been my vegan staple meal for 29 years. It's really easy, once you figure out how to make brown rice, which is not rocket science. It's cliché hippie vegan food, but it's easy, tasty, and nutritionally about as perfect as a meal could be.
Friday, September 9
Breakfast smoothie. Mid-morning pot of jade oolong tea.
For lunch, another soup with potatoes, black beans, corn, tomatoes, and hot sauce. Plus toasted Ezekiel 4:9 bread with hummus and orange peppers. To drink, Bragg's apple-cider vinegar with water, lemon, and agave.
I had dinner at Little Pine again — broccoli with avocado mousse and hazelnuts, gnocchi with fresh basil and mixed vegetables, a panzanella salad, and gazpacho. Iced hibiscus tea.
At some point, I stopped seeing animal products as being food, so now if I'm out and someone has a steak, to me it doesn't register as food anymore. I'm a vegan for many reasons, but one of them is that I feel like the world of vegan food — and I know a lot of foodies would take issue with this — but I feel like the world of vegan food is so much broader. I'm not trying to battle the world of animal products, but there actually aren't that many: chicken, fish, butter, yogurt. Then you look at all of the vegan ingredients: spices, all of the fruits, nuts, beans, grains, and vegetables. There is so much to choose from, and you can do so much with them. I feel like there is a heightened potential for creativity that keeps me interested. It makes me never really miss or crave animal products.