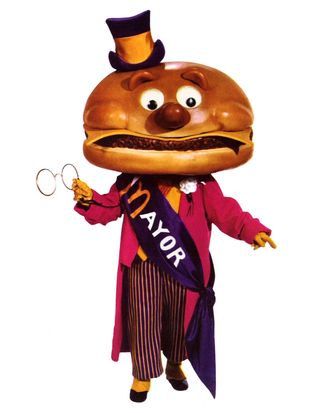 Your days are numbered, McCheese.
McDonald's is testing a concept store in France that sounds like a total identity crisis: A brand-new McCafé has materialized in Paris that serves breakfast, lunch, and dinner, yet offers no hamburgers whatsoever. In fact, Le Figaro reports that, inside, "nothing indicates that this restaurant belongs to the American chain." No fries. No nuggets. And definitely no Royales, France's famed take on the Quarter Pounder.
What is on offer sounds like the items at cafés you'd find while walking down any Parisian street: coffee, teas, soups, macarons, and sandwiches. The store's exterior is emblazoned with phrases like "Coffee time" and "Great club sandwiches," while interior photos show a glass case with salmon or pastrami on toasted bagels, none of which probably look remotely McDonald's-y even to most French citizens.
This isn't the first time "MacDo" has tried to abandon the very thing that first made it famous. In 2010, McDonald's actually tested a different version of a McCafé with a menu heavily focused on a DIY salad bar, but that proved too big a gamble, and the location shuttered after a year. This time, company reps are staying cagey, claiming it's "too early" to know if its burgerless experiment will catch on.