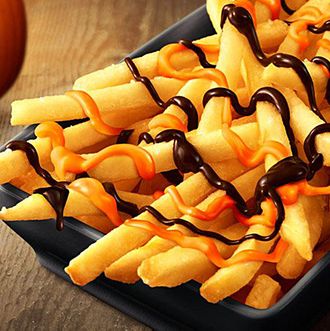 Yep.
Photo: McDonald's Japan
Apparently willing to gamble with the one thing it objectively does right, McDonald's Japan has dressed up its French fries in a legitimately scary Halloween costume this year. Yes, it involves pumpkin spice, and no, people in Japan aren't nearly as obsessed with that ubiquitous culinary calamity as their American counterparts. The seasonal item is an order of the chain's standard shoestrings, only squirted with lines of chocolate and pumpkin sauces. It's unclear what makes the pumpkin one so unnaturally orange (over here, one imagines the answer would somehow involve Cheetos), but the hue certainly befits the timing of the item's limited release. Anyone hoping for pumpkin-spiced fries will have from September 28 to Halloween to satisfy this perverse craving.
McDonald's Japan shared the good news today via Twitter:

The message is of course in Japanese, but the 👻 emoji needs no translating. It's obviously meant to suggest that the McChoco Potatoes from January that these riff on have, like Patrick Swayze's character in Ghost, have gone through a violent transformation and now serve to warn of impending danger.