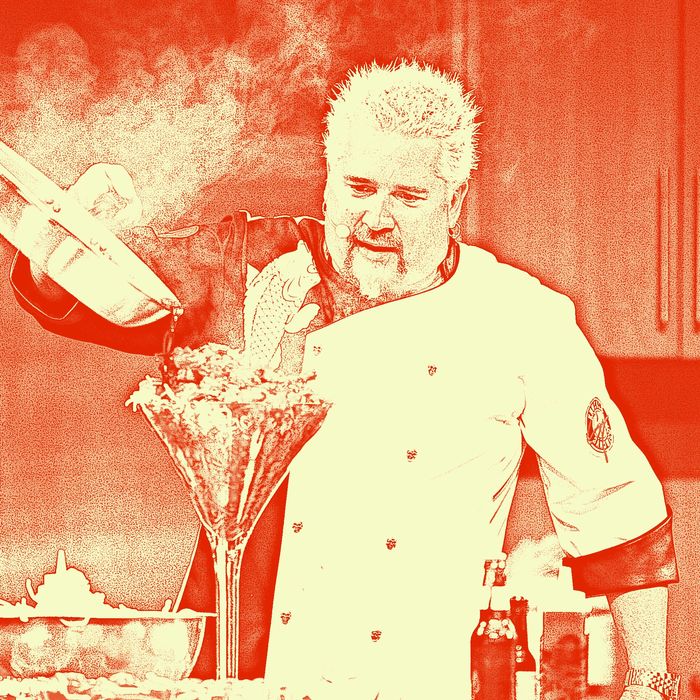 It's possible this man is not actually a genius.
Photo-Illustration: Photo: Bill McCay/WireImage
Foodie-ism has finally come full circle. When human frosted-tip Guy Fieri first arrived on America's TV screens a decade ago, people who actually care about good food fittingly saw him for what he is: a joke. In 2011, Anthony Bourdain said, "I look at Guy Fieri and I just think, 'Jesus, I'm glad that's not me.'" Others offered similar opinions over the years. And in 2012, Times critic Pete Wells delivered the world's most famous Fieri burn, a 1,000-word takedown of his truly mediocre Times Square Restaurant, Guy's American Kitchen & Bar. It was the restaurant slam read 'round the world — no doubt the darkest day on record for the residents of Flavor Town, and a magnificent blow to any claims Fieri may have had to culinary credibility. Lately, though, a strange new phenomenon has taken hold among otherwise right-minded Americans: a fresh embrace of Fieri and his original show, Diners, Drive-Ins and Dives.

These are not tepid endorsements. The stories have headlines like "Guy Fieri Is the Hero We Need" (Playboy, 2015), "The Unrecognizable Genius of Guy Fieri" (Esquire, September 2016), or "The Accidental American Genius of Guy Fieri" (The New Yorker — the actual New Yorker! — 2016). Esquire proclaims that he "takes every plate piled high with burgers and fries as seriously as you might an entry in the Bocuse d'Or." Fieri, according to First We Feast, "cracks the code to life's biggest conundrums."

Fieri is not, these stories argue, the sentient garbage disposal you thought he was. No, he's a brilliant, populist savant who, all along, has been celebrating the kind of food Americans should be eating. The meals that real Americans eat. Per Playboy, Fieri's "contribution to preserving and publicizing America's culinary culture is a side of the story that doesn't get shared very often." A story in David Chang's Lucky Peach agrees. The show "highlight[s] inclusivity without being about inclusivity … He's not asking about the political story of hummus; he's discovering the personal story behind a specific hummus."
Call it the Guy Fieri Reclamation Project. But it's time to put a stop to this kind of thinking. The entrepreneurs Fieri spotlights, for the most part, do deserve to be celebrated. And they benefit from being on his show, which, yes, serves a certain purpose. But is Guy Fieri really the man for the job? Does it make him a genius?
Indeed, tastes have changed, for the better. Food snobbery is out, good food presented without folksy pretension is in. Enjoy a burrito with a side of taco salad. Hell, go drink a piña colada at a fancy bar and enjoy yourself while you do it. This is a better way to eat and live, and on the surface it seems that this is exactly the kind of approach to food that Diners, Drive-Ins and Dives — "Triple D," to its legions of fans — celebrates. The mom-and-pop establishments that get featured do tend to specialize in affordable cooking that's free of a chef's ego and mainly serves to make customers happy.
Guy Fieri is a man who helped open a restaurant called Tex Wasabi's that specializes in "rock-n-roll sushi-bbq," and once debuted a menu of "kraft kocktails." Guy Fieri put his name on a Times Square restaurant that sells dishes like Motley Que Ribs for $25 and "Awesome" Pretzel Chicken Tenders for $13.50. He currently hosts a Supermarket Sweep Food Network rip-off. Guy Fieri contributed recipes to a Smash Mouth cookbook, has had endorsement deals with T.G.I. Friday's and Miller Lite, and shilled Hot Fudge Brownie K-cups for Keurig, as well as $140 meat packs for Costco. Guy Fieri insists on pronouncing his name "Fee-Eddy" even though his given name is Guy Ferry. This is not a man of the people, here to save America from its own pretentiousness. This is a man who adopted a cartoonish look and even worse catchphrases and kept rolling with it until he could afford a fleet of bright-yellow luxury automobiles.
Celebrating Fieri's essential Fieri-ness is the problem. It leads to vapid catchphrases. It encourages national restaurant chains like Taco Bell and Burger King to follow their basest instincts and release Chimeras like fried-chicken taco shells, Whopper burritos, and — God help us — something called Cheetos Chicken Fries.
"Triple D" is a relaxing, satisfying show, the kind of thing that's fine to have on in the background while you do something else. But it isn't good because of Guy Fieri; it's good in spite of him. Fieri is a flaming-skull decal brought to life, and he built a business empire on the very premise that he's a human punch line, but you could argue that the talented people on "Triple D" would actually be better served by a person who takes the enterprise a little more seriously.