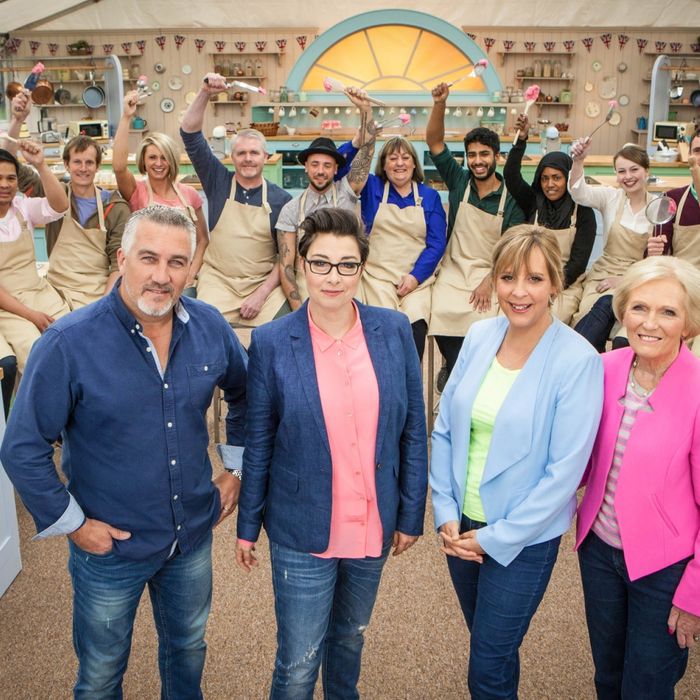 Cherish this forever.
Photo: Mark Bourdillon/BBC
It's a puff-pastry exodus. Following Love Productions' announcement that its hit show The Great British Bake Off will move from the BBC to Channel 4, co-judge Merry Berry, Britain's grande dame of baking and everyone's dream grandma, now says she won't return next season. Her decision, which she attributes to loyalty to the network, comes hot on the heels of now-ex-hosts Mel Giedroyc and Sue Perkins's tandem exit. With Berry saying sayonara, Bake Off is left with only one of the original four hosts and judges left. Explaining his decision to stick with the show, Paul Hollywood tells the BBC, "[I]t's been a huge part of my life in the past few years and I just couldn't turn my back on all that."
This is certainly a big blow for the enormously popular show, part of the appeal of which has always been its hosts and judges. Last season's finale was England's most-watched show in 2015, when six other Bake Off episodes were among the country's top ten most-watched television shows. It's inspired 19 international spinoffs, including one in the United States, where the original has become a charmingly quirky and warm refuge for Americans strung out on deep-fried, sugar-glazed Triple D episodes and overdone competition shows. That crazy success no doubt caused this, as the BBC's offer of nearly $20 million a year — double what the network had been paying — couldn't compete with Channel 4's three-year offer of reportedly $99 million. Like a soufflé, it clearly wasn't made to last.