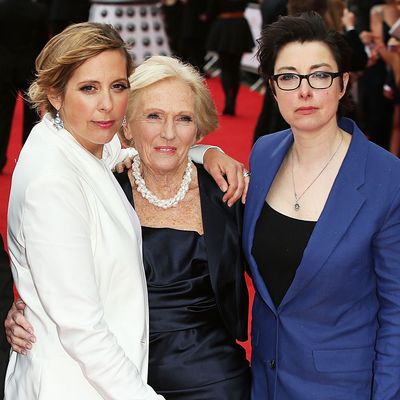 Flour power!
Photo: Tim P. Whitby/Getty Images
Clearly not wasting any time, the BBC is reportedly considering creating a flour-power-fueled Great British Bake Off challenger featuring ex-judge Mary Berry and ex-presenters Mel Giedroyc and Sue Perkins. The news came after the show's creators, Love Productions, jumped ship for Channel 4 after seven seasons with the BBC. This is good news, no doubt, but fans shouldn't get too excited, as the BBC won't be able to just replicate Bake Off. If the show does happen, it could be more like The X-Factor to Bake Off's American Idol — and a reminder of what was lost.
Some essential questions come up: Will there be enough humble, very nice British hobby bakers for two shows? Will the BBC find as charmingly nonsensical a setting as Bake Off's tent in a field? Will it be able to create an equally ridiculous but different enough opening-credits sequence? On the other hand, the BBC has retained three members of the dream team and only lost Paul Hollywood — who was never anyone's favorite part of the show, anyway. While a Bake Off challenger isn't a sure thing yet, the BBC has reportedly promised Berry the mooncake: telling her she'd be the focal point of its cookery line and the network's top chef until she decides it's time to hang up the apron.