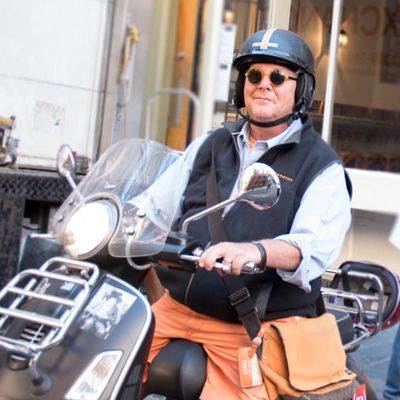 Batali outside Pearl Oyster Bar, one of his all-time favorite restaurants.
Photo: Liz Clayman
The Grub Street Diet debuted ten years ago, and to celebrate, we've asked some favorite subjects to once again chronicle everything they eat and drink. "I would say I probably eat less than half the food I ate in 2011," Mario Batali says. "I pay attention now, you know? As you get a little bit older, you've got to." That means smaller bites of the fry-bread tacos he makes on The Chew, and no grazing at Babbo as he prepped for Michelle Obama's visit.
Tuesday, September 20
Up at 6 a.m. Walk Willie, had to drag him out of bed.
We dropped my two kids off at the University of Michigan three weeks ago, so I am still out of rhythm. I used to make breakfast for [Batali's son] Leo every day, and I still feel like I should, but the home kitchen stays quiet all day.
At 6:30, I have one espresso. At 6:40 a.m., two eight-ounce glasses of turmeric-ginger iced green tea. I really like the stuff.
At 6:45 a.m., it's time to film The Chew — an early shoot for a Halloween show reveal. I have one espresso, and then at 8 a.m. I meditate for 20 minutes. I started meditating about six years ago. I was having dinner with the Seinfelds, and Jerry was saying that it helps him stay focused. I thought that was intriguing, because I see him as a high-performance guy. Now I do it twice a day, and I must say, it makes me less angry at stupid shit.
We roll show one at 8:45 a.m.: "Treat Yourself." I make a 30-second affogato milkshake, and I take one sip. Clinton [Kelly] makes stuffed gougères with onion-soup dip, and they're surprisingly delish, so I have one. Dafo [Daphne Oz] makes brownies with black beans, and I have one. I could have eaten ten of these little fuckers. And I have two bites of her miso-glazed turkey meatloaf. Michael Symon makes pork tenderloin. Banging! I have one ounce of it.
During my 10 a.m. break, I have meetings and phone calls — one to discuss the upcoming Columbus Day parade. I am being honored. I think I like the idea of a big float, although the open-air Maseratis seem cool.
We have rehearsal for show two, "Big American Eats," which will air on October 4 to time with the release of my book. I have another espresso. We taste four dishes from new book: smoked mullet dip from Florida, Natchitoches meat pies from Louisiana, Navajo fry-bread tacos with red chile from Texas, and Woodford pudding from Kentucky. I take a small bite of each. It's very easy to eat half or all of something, so I make sure that I have a maximum of two bites of everything, and that the bites are TV-size, which fit inside the rounded part of a tablespoon. Although I'm never going to be the skinniest guy on the show, I'm going to make sure that I don't become the most giant person on TV as well.
At 1:15 p.m., I go to ABC studios and shoot holiday promos. At 3 p.m., I head to Babbo to meet Frank Langello, Jason Denton, and Thomas Stelle — my crack Babbo team. We discuss a super-VIP secret tasting strategy.
I'm home at 4 p.m., and at 4:30, I meet with the Otto team to discuss holiday preparation. I leave at 6:45 on my Vespa to the 92nd Street Y to have a discussion with Dafo about her new book. She is wicked smaht.
I eat eight red grapes in the green room, and when I'm done at 9 p.m., I ride my Vespa through the shit-storm of traffic due to the United Nations and President Obama. At 9:30, I'm home and eat one cup of cooked escarole with a splash of red-wine vinegar and Aleppo chile. I meditate for 20 minutes, watch Lawrence O'Donnell, and hit the sack at 11 p.m.
Wednesday, September 21
I wake up at 5:15 a.m. and box from 5:30 to 6:30. Then I have one espresso, one glass of turmeric-ginger iced tea, and head to The Chew.
I have another espresso, meditate for 20 minutes, and then we roll show one, "Southern Faves." Symon starts with chicken and Greek-yogurt drop biscuits; Carla makes shrimp with grit cakes and a fennel salad. It looks good, so I eat two shrimp, a bite of the cake, and two bites of fennel salad. Clinton makes a fried-green tomato melt, and I have a half-slice of a tomato.
I cook with my dear old pal chef John Currence, and we make his monkey bread. We talk about the presidential candidates, which causes a ripple on social media. I eat one bite and it's sweet, nutty, and yummy, plus a quarter of a cup of Symon's sauce for his dish.
We end at 10:45, I race down to Babbo and do a special VIP tasting. It goes well.
Later that evening, I have the Mozza team — Nancy Silverton and Dahlia Narvaez — over to my house for tacos with old pal James Rivers. Chef Leo Maya set it all up. She's been our babysitter for the last 12 years, and both of our boys went to college this year and we decided not to let her go. She's of Mexican descent and makes great food. I have one chicken taco, three glasses of iced tea, half a can of Tecate, half a cup of guacasalsa — Leo makes a tomato salsa and then stirs in chopped avocado and jalapeños. It could be its own business. I also have a quarter of a cup of black beans with cumin, and a quarter of a cup of cucumber salad with lime and chipotle chiles. I have one mango for dessert with ancho chile and lime.
I meditate for 20 minutes and go to bed at 10:30.
Thursday, September 22
Up for boxing at 5:30. I have an espresso, two glasses of my tea, and then leave for The Chew. There, I meditate, have more espresso, and one slice of frittata with chopped herbs.
We roll our first show, "Seriously Simple Desserts," and Clinton makes mascarpone with sautéed apples. We mock it and then taste it, and it's delish. I have two bites. I make a pear tarte tatin with David Alan Grier and have one bite. Carla plays around with some store-bought cupcakes and decorates them. Symon makes s'mores dip that's a "viral internet sensation." I have two bites of a graham cracker. I don't really love marshmallows in any form.
I meet with Symon re: Epcot stuff, and we split eggplant Parmesan for lunch — I eat mine cold from the fridge with sriracha. Kim Noone brings it from a deli near her house. We love the stuff.
We rehearse and then roll the second show: "Simple Store-Bought Solutions." America Ferrera is our guest. I have been a big fan for a long time. She is even cooler than cool! Carla makes flatbread with hummus and sautéed kale. I take a bite. Clinton cooks with America: They make a potato and quinoa cake with a fried egg. It is really much more delicious than I expected. I take two bites of the cake and one of the egg.
Meanwhile, Symon and I demystify artichokes. I make olive-oil-braised baby artichokes on the stove top with mint, basil, lemon, garlic, and ricotta salata, and Symon makes stuffed big ones, grandma-style, braised in the oven with breadcrumbs, Pecorino, lemon, herbs, and oil. They're both fantastic and a reminder of the spectacular feeling of the return to cooking after the sweet summer of slicing tomatoes and grilling. I eat one baby artichoke and half of a big one.
We wrap at 1:15, and the weekend is here! I meet my art team at Otto to discuss the holiday gift package, and have an espresso with one ounce of Sambuca. It's my Thursday tradition.
I go home to write recipes for a Vice show shooting next week, then head to an event for a new book at Food52. I love Amanda Hesser and her whole team. I have two oysters Rockefeller, one mini pierogi, and one ounce of a Manhattan cocktail. Then I head to the airport with Susi [Cahn, his wife] to fly to Traverse City, in Michigan.
In the air, I meditate for 20 minutes, then have half of a chicken milanesa torta from Tortaria on University. I remove the chicken because it's hard and cold, but the bread and dressing and chilis and bean mush are all perfect.
We arrive, and at 11:30 p.m., I head to Garage Bar in Northport for a quick drink with pal Pier Wright — an old pal from the Tampa days. I have one stinging-cold Stella Artois in a frosty-cold glass. I'm home in bed at the beach by 12:30.
Friday, September 23
At 5:30 a.m., I'm up for a beach walk with Willie. Lake Michigan is lively, petulant, and andante. I love this place
I have an espresso and then meditate for 20 minutes. Breakfast is at my favorite spot, North End Eatery, with Tyler Blumenthal, catching up on the local gossip. I have one cup of coffee with two little plastic creamers, two eggs over easy with one tablespoon of tomatillo salsa, a quarter of a slice of marble-rye toast, one bite of breakfast spuds with ketchup, and one bite of ham.
At 9:30, I have another espresso, then write wine notes for the next Vice shows, with help from Jeff Porter, wine director and all-around joyous and viniferous dude.
I have lunch with Detroit pals at Tribune in Northport: half of a whitefish sandwich on a bun with lettuce, tomato, tartar sauce, onion pickles, and hot sauce; six sweet-potato fries with ketchup; two iced teas.
After I visit Wright Gallery, I have one espresso and then head back to the beach. Nappy napperton! I read Heroes of the Frontier by Dave Eggers, one of my favorites in a while.
Dinner is with Susi and friends at 9 Bean Rows, the best restaurant in Suttons Bay. One Old Fashioned with Bulleit rye; three ounces raw pumpkin salad with almonds and kale and yogurt dressing; a third of a ten-ounce strip steak with one tablespoon chimichurri; eight French fries with aioli; one glass Cabernet Franc.
Home at 9 p.m. I meditate for 20 minutes and go to bed with big waves crashing outside.
Saturday, September 24
I wake up at 5:30, but it's too dark to play golf, so I meditate first. I go to Northport Creek's course, play nine holes, and shoot three over. Spectacular day.
I go to Tom's to buy brats and buns for the University of Michigan game versus Penn State. Then I have breakfast at the Tribune, and it's simply spectacular. A two-egg omelette with chicken-of-the-woods, Swiss, and chives, and I eat the whole thing. I also have a cup of coffee with cream and Stevia.
I go home for a beach walk with Willie and Susi. Then I watch the Ole Miss game. It's a strong first quarter, and I eat two pretzel sticks with stadium mustard. We head to Northport's "Uncaged" music-and-arts festival; Susi and I co-sponsor one of the five stages. I have one can of grapefruit IPA and split a duck burger with Susi from our pals at Earth Wind & Fryer. We also split a sour-cherry gelato pop. Yumbang!
We head back to the house to watch U of M demolish Penn State, and I eat one brat with relish, sauerkraut, and mustard, and drink one "Smackintosh" hard cider from Tandem.
At 6:30, I meditate for 20 minutes. Then I have one Hibiki whiskey on the rocks with a splash of Aranciata and a basil leaf. We call it a Wolverine. I catch a little of Big Bang Theory, then head to the Garage Bar, where I have three onion rings and four fries and two sips of a gin-and-tonic.
The finale of the festival is frothy and joyous, and the town goes wild. At 9:45, I sneak off to hit the rack with the waves singing me to sleep.