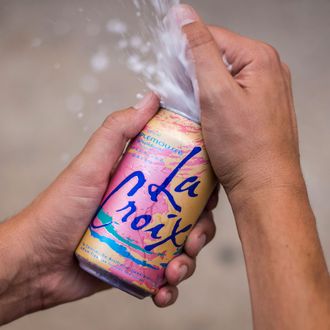 Not good news.
Photo: Brittany Greeson/The Washington Post/Getty Images
There's trouble in LaCroix land. In a new report, activist investment group Glaucus Research Group has accused National Beverage, owners of the trendy seltzer, of artificially inflating its stock. The company's stock subsequently plummeted by as much as 16 percent today, a sharp turn south from the 65 percent rise it had enjoyed over the last year courtesy of the anti-soda phenomenon.
Possibly unable to understand why kids are so into LaCroix these today, Glaucus blasted National Beverage as "a faddish stock-market darling du jour." It also seems to believe it has unearthed a dastardly conspiracy, calling on government agencies to conduct a "full investigation" into the company and its accounting and practices. In what is definitely the most drama to hit the soft-drink world in a long time, National Beverage clapped back by calling the report "false and defamatory" and accusing Glaucus of being the one manipulating its stock.