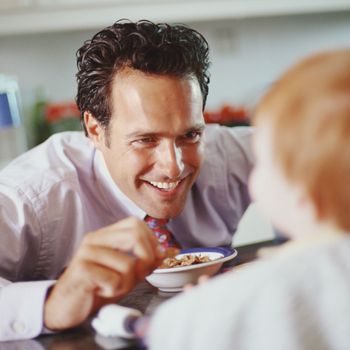 No one wants cereal anymore, Dad.
Photo: Vital Pictures/Getty Images
Cereal was once embraced by Americans as a God-given breakfast right, enjoyed around the lands by children reared for decades on Cocoa Puffs, Lucky Charms, and other wholesome brands. Recently, though, everyone stopped caring about it. Realizing that it isn't the best idea to eat marshmallows and corn coated in sugar armor every morning, people started abandoning it for smoothies, oatmeal, and other healthier options. Millennials just think it's too much work to clean up. Kellogg fought this, but it has finally wizened up and realized that it cannot stop the downward spiral into the yogurt abyss.
That is why it has decided to, screw it, focus on the only people who will want cereal: dads. Kellogg's new marketing campaign for Frosted Flakes, once one of the titans of the cereal scene, will focus on dads, who everyone knows nostalgically pine for the days of sitting around in their pajamas and watching cartoons all morning. To get the job done, it has even hired '90s actor Alfonso Ribeiro, whose The Fresh Prince character Carlton Banks is the living embodiment of dorkiness. Kellogg claims this is about making the brand relevant again, but clearly it's just saving face — and admitting defeat.