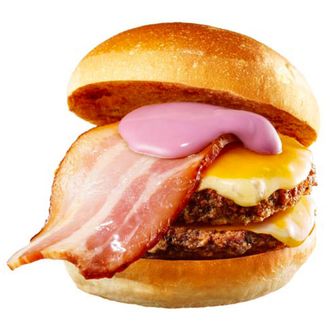 Troubling, to say the least.
Photo: Lotteria
Nobody should be asked to salivate over a burger that can't return the favor, or at least that appears to be the thought process behind the latest insane sandwich by Japan's Lotteria. The centerpiece of this year's Halloween menu at the country's hands-down most gonzo chain is something called the Purple Magic Bacon Double Excellent Cheeseburger, available with fries for about $8 starting October 6.
Lotteria makes up for giving the burger a name that isn't the slightest bit Halloween-themed by putting it in a coffin that's equipped with vampire teeth and scary font:
The sandwich itself somehow manages to be both a masterstroke of simplicity — bread, meat, cheese, meat, cheese, meat, cheese, bread — and deeply unsettling. The oversize sheet of bacon is almost upstaged by the completely inedible-looking glop of pinkish goo that's theoretically a cheese sauce made with purple-potato powder, but stands a probably 50–50 chance of actually just being warmed-over Silly Putty.

Lotteria is typically unbeatable at the absurd burger game. But as nuts as the Purple Magic is, it's still solidly the runner-up to Burger King's wholly unappetizing-looking tongue burger. Something to aspire to: