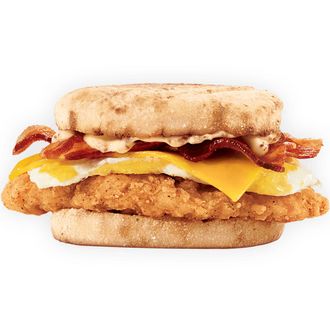 You "no longer have to wait until the weekend" for this.
Better late than never, Jack in the Box is releasing its own version of all-day breakfast. The twist — possibly genius, who knows? — is something it's calling all-day "Brunchfast," a word Jack in the Box has trademarked and that appears to straddle the line between capitalizing on fast food's new meal-category curiosity and being able to repurpose lunch items that get you halfway there already. It's billed by the chain as an industry first from the people who gave America its first breakfast sandwich in 1969. The "unique flavors of brunch" are married with "anytime availability," which means enthusiasts will "no longer have to wait until the weekend to satisfy their brunch cravings."
The menu officially rolls out next Monday. The centerpiece is a bacon, fried egg, and chicken sandwich that conspicuously apes McDonald's signature a.m. sandwich vessel: the English muffin. A "Brunch Burger" is what the name suggests — fried egg, cheese, and bacon — but stuck in a croissant. Then there's also a "Southwest Scrambler Plate," sort of fast food's version of a deconstructed Denver omelette that comes with home fries and joins Jack in the Box's list of foods to never eat while driving. "Sides" include mini pancakes and orange-cranberry muffins.