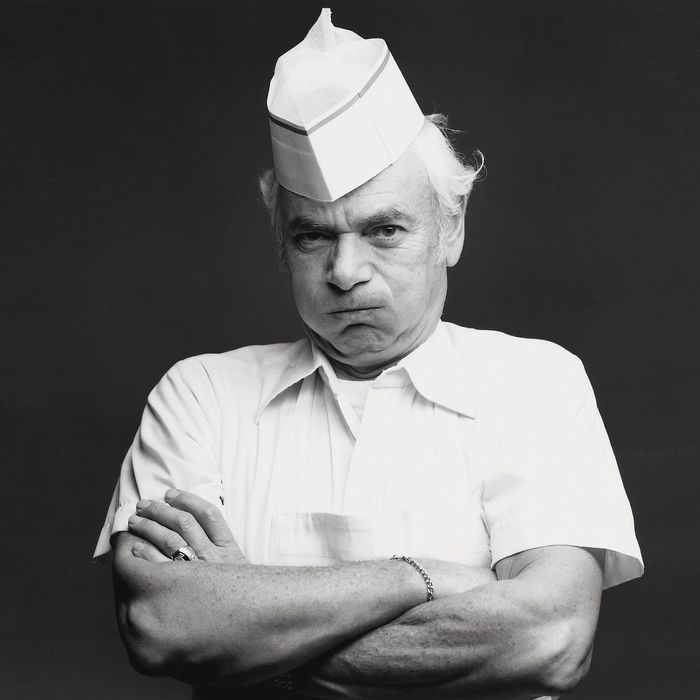 It's not like you're going to be happy about seating him.
Photo: Headhunters/Getty Images
David Duke has resurfaced in Louisiana, and his arrival — along with a Senate campaign — has some people in New Orleans's restaurant world wondering: What do you do if the former KKK leader and convicted felon (tax fraud) shows up and wants to be seated? What are the, ahem, hazards of someone like Duke in a dining room? What are his rights, really? Even the most notorious notable technically should be served, yet chefs and owners confronted with situations like these have to weigh a variety of factors before deciding whether or not someone scandalous should be seated, as well as what happens to them (and their food) if they are.
On a night in the early '90s, after he lost the gubernatorial race to Edwin Edwards, Duke arrived without a reservation at Gautreau's, the esteemed French restaurant in New Orleans. Tony Tocco, who was a waiter at the time and now owns Atchafalaya in the city's Uptown section, remembers it was an issue. One owner was a supporter of the Jewish community. The chef loved hip-hop. This was not Duke's turf. Should they seat him and his date? The decision: Serve him. After all, it was late on a Monday and the restaurant was clearing out. "They sat him at the table closest to the kitchen and blasted hip-hop from the speakers positioned by the door," Tocco recalls, in hopes of making Duke's experience as "unpleasant as possible with no collateral damage, while still taking his money."
Duke, however, is far from being the only food lover with an unsavory past that restaurants have to deal with, and a solution isn't always so simple. The mere sight of the objectionable party could stir the entire room to lose its collective appetite, not to mention respect for the restaurant. Even if the crowd doesn't mind, or notice, the person in question, staff members (or the actual owner) may feel it goes against their principles of morality or taste to seat and serve a scandalous diner.
There's no single way to handle it, and levels of notoriety fluctuate, of course. Anthony Weiner seems to have little trouble getting seated around New York, for example. And in March of 2015, murder suspect Robert Durst — made extra notorious by HBO's The Jinx — managed to sit quietly at the bar of Emeril Lagasse's namesake New Orleans restaurant and enjoy his last free meal only an hour before being arrested. A restaurant staffer told the Post at the time that even though Durst sat with a "weird little smile," he didn't recognize him ("I don't have HBO") so the restaurant served him without incident. Meanwhile, O.J. Simpson, perhaps the most enduringly unappetizing man in America, regularly ate out during his years in South Florida following his murder acquittal. But when he went to Jeff Ruby's Steakhouse in Louisville in 2007, on the eve of the Kentucky Derby, without a reservation, owner Jeff Ruby refused to serve him. ("I may have ruined his Derby," Ruby would later tell reporters, "but that doesn't bother me.")
With famously tight margins, it can be difficult for restaurant owners to turn away any potential business, but Ruby has also announced that he similarly wouldn't serve Trump, should the presidential nominee show up. However, since the Civil Rights Act of 1964, a restaurant operator cannot legally refuse service to patrons based on "race, color, religion or national origin." So even though restaurants sometimes will reserve the right to choose who can and cannot eat at their spots, it's often just a front-door placard.
The people who can be 86'd without incident are rowdy patrons, groups that are too large for the dining room, people who enter after the kitchen closes, as well as potential diners who are unkempt or unclean. And, perhaps most important for the purposes of this story, customers who may provoke a hazard to the safety, well-being, and welfare of other diners (or themselves).
"I haven't had to serve Duke yet," says Steve Watson, the co-owner of New Orleans neighborhood bar the Kingpin and the Italian eatery Midway Pizza, "but I usually frown upon KKK people." After considering it further, he added, "I would think Duke would pose a safety factor, so I guess I'd kick him out and let him try to sue me later."
Others in New Orleans say they'd serve Duke, but only because they wouldn't want to bother with not serving him. "He's not reflective of who we are in Louisiana; he just happens to live here," says Robert LeBlanc, a state native who owns a string of buzzy restaurants (Cavan, Meauxbar, and Sylvain among them). "I'd be hard-pressed at this point to even know what he looks like," LeBlanc admits.
Joel Dondis, an owner of the city's Sucré dessert boutiques, agrees: "If a customer enters our establishments in a virtuous and courteous manner, and with no political agendas, just someone with a sweet tooth, then they're a welcome guest. But I couldn't pick Duke out of a lineup unless he was in a robe and hood."
One longtime New Orleans–area resident who worked as a valet at a family-style Italian restaurant just outside the city does recall one time Duke showed up, years ago. "I remember the chef peering out into the dining area, watching him eat," says the former valet, requesting anonymity. "The chef nodded his head slowly and said, 'I put my dick on that chicken.'" That may have been true, or not, but he adds, "I've worked long enough in the service industry to assume something happened. The back of the house is always full of pirates."
Still, this is the hospitality industry, so some owners just want to be as gracious as possible about the ways in which they refuse service to a potential diner. Others tell white lies. When asked what he'd do if David Duke walked into one of the restaurants he owns in Manhattan, Vanity Fair editor Graydon Carter offers the following solution: "I'd probably say that Con Ed is shutting down the gas and we can't serve any more diners." At his Waverly Inn, the menu is currently stamped with the quote "Waverly Inn — worst food in city," attributed to none other than Donald Trump. So what would Carter do if Trump decided to pivot on that position and drop in for dinner? "If Trump came in," Carter muses, "I'd tell him where Duke went when we sent him on his way."