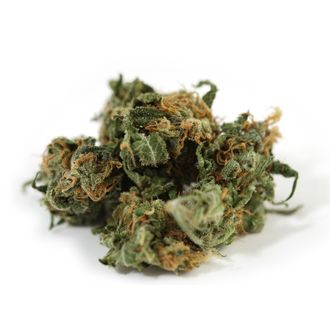 A little more Banana Kush, sir?
Photo: Nicholas Belton/Getty Images
Here's a surefire way to have the all-time chillest rehearsal dinner: One of America's first certified cannabis sommeliers has started a catering business that promises to add "a third layer onto your dinner experience" by pairing every dish with not only its own wine, but also a meticulously chosen "small-batch" weed strain. Philip Wolf's Cultivating Spirits, which Bloomberg notes just locked in $400,000 worth of funding, offers everything from three-course pairing menus for ten to full-service catering jobs that can include a "bud bar" and even a cannabis-tasting tour.
As an actual pot pro, Wolf already knows the terpenes each strain produces — the unique scents he then uses to complement the food. He adds his team doesn't prepare the menu until two days before the event to ensure they have the freshest buds, because nobody's going to pay a $1,250 minimum for something that smells like dusty old hay. According to Bloomberg, the protocol is "puff, eat, drink, in that order," and a typical course might put a rib eye with a 2013 Malbec and pipeful of Gorilla Glue. Dessert could be white-chocolate crème brûlée, a 2012 petite syrah, and Blue Dream. Right now, Wolf says he's doing a couple of events a week, and they're proving especially popular (not shockingly) with birthday party–goers, bachelors, and bachelorettes. A wedding package can set you back nearly $10,000, but the possibility of having smokable bouquets and finally seeing what Grandma looks like totally bouldered is arguably priceless.