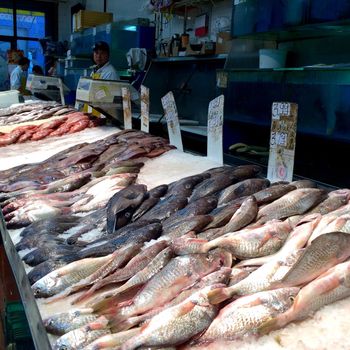 Photo: Keith Gette/Moment Editorial/Getty Images
Eating seafood means navigating a host of ethical dilemmas, from overfishing to human-rights abuses. Then there's the issue of rampant fraud, which occurs in everything from crab cakes to lobster and — according to a new report — is even worse than you probably even imagined. That's the case being made by ocean-conservation group Oceana in a new report about fish fraud, for which it tested 25,000 samples of seafood and found that one in five were incorrectly labeled.
For the report, Oceana analyzed 200 studies from 55 countries and found instances of mislabeling at every step of the chain, from wholesalers to importer to retailers. According to a representative for Oceana, only one of the studies in question didn't find any fraud at all. Another study, focused on Italy, found that an astounding 82 percent of grouper, swordfish, and whopper samples were mislabeled. The fish most commonly passed as other species was farmed Asian catfish, which was sold as perch, cod, grouper, and 15 other pricier species.
There are potentially dangerous consequences to this rampant misabeling: Oceana found that 58 percent of mislabeled samples could pose health risks, particularly for young children and pregnant women. Mercury-saturated king mackerel was sold as barracuda and wahoo in South Africa, while a New York grocer sold blueline tilefish, which has so much mercury it's on the do-not-eat list, as halibut or red snapper. In other cases, endangered fish, like largetooth sawfish in Brazil, were being passed off as other species not at risk.
As if more fish fraud wasn't enough, another report from the Associated Press finds major labor abuses in the American fishing industry. This is exploitation on the level of the Thai sea slaves, involving hundreds of undocumented immigrants who, because of a federal loophole, don't enjoy even base-level labor protections.
Hailing from Southeast Asian and Pacific countries, the fisherman work American ships run by American captains; because of the men's lack of visas, they are often confined to those ships for years while earning paltry salaries of 70 cents an hour. The investigation discovered instances of human trafficking, as well as workers using buckets in lieu of toilets, suffering from bedbug infestations, and lacking enough food.
This is not just a couple ships gone bad, either. The fleet consists of 140 boats, mainly docked in shadowy ports in Honololu but also San Francisco's Fisherman's Wharf, and doesn't operate in the name of cheap shrimp. The boats, rather, are catching pricy ahi tuna and swordfish. According to the report, the high-end seafood is carried by retailers like Whole Foods and Costco, served by star chefs including Roy Yamaguchi and Masaharu Morimoto, and the entire system has the blessing of high-ranking lawmakers.