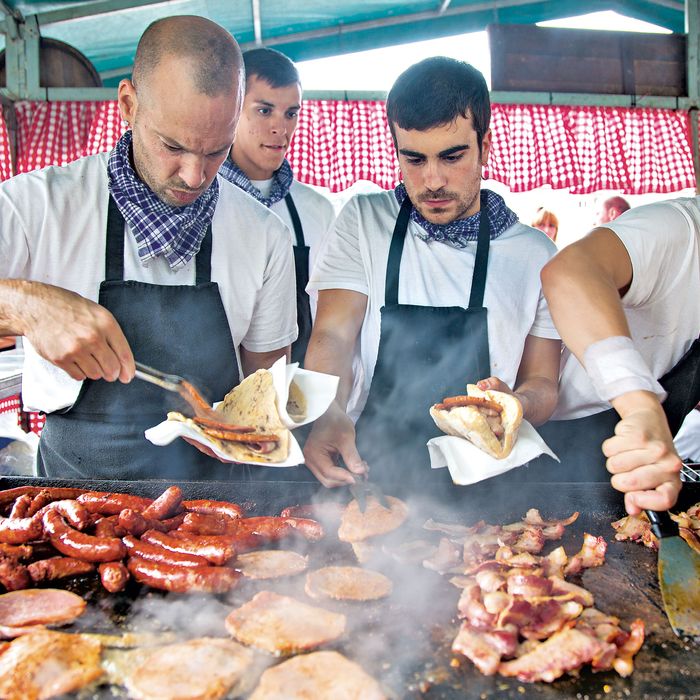 Aitor Aurrekoetxea's taloak stand in Bilbao.
Photo: Penny de los Santos/Courtesy of Ten Speed Press from "The Basque Book"
For most of the world, street food is a convenient, cheap, sometimes-but-not-always-delicious means of getting a meal. About 2.5 billion people eat some form of it each day. And lately the humble cuisine has seen a rapid rise in popularity among the intrepid-traveling-foodie set. If you'd asked a chef a few years ago where she got her inspiration, the answer likely involved the tasting menu at Noma, or a transformative experience foraging for sea lettuces. Today, it's a good bet the answer will be street food. Anthony Bourdain, god of street eating, will open the $60 million night market in the Meatpacking District in 2019, bringing vendors featured in his TV shows to share the marquee with established local names. Which is not to say you can now just hop in a cab outside the Singapore airport and cry "Take me to the noodles!" If you really want to know the right way to season a blood sausage in Seoul, what to do when you get the munchies in Bilbao, or where to get your hot dog slathered with a mound of shrimp salad in Norway, you have to ask a chef.
In Bilbao, There's Screaming When Passing the Taloak
"Think of Taloak like a Basque funnel cake, but savory. And the guy who makes it the best is Aitor Aurrekoetxea. He goes from fair to fair, and there are always lines. It's served with streaky unsmoked bacon, chorizo, or pork loin, with idiazabal cheese. There's always screaming and yelling, passing around the talo." —Alex Raij, chef at La Vara, Brooklyn
The Kyoto Omelet-Flipper Is an Artist
"In Nishiki Market in Kyoto (Nishikikōji-dōri between Teramachi and Takakura), there's a Japanese omelet that is made to order. The vendor will have five or six omelets going at one time, rolling into these beautiful cylinders. It's a total art form. Load up on the umami: Order barbecued eel; green onions or negi, Japanese leek; and sweet dashi sauce. You want to get both sweet and savory." —Tim Cushman, chef at O Ya, New York
There's a Rice-Cake Matriarch in Seoul
On Tteokbokki Street, dozens of stalls, mostly run by women, sell chewy rice cakes in a fiery gochujang sauce to late-night partyers. This all began in 1953, when a woman known as Mabongnim opened a stall (5, Dasan-ro 35-gil) to cater to fans leaving a nearby stadium. More women followed, and a neighborhood was born. Mabongnim is now somewhat of a local celebrity.
The Suya in Lagos Will Make You Weep
"Ask any Nigerian, 'Where's the best suya around here?' It's served on the side of the road. The beef has been cut into thin slices, skewered, and grilled, with a spice mix. It's so spicy your nose is running, your eyes are running. They serve it in old newspaper, with the oil soaking through, and you eat it with your hands. Don't rub your watering eyes after." —Tunde Wey, New Orleans–based chef
Florence's Best Sandwiches Are Served Outside Church
"I was wandering around the basilicas near the Arno right when church let out. There was one tent with a line, and a guy was slicing prosciutto, then stuffing it into a fat piece of ciabatta. You had to squish it to bite in: crispy, chewy ciabatta, with peppery olive oil and buttery slices of prosciutto." —Angela Dimayuga, chef at Mission Chinese Food, New York
Bangkok's Chicken-and-Rice Stands Sometimes Have Blood Cake
"These stands are simple: There's a pushcart with hanging poached chickens, a rice cooker, cucumbers, and, sometimes, a blood cake. If I see one, I'll go there. A chewy blood cake is a sign the vendor's serious about what he's cooking." —James Syhabout, chef at Hawker Fare, San Francisco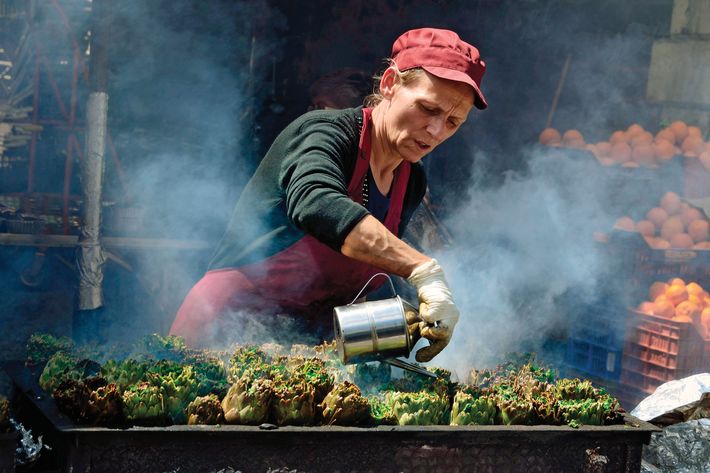 The Roasted Artichokes in Catania Fall Apart in Your Hands
"Don't try to eat the artichokes while walking; find a quiet park where you can sit and concentrate. They're sold by the half-dozen, with some light, crisp Italian beers on ice. There is definitely not a way to eat these gracefully. We were licking our fingers the whole time, and our hands were covered in roasted-garlic-infused Sicilian olive oil. The bag can double as a napkin when you're done. As a good rule, always seek out older men and women cooking one single item. You're pretty much guaranteed that these people have dedicated their lives to their craft." —Nick Curtola, chef at Four Horsemen, Brooklyn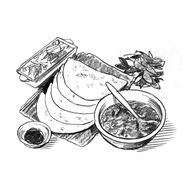 Da Nang, Vietnam
Unlimited bánh xèo crêpes, filled with pork, spring onions, and poached shrimp. Comes with a basket of lettuce and herbs to make wraps, plus a cup of artichoke tea. Where to find it: Any stall along the Han River.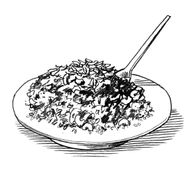 Cairo, Egypt
Three orders of koshari: rice, lentils, chickpeas, and pasta packed in a pita, topped with fried onions and spicy tomato sauce. Where to find it: Koshary Sayed Hanafy (1 El Khaleeg El Masry St.).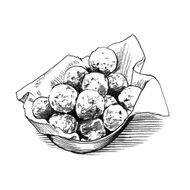 Dakar, Senegal
Two sandwiches with accara (black-eyed-pea fritters), and tomato–Scotch-bonnet-chile sauce. Where to find it: Marché Sandaga (at Ave. Pompidou and Ave. du Président Lamine Guèye).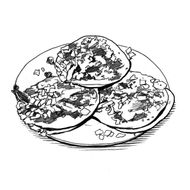 Tulum, Mexico
A plate of tacos al pastor. Where to find it: The backyard of Andromeda Ote and Calle Beta Sur, down the road from Hartwood restaurant. (Look for the painted sign that says "Tacos al Pastor."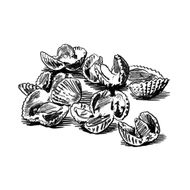 Bangkok, Thailand
A plate of boiled and shucked blood cockles. Where to find it: Cockle Texas cockle cart in Bangkok's Chinatown.
Bún Bò Bourdain
When No Reservations visits your food stall.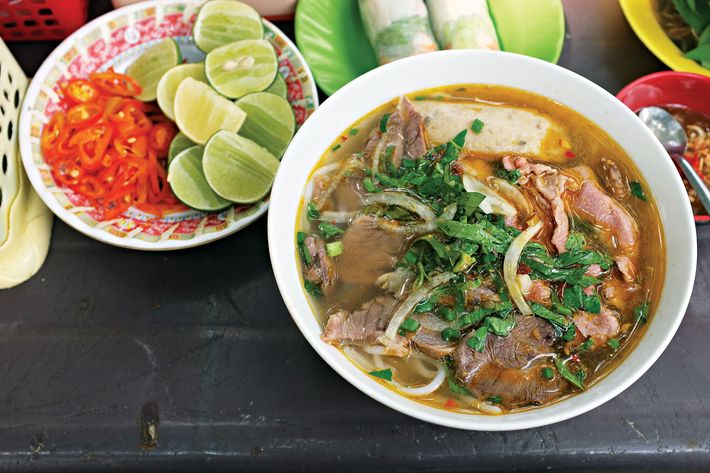 Before Anthony Bourdain had ever been to 23 Hoang Sa Street in Ho Chi Minh City, Nguyen Thi Thanh was already a destination. Known as "the Lunch Lady," she makes a different soup each day, drawing hordes of office workers — especially on Friday, when she serves bún bò Huê (meat and noodles in a lemongrass broth). Then, in 2009, Bourdain arrived with his No Reservations crew and declared the broth something that "gods once suckled on." Her stall now shows up on Google Maps and prices have risen, but selectively: Tourists pay about 70 cents more than regulars for a bowl of noodle soup. But she hasn't peaked yet: The Lunch Lady is on Bourdain's wish list for his New York night market.
Countdown to 2019
What to expect from Bourdain Market.
Location: Pier 57 between West 15th and 16th Streets.
Square footage: 155,000.
Projected cost: $60 million.
Confirmed vendors: Geylang Claypot Rice, Singapore; Sabina Bandera's seafood tostadas from La Guerrerense, Ensenada, Mexico; Victor Churchill butcher, Sydney.
Wish-list vendors: Beef brisket and shrimp wonton noodle soup from Mak's Noodle Shop, Hong Kong; sarawak laksa from Choon Hui Cafe, Malaysia.
24 Hours of Street Food in Mexico City
In Mexico City it's entirely possible to eat — very well, mind you — exclusively on the streets for every meal, snack, juice break, and late-night munchies attack. Mexico City– and San Francisco–based chef Gabriela Camara's very good, very full day.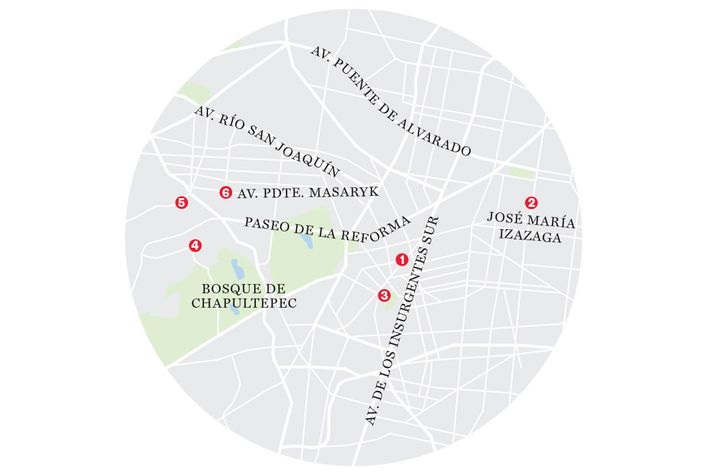 11 A.M.
"Find some tacos de canasta. You'll see bicycles with a basket in the back: Tacos are made in advance and then are sold out of these baskets. The guy who rides by Contramar (Durango 200) (1) every day at 11 a.m. is the best."
2 P.M.
"Get a cóctel de camarón — a traditional Mexican ceviche, like a shrimp cocktail — at El Caguamo (Ayuntamiento 18) (2). The shrimp are cooked, peeled, and they add in a little liquid in which the shrimp was cooked, and also some chile, vinegar, and ketchup."
4 P.M.
"For the merienda (like a snack), vendors come out with camotes: whole roasted sweet potatoes. Camote vendors ride down Avenida Ámsterdam (3) on bikes. There's a piercing whistle as an announcement."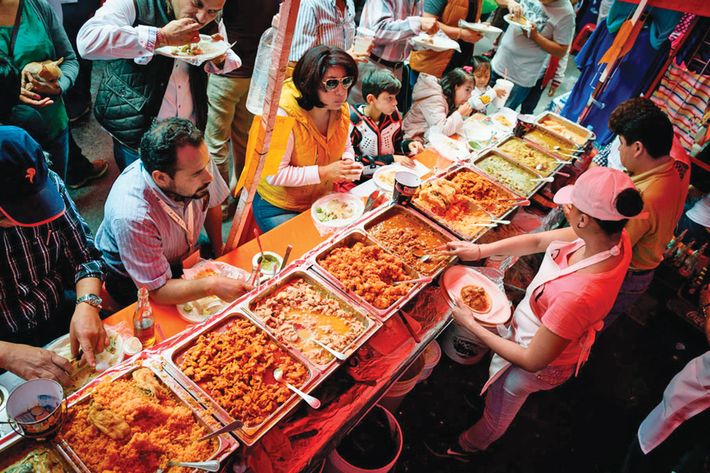 7 P.M.
"Tacos de cabeza. Every day at this stand, on the corner of Boulevard de los Virreyes and Prado Sur (4), this guy makes a whole head of a bull. Oh my God, these tacos are so delicious."
10 P.M.
"There are good kosher deep-fried quesadillas in Las Lomas de Chapultepec, at the corner of Montes Urales and Palmas (5)."
3 A.M.
"At the intersection of Avenida Presidente Masaryk and Calle Emilio Castelar (6), there is a family that serves tacos out of the back of a van with chicharrón (pork skin) in salsa. It's crunchy, stewy, gooey, delicious. The son gives you the drinks, and the whole family helps out."
Seoul Has DIY Blood Sausage
"There are a lot of things in Korean food that you season yourself, like blood sausage. At Nandaemun Market (21 Namdaemunsijang 4-gil), drizzle sesame oil onto the sausage; one little swipe in the oil — first, so the salt will stick — and a swipe in the salt mixture is all you need. There will always be pepper flakes in the salt mix that comes with it, but to make it spicier, ask for extra gochugaru." —Sohui Kim, chef at Insa, Brooklyn
Know Your Larb
The minced-meat salad varies hugely according to region in Thailand. Kris Yenbamroong of L.A.'s Night + Market explains the difference.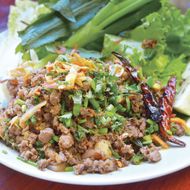 Northeastern Larb
"This is the more common version. It has lime juice, shallots, rice powder, fish sauce, chile, and raw herbs. It's sharp and zippy, with a lot of heat." eat it at: Larb Moo Dong Keng (Mittraphap Road), in Udon.

Northern Larb
"There's no lime juice at all. It's earthier and darker. They put blood in it, so it's more like black pudding, with that darker, iron-y flavor profile." eat it at: "Jaa Jit, named after the retired policeman who is the chef. This is on the side of the highway, halfway between Mae Chan and Mae Sai."
You Will Get Sick
"You have to completely let go of any fear of getting sick. You will get sick. It doesn't mean things haven't been properly washed. It's just being in a different country. There are so many different amoebas that we aren't exposed to. For a local, it's nothing." —Tracy Jane Young, chef at Kings County Imperial, Brooklyn
Hot Dogs on Three Continents
With and without condiments.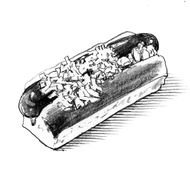 In Santa Cruz de la Sierra, Bolivia
Eat it: On the corner of Ballivian and Potosí.
"Panchito dogs are closer to a sausage, fat-content-wise. And then there's the Cold Stone Creamery of toppings: shredded cheese, hot sauce, pickled chiles, salsas, and sometimes an ambrosia-esque thing with potatoes, marshmallows, and too much mayo. I like mine with ketchup, avocado, charred corn salad with aji amarillo, and fried potato sticks shaved superthin so you get a whole bunch of crunch ratio." —Ham El-Waylly, chef at Hail Mary, Brooklyn
In Chinatown, New York
Eat it: At Fay Da Bakery (83 Mott St.).
"It's this emblematic New York food, somehow mashed up with a Chinese-bakery pastry — which is itself a funny mash-up, a more European take. The hot dog is wrapped in this fluffy bun — like a Pepperidge Farm bun conflated with brioche, but less buttery. It's very soft and fine, almost spongy. There are no condiments to mask the meat, but it's not some fancy sausage. It's totally a mass-produced link." —Jonathan Wu, chef at Fung Tu, New York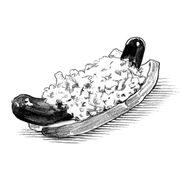 In Bergen, Norway
Eat it: At Tre Kroneren (Kong Oscars Gate 1B).

"Pølse med ­rekesalt is a hot dog with a mound of shrimp salad on top. Tre Kroneren reigns supreme, as it's the only one left in Bergen that has the sausages specially made just for them. Pølse are available at all the gas stations and newsstands, but they have no soul." —Christopher Haatuft, chef at Lysverket, Bergen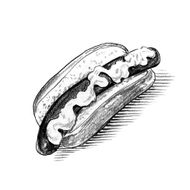 Plus: The best new hot dog in New York is also the oldest.
Feltman's griddled beef frank, sold out of a takeout window at Theatre 80 St. Marks, is a tribute to the man who invented the Coney Island red hot: German immigrant Charles Feltman had the foresight to sandwich a sausage inside a custom-baked bun in the 1860s. Tour guide Michael Quinn has revived the name and the recipe and does them both proud with little more than a Martin's potato bun and a swipe of homemade mustard (onion, Ba-Tampte sauerkraut, chili, and cheese optional). —Rob Patronite and Robin Raisfeld, New York food editors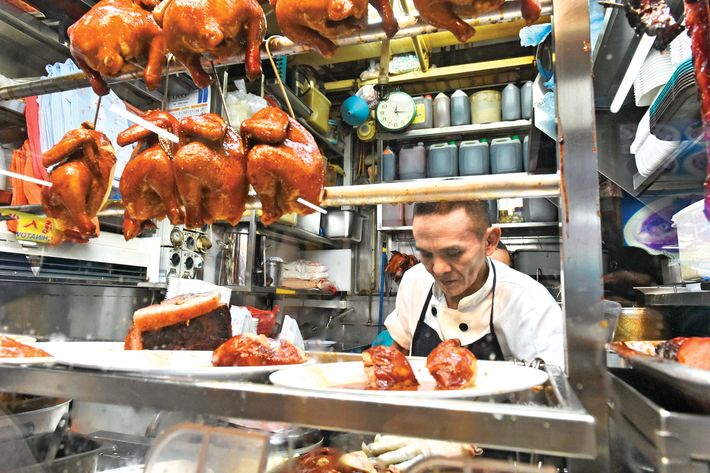 Even Michelin Likes Singapore's Hawker Stalls
In July of this year, the Michelin guide bestowed one star apiece on two hawker stalls in Singapore, Hong Kong Soya Sauce Chicken Rice and Noodle and Hill Street Tai Hwa Pork Noodle. It was an unprecedented move for the stodgy France-trained inspectors, who are better known for honoring restaurants with white tablecloths. When Chan Hon Meng, the 51-year-old owner of Hong Kong Soya Sauce Chicken Rice and Noodle (335 Smith St.), heard the news, he remembers asking, "Are you joking? Why would Michelin come to my stall?" At about $1.85, a plate of chicken and rice from Chan's stand is likely the cheapest Michelin-starred meal in the world. Since the stars were awarded, lines are reportedly longer, stretching for an hour or more at the stalls, which are located in separate indoor hawker centers.
Despite the Ugly Noodle Lawsuits
Before the Michelin inspectors found their way to his stall, Hill Street Tai Hwa Pork Noodle (466 Crawford Lane #01-12) owner Tang Chay Seng made the local news for a less celebratory reason. In 2010, Tang sued his nephew Tung Yang Wee after the younger man opened a rival noodle stall and allegedly played on the fame of the Tai Hwa name to gain attention for his reportedly inferior noodles. The uncle sought damages and also wanted his nephew to print an apology in Chinese-language newspapers where supposedly misleading ads had appeared. Tang lost the suit against his nephew, who defended himself (the exculpatory evidence: a pot of flowers sent as congratulations on the rival restaurant's opening), but still received about $1,000 in damages for "loss of goodwill."

The "Street Food" Vendors in Doha Are Actually Drive-Throughs
"It's too insanely hot for street food. But there are these tiny restaurants, with almost no indoor seating. You pull up in your car, and they come out with a menu. You place your order, they bring it out to your car. There is zero walking in that country. I love the chicken shawarmas at Reef Al Lebnani (Al Mirqab Al Jadeed Street), a Lebanese drive-up bakery. The key is to ask for extra garlic sauce and turnip pickles. And their akkawi-cheese fatayers are the best in town." —Ham El-Waylly, chef at Hail Mary, Brooklyn
Estimated sales of street food per year (in U.S. dollars) in …
Calcutta: $60 million
Bangkok: $98 million
Santiago: $70 million
There's Commuter Soup in Yangon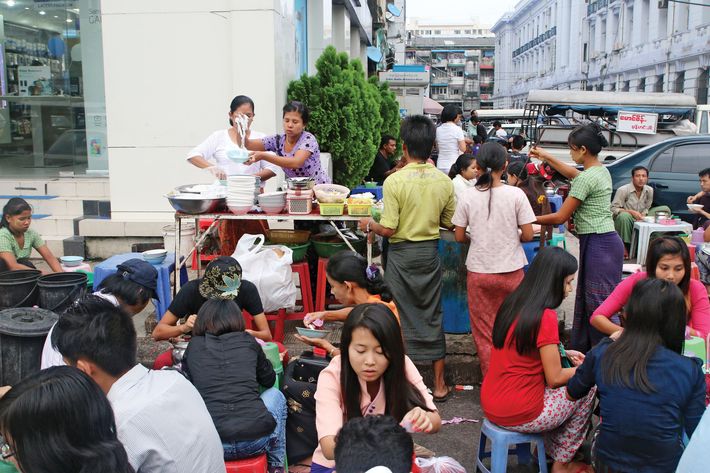 "In Yangon, where I grew up, we would eat mohinga on the street on our way to school for breakfast. It's a fish soup with a lemongrass-ginger broth served with thin vermicelli noodles. The vendor will pour the broth over the noodles, dress it up with onion or squash fritters, sometimes a fish cake or a hard-boiled egg, and hand the bowl to you. Some street vendors set up their plastic stools for customers, sometimes even tables. When you're done, you give the bowl and spoon back and they wash it there for the next customer. If you want it to go, they'll give you two plastic bags, one for the noodles and one for the broth." —Myo Moe, chef at Rangoon NoodleLab, Brooklyn
Expats Buy Tickets for Ten Puris at a Time in Mumbai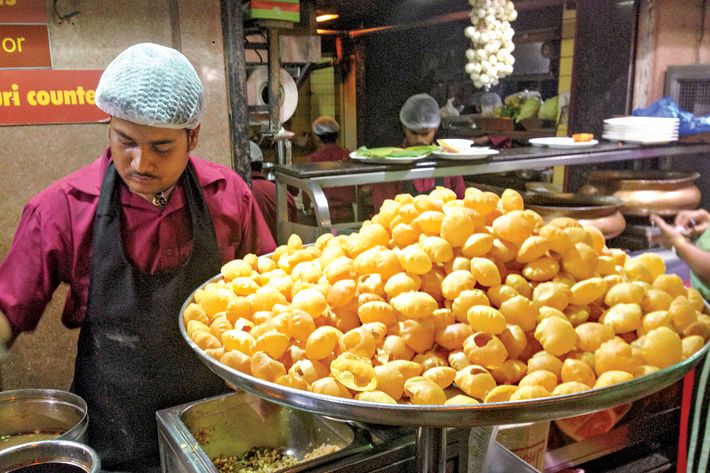 "Pani puri is a crispy semolina shell filled with a mixture of potato and chickpeas and tamarind spice water. At Elco Market (2/A Elco Market, 46 Hill Road), they say they make their pani with bottled water, so those of Indian origin from the U.S. and the U.K all go there because we can't drink the tap water. They're making all these puris one at a time, and if you don't eat it in 30 seconds, it disintegrates because it's filled with water. In addition to making all these puris, the vendor will remember how many you had. You may get a ticket for five, but he still remembers you only had three." —Preeti Mistry, chef at Juhu Beach Club, Oakland
The Israeli Falafel Face-off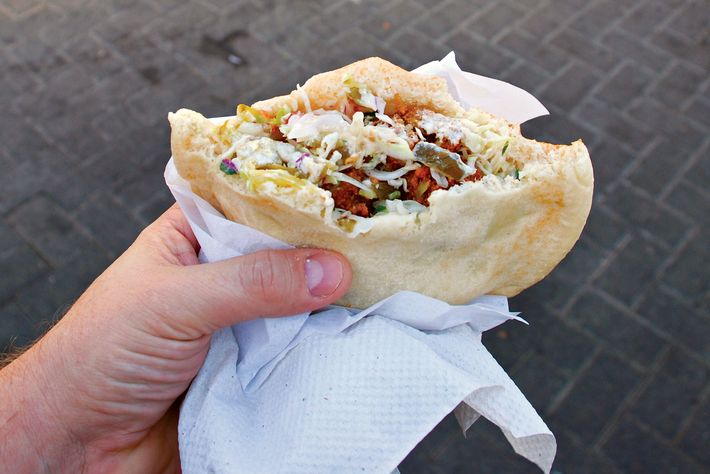 Kaduri
"The best falafel in Tel Aviv is actually just outside Tel Aviv, at Kaduri (59 Ramatayim St.) in Hod Hasharon. Its nickname is the Blue Stall because it's just a blue shack on the sidewalk in this town. The pita is fresh, the falafel isn't overspiced. The guy who makes the sandwich knows how to get the nooks and crannies, so you can eat it so it doesn't fall apart." —Mike Solomonov, chef at Dizengoff, New York

Hakosem
"Hakosem (1 Shlomo ha-Melekh) in Tel Aviv is the best. Hakosem means 'the Magician.' It's a little bit arrogant, but all Israelis are a bit, so we forgive the chef. He puts sesame seeds in the falafel, so you have this unexpected flavor. It's served with the Yemenite hot sauce zhoug. I like mine with hummus, tahini, amba (pickled mango sauce), lettuce, and Israeli salad. Zhoug on top, and no pickles."—Einat Admony, chef at Taïm, New York

Treat Street Stalls Like Flea Markets
"I like to approach street food as I do big flea markets or the New York Art Book Fair. You become so overwhelmed and lost at these fairs, flea markets, or traveling, and it's less likely you can plan or find your way back to that specific stall. Spend the few dollars and risk it and try a bunch of things! If it's not good, you only wasted a couple bucks, but if it's good, you'll remember it forever." —Angela Dimayuga, chef at Mission Chinese Food
*This article appears in the September 19, 2016, issue of New York Magazine.