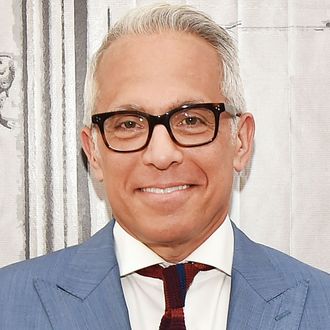 "I was just going along hoping that this thing was a bad dream."
Photo: Theo Wargo/Getty Images
The completely out-of-hand legal drama unfolding between Geoffrey Zakarian and the Trump Organization just keeps getting juicier. Both parties are suing each other after Zakarian broke a contract to open a restaurant in the D.C. Trump International Hotel following the candidate's attacks on Mexicans. The remarks the Donald made in his June deposition came out two weeks ago, but The Washingtonian got a look at the other key transcripts — specifically Zakarian's and Don and Ivanka Trump's.
The gems it pulled out of them include:
1. Don Trump Jr. learned Zakarian had aborted plans in a New York Times story. "We had had prior to that, a pretty good personal relationship," he noted. "Had dinner a bunch times and became quite friendly. So I was a little surprised."
2. Things weren't exactly peachy even before Trump's attacks. Zakarian sparred over the National's décor with Ivanka, who thought Zakarian's fabrics in particular "weren't luxe enough." He recalled an exchange the two had: "Ivanka came in and said, 'I don't like this, I don't like that, I don't like this, I don't like that.' And we said, basically, that's too bad, that's what it is." He followed that by telling Trump's attorneys: "I've forgotten more than she knows about fabrics. She's not even skilled at this."
3. The Trumps claim Zakarian didn't voice concerns until José Andrés bailed. "I don't think that Geoffrey has strong political or emotional convictions," Ivanka said. "I think he sort of went with the wind of what José was doing." They claim after Andrés split there was even talk of asking Zakarian to run the flagship restaurant Andrés was supposed to open.
4. Zakarian has some very strongly worded legal advice for Trump's children. He claims he harbors no ill will — Don's a "sweet guy," and Ivanka is a "lovely member of the Trump family." But he ultimately accuses them of filing a $10 million lawsuit against the wrong man: "If they should be suing someone, they should sue Donald Sr., because he fucking did this. He did this. He rendered this Chernobyl. He did it. So they should sue their dad."