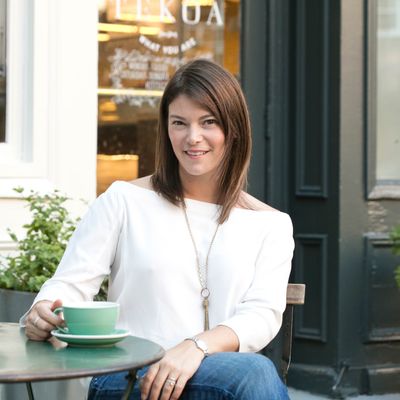 Simmons at Tekoá, one of her local favorites.
Photo: Melissa Hom
The Grub Street Diet debuted ten years ago, and to celebrate, we've asked some of our favorite subjects to once again chronicle everything they eat and drink. Eight years after her first Diet, Gail Simmons is still a judge on Top Chef and the director of special projects at Food & Wine. But she's also building a media empire: Her production company, Bumble Pie, launches its first series, Star Plates, Tuesday on Food Network, and she's writing her first cookbook. Another major life change is that Simmons is now the mother of a 2-year-old, which means diner trips for blueberry-mango pancakes, pizza dates, and, at the end of the day, lots of good wine.

Thursday, September 8
With a small child, we really try to sit down and have breakfast together every morning, because we often don't get to have dinner with her. Most days it happens; some days it doesn't. This was one of those mornings where she ate breakfast, and I was running around and didn't eat anything, so I ran to the Food & Wine office and had coffee and a banana. That's the one thing they always have: lots of bananas.
I was there most of the day, and then I was going to a doctor's appointment and realized that I hadn't eaten lunch. I needed something I could take with me, so I grabbed a salad from Le District: arugula, quinoa, avocado, tomatoes, radishes, and sunflower seeds, with tahini dressing. It was quite tasty.
At night, I went to a party to celebrate Julia Turshen's book, which I'm really excited about. I've known her for a few years, and she is someone I have really come to love, and I wrote a blurb for her book. At the party, I had the following: four turkey-and-ricotta meatballs in tomato sauce; two romaine leaves dipped in Julia's Caesar dressing; a handful of ridged potato chips with roasted-scallion-and-chive dip; half a date with mascarpone; and a chocolate-chip "feel better soon" cookie.
Back home, I snacked on air-popped popcorn from a $25 machine I got a few years ago, which I sprayed with olive oil and sprinkled with chili salt. Favorite snack. Well-used appliance. I eat it by the handfuls, to the point where, the other day, my daughter started eating popcorn and she was literally stuffing it in her face, like she couldn't get enough. She's my girl. She understands.
Friday, September 9
I had coffee and an apple again. I use this coconut sugar that's called Sweet Revenge, and it's a good alternative.
I did recipe-testing for my cookbook, which is due at the end of the year, but the photo shoot for it is in late September! I made watermelon-tarragon aqua fresca; roasted summer squash with red wine, basil, and pistachios; roasted banana-cardamom cake; and a toasted marshmallow sundae with Magic Shell, hazelnuts, and toasted pound-cake croutons.

I have a lot of self-doubt when it comes to cookbooks. I mean, there are so many beautiful cookbooks out there — it's a very crowded, noisy market — but I have been gathering, over the course of the last 20 years, if not my whole life, you know, notebooks of tips and ideas and inspirations from my travels. So this book is about those experiences, and, you know, I started off as a professional cook a long time ago. But I have to work up the energy to actually start documenting these recipes that have been swirling in my brain for so long.
When I finished, I had olives with [my daughter] Dahlia as a snack. Her favorite food! When her grandparents come and they ask her what they should bring her, she just says olives. Every time.
I had dinner at June Wine Bar with my two closest friends, who were also my college roommates. We shared the tomatoes with whipped feta, smoked eggplant with fresh toasted bread, lettuces and peas, squid a la plancha, cucumbers and herbed yogurt, a grilled whole branzino … and a big handful of Canadian Smarties. Smarties are Canadian, and they're kind of like the equivalent of M&Ms — candy-covered chocolates. But you can't get them here, so my friend visiting from Toronto brought me a container, and we cracked it open while we drank a bottle of Tempranillo rosé.
Saturday, September 10
I started my day with coffee with milk and sugar, and then we all had a lazy morning and made breakfast at home. I made breakfast sandwiches with tomato, avocado, pickles, hot sauce, and egg on top, on rye bread. The key, I believe, to a good breakfast sandwich is the pickle.
Then we went to Prospect Park, and on the way there's this little place that we've always wanted to stop at for Jamaican patties, called 3D's Place. Toronto has a huge Caribbean community, so a patty was actually my middle-school snack. I got a beef patty, and I also bought a Ting, which is a lemon-lime Jamaican soda … that's also very good with rum.
We were in Austin a couple of weeks ago for a work trip, and we brought back these chips called Have'a Corn Chips. I'm kind of obsessed with them, and apparently they're a very Texan thing. If you read the ingredients, the reason is because they have a dash of soy sauce and lime baked into them. We also had watermelon in the park.
We picked up dinner on the way home from El Atoradero, our new favorite Mexican place: tamales rajas con queso, shrimp and cecina tacos, and pepian de pollo plato. I made us micheladas at home with Pacifico, hot sauce, lime juice, and a dash of Worcester, and a chili-salt rim. (Baby D. ate part of a chicken-and-cheese quesadilla and some rice and beans.)
Sunday, September 11
We'd always wanted to go to this place Tom's Restaurant, which has been around forever. My daughter woke up extra early that morning, and we were like, "Let's just get up and go!" It's pretty hilarious; it's got Christmas decorations all year 'round. The food is classic diner, but there's something about the place that is really great. I had eggs Florentine with spinach and feta, plus bacon and coffee, and Dahlia had blueberry-and-mango pancakes.
And then we headed to the Cobble Hill farmers' market, which is such a great meeting place for the neighborhood. We were going out of town the following Friday, so I, in my head, knew I shouldn't buy that much because we weren't going to cook much during the week, but I couldn't resist. I loaded up my daughter's stroller so much that she couldn't even sit in it. Tomatoes, corn, shishito peppers, peaches, bok choy, baby sweet peppers, Swiss chard, eggs, tiny apples, radishes, and cucumbers.
In the afternoon, we had a 3-year-old's birthday party. (Wow, I really feel like a suburban mom.) The birthday girl's father, Thierry, managed restaurants for years, and we first met him at August around 2003, when we were regulars there. When my husband proposed, he actually got the chef of August to make breakfast in bed for me, and Thierry was involved in that orchestration. So he will never forget us for that.
Also, he's a great cook! He made egg sandwiches, crudités with homemade buttermilk-dill ranch, chocolate-shortbread cookies, lemon Madeleines, and chocolate birthday cake. The ranch sauce tasted like a sauce from a fantastic chicken-wing place from my childhood. It seems really simple, but I've never been able to perfect it or find it again, and I tasted Thierry's sauce and I couldn't believe it was basically it.
Even though we were snacking, Dahlia needed a proper meal for dinner on the way home, so we took her to South Brooklyn Pizza. We bumped into one of my closest friends Nilou [Motamed] on the way, and she joined us for a slice of margherita pie and a quartino of rosé.
We went home, I put Baby D. to sleep, and made a very light supper with a bunch of the food from the farmers' market — just a tomato salad with sheep's-milk feta and basil and chives from my garden, and corn on the cob. I also had a leftover watermelon agua fresca and half a peach.
Monday, September 12
The next morning I brought Dahlia to school, raced to a SoulCycle class, and realized I hadn't eaten. That was a bad move. I left sort of starving and light-headed, ran home, and stuffed down a piece of toast with avocado and tomato.

I recipe-tested again: Vietnamese pancake with shrimp and shallots and Sriracha and basil and nuoc cham; chopped summer veggie salad with charred lime vinaigrette; crispy chickpeas with dukkah; and smoked eggplant.
I also snacked on a spinach pie from Damascus in the late afternoon.
I then went to Wildair for Naomi Pomeroy's book party. I met her when she became a Food & Wine Best New Chef, probably six years ago. We've been friends ever since. She was on Top Chef Masters with me, too, and I just love that she's a hard-working mama. Her book is beautiful. I ate two raw clams, mini steak tartare on brioche with quail egg, duchess potato with smoked onion ceviche, and two glasses of rosé that they were pouring very liberally.
I had taken my friend Erica Ross, who's also my Top Chef executive producer, and her sister and her best friend to the party, because she was in town celebrating her 40th birthday. We just finished season 14, so we've been to war together. After the party, we went to Rebelle and had a late dinner — leeks in vinaigrette with soft eggs; roasted beets, fennel, and chervil; radishes with kohlrabi; anchovies with olive oil and orange zest; hanger steak. We shared two bottles of wine: Tripoz, "Crémant de Bourgogne-Brut Nature," from Burgundy, and a Garrelière, Touraine, "Cinabre," from the Loire Valley. We probably drank more alcohol than we should have.