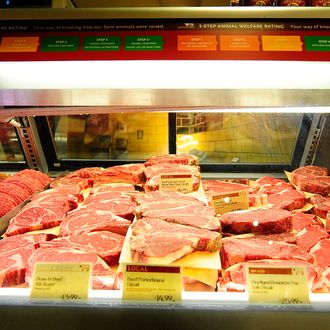 Just go ahead and load up.
Photo: Emmanuel Dunand/AFP/Getty Images
Simply put, there's really never been a better time than now to buy groceries. Much to supermarkets' and farmers' annoyance, at this point food prices have been plummeting for nine straight months, the longest consecutive drop since 1960 (except for 2009, when the country was technically still in a financial crisis). It's clearly a victory for shoppers, who can score a dozen eggs for a buck at places like Aldi, or buy-one-get-one deals on USDA Choice sirloin at Albertsons. And the nine-month record is only for the U.S., but prices are pretty low elsewhere, too, like in England, where Aldi is apparently offering eight-ounce Wagyu steaks for $6.50.
Experts point to the cost of commodities like oil being so low, but grocers are also bedeviled by a sort of self-Walmart-ification. To attract shoppers, even chains like Whole Foods are engaged in a race to the bottom. One analyst tells Bloomberg the scope is "completely unprecedented … We've never seen deflation this sharp." Another adds it's started "to border on irrational pricing," with chains "lowering prices just to draw traffic." For instance, although it's America's largest grocer, Kroger decided to slash prices to compete with discounters like Walmart, and it's now lost more than a quarter of its value this year.
There's also reason to suspect this isn't the bottom yet, either. The USDA's latest projections for meat production just came out, and they predict the cost of beef and pork will continue to drop by another 10 percent over the next decade, which the agency adds will increase the average American's meat consumption by about eight pounds a year.