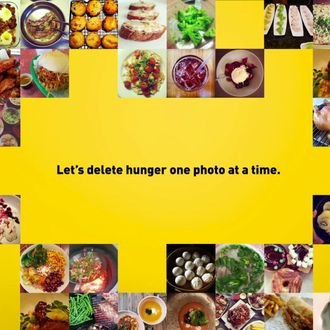 It's for a doubly good cause.
Have you ever Instagrammed avocado toast tilted just so, or sushi laboriously arranged into color-blocked mosaics, and wondered if maybe there wasn't a better way to have spent that time? So has Land O'Lakes, the butter company, whose new Delete to Feed campaign should be applauded by the internet's food porn–averse as a stroke of genius. Basically, the brand has cooked up a way to guilt trip Instagram users into deleting their food pics.
For every shot of a Black Tap milkshake or rosette-topped Blue Bottle latte you depart with, Land O'Lakes will donate 11 meals to Feeding America. "Instagram is full of food posts, but millions of Americans go hungry each year," the Delete to Feed site says. "You can make a difference. Turn your food posts into real meals." Users just sign up, link their Instagram accounts, then get to work deleting. The site tracks the number of posts each user tosses.

The campaign stretches through mid-October, or whenever it reaches a target goal of 2.75 million donated meals. As the site readily points out, one in nine U.S. households currently faces food insecurity — the implication being: So how much does that old pic of a taco plate with "aged film effect" mean to you?