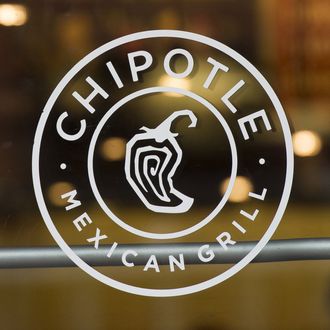 More court dates on the horizon.
Photo: Saul Loeb/AFP/Getty Images
To the laundry list of lawsuits Chipotle's faced in the past year (wage theft, insider trading, trademark infringement, pregnancy discrimination, sex discrimination … ), America's most beleaguered burrito seller can now add claims of racial discrimination. A former employee has filed a complaint alleging she got fired after complaining that Latino workers were receiving preferential treatment. Sheqweshu Clark's suit accuses her manager, who was Hispanic, of doling out plum shifts to staff who shared her ethnicity, then sticking black employees with the less desirable night shifts. Clark claims she complained to another supervisor — a male who also happened to be Latino — and he dismissed her by saying, "Black girls always have an attitude."
According to Clark's lawsuit, this all came following her return from maternity leave, which is also the turning point after which she says things at work really went downhill. Her suit notes she'd been promoted several times since joining Chipotle in 2012, but was fired "without any explanation" just a few weeks after taking her problem to a district manager, who she claims at the time promised to monitor workers' schedules.

In a statement, Chipotle's spokesman Chris Arnold says, "We only now received the suit and will evaluate its merits and determine a course of action," adding that "Generally speaking, however, a lawsuit is nothing more that a series of allegations and does not constitute proof of any wrongdoing on our part."