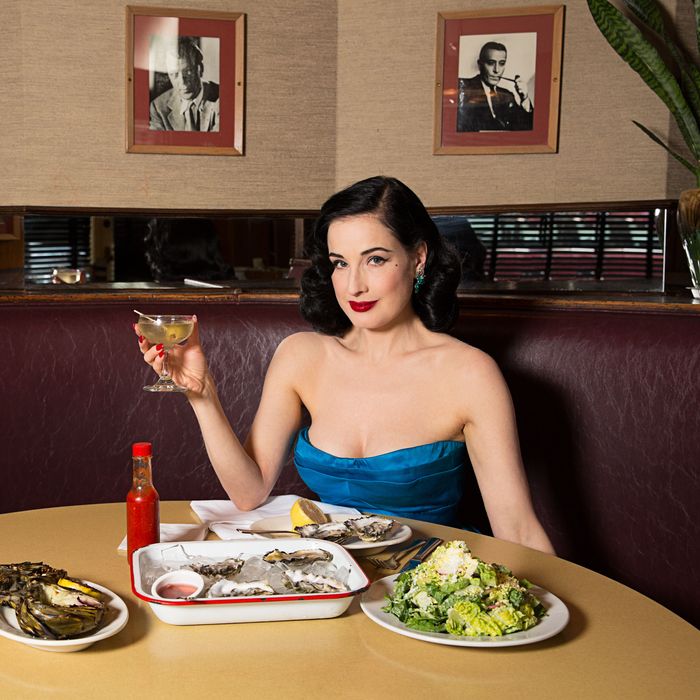 Von Teese at Little Dom's, near her Los Feliz home.
Photo: Bradley Meinz
The Grub Street Diet debuted ten years ago, and to celebrate, we've asked some favorite subjects to once again chronicle everything they eat and drink. "Last time I did this, I noticed the commentary: Some people said I ate too much, and others that I didn't eat enough," says burlesque star, lingerie designer, and author Dita Von Teese. "I think people want to imagine that all I care about is how thin I am or something. It's interesting that people judge food so harshly, because it's such a personal thing. I was like, I've got to do this again, because it's so crazy to read people's opinions on what others eat."
Sunday, September 18
I spent the weekend up in Idyllwild with a group of 20 friends, taking over the fabulously kitschy cabins of the newly opened Hicksville Pines (where you can stay in the Dita Von Teese chalet). For our group stay, I delegated cooking and cleaning teams, and this morning happened to be my team's day to cook brunch for 20. We kept it simple, with one of my favorite simple salads made with arugula, cherry tomatoes, avocado, and pine nuts, with a bit of olive oil and rice vinegar. We also made breakfast sandwiches with toasted pretzel bagels and steam-basted eggs (my favorite way!) with just a touch of smoked sea salt. I also used the leftover vegetables from our hibachi-grill feast the night before to make two quiches. Taittinger mimosas to console ourselves on departure day.
I had a big breakfast, so I didn't really stop for lunch on the drive home, but I did have some cherry tomatoes left over from the salad, so I snacked on those. That's been my convenient go-to snack lately. When I got home, I had some Mary's Gone Crackers with some almond cheese — another favorite emergency snack.
I love cooking and recently redid my kitchen in a Snow White fairy tale–Art Deco–meets–Tudor style, and it might just be the most glamorous room in the house, so I like to spend a lot of time in there. I made one of my favorite recipes from a book called The Beauty Detox Power by Kimberly Snyder. It's a kale salad with almond-ginger dressing, and it's easy to make and hearty. The dressing is so flavorful with sesame oil, almond butter, ginger, lime juice, and miso paste. I have a little sweet tooth, so afterwards I made another recipe from Kim's book: a hot elixir made with almond milk, cardamon, saffron, and honey.
When I remodeled my kitchen, I bought a British-racing-green cast-iron Aga stove, with copper accents. It's a real showpiece when people walk into my kitchen. They say things like, "Stove porn!" I'd been fantasizing about it for a long time — it's what Julia Child used — but Aga stoves require a completely different method of cooking. There are three ovens, and you don't really set the temperature; you kind of move things around. I'm still learning about it, and I read my manual a lot, and it includes a recipe for the famous slow-cooked porridge, which has been life-changing. I mixed the steel-cut oats with water and salt in my heart-shaped cast-iron pan, and popped that in the low-temperature oven to cook overnight. Even my boyfriend, who doesn't like oatmeal, is completely astonished that it doesn't have butter and cream in it.
Monday, September 19
Up bright and early for my workout; I always make myself a green smoothie before I go. Because I've been away all weekend, I don't have much in the fridge, but I blend lemon, water, parsley, green apple, and spinach together. I know it's an acquired taste for some, but the more I drink my greens, the more my body wants. I guess it's like the reverse of sugar-soda addiction. I suppose I haven't had a soda since I used to drink Cactus Coolers in the '90s! Make no mistake, I'm not as disciplined as I sound; I just think soda is an absolutely useless vice.
I come home and take the porridge out of the oven and make my favorite extra-smoky Mariages Frères Lapsang Souchong tea. I've got so many friends addicted to this that now I have to leave space in my luggage for it when I go to Paris. The porridge is divine as usual, like a creamy soufflé with chewy baked browned edges. I pour some maple syrup on it and again marvel at how this can come out so deliciously with just water, oatmeal, and salt! I really need more witnesses to how amazing this porridge is.
I had lunch at one of my favorite neighborhood spots, Stamp Foods in Los Feliz. When this place opened up, I rejoiced! Always hard to decide which of my favorite dishes to order, but today it's the Moroccan lentils and eggs with a coconut-oil bulletproof coffee. I've never really been a coffee drinker, but when I moved, I started drinking it. I really needed the extra caffeine to move all of my antiques and clothes. I wasn't sure about butter in my coffee, but it became interesting to me when I read about coconut oil — I use it a lot in beauty and in cooking. I don't drink coffee enough to notice the difference in taste, but I like the idea of it.
I love hosting themed potluck dinners at my house. I decided to make a cheese fondue served with vegetables and bread to dip, and Champagne. It was a huge hit. I read that the first person to drop something into the fondue has to host the next fondue party. I've long wanted to host a "Fundue Fondue" party, with fondues of all different kinds, and everyone wearing amazing wigs — like how Ellen von Unwerth used to host wig parties in Paris. Perhaps next time. But potlucks are great, because people love thinking of a dish to bring and bragging about it. And also, you don't have to do much work, except for the cleanup.
I've always loved cooking and entertaining. I like making things that are beautiful — things that people go "Ooh and ahh" over. It's one of the reasons I chose the fondue. I said to my boyfriend, "What am I going to make? Everyone expects me to make something exciting!" I like the wow factor, but I don't like to make complicated meals. Simple things that are impressive. One of the reasons is that I travel so much for work, and I eat out a lot, and I always miss making my own, simple, unfussy food at home. I find it to be very therapeutic.
Tuesday, September 20
I kept fantasizing about the croissant at Moby's vegan restaurant, Little Pine, but it's only open for brunch on the weekends, so I'll have to wait. I really, really love his restaurant. Instead, as it's a weekday, I'm disciplined, having a green smoothie with spinach, mango, and ginger. I'm hungry a couple hours later, so I make myself avocado toast on Food for Life's super-seed gluten-free bread with a little smoked sea salt on top.
For lunch, I ordered in from Stamp Foods again — this time the avocado salad with chickpea mash. I usually squirrel away half of my Stamp Foods meals for later or the next day.
I went to Guisados Tacos in Echo Park for tacos with homemade tortillas — hongos con cilantro, calabacitas, and a quesadilla made with nearly burnt queso panela. I actually have fantasies about the tortillas when I'm traveling. Tacos are definitely one of my weaknesses, and I love that it's BYO and you can bring your own mezcal, which is what I like to do. I used to have taco parties when I lived in Paris, because Mexican food there is terrible. I'd pack up boxes with taco-seasoning mix and hard shells, and my French friends would just go crazy for it.
I think I've become a little more relaxed in the past four years or so, since I last did the Grub Street Diet. I was stricter about what I eat — I'd think, I want to drop a little weight before I do these shows — and once I stopped obsessing and just sat down and took my time to enjoy food, it helped.
Wednesday, September 21
I had smoothie, of course — this one made with Garden of Life vegan protein powder, chia seeds, hemp milk, pineapple, ginger, and turmeric.
For lunch, I had a simple salad made with a favorite salad dressing, also from Kimberly's book. It's oil-free and made simply with lemon, avocado, honey, and garlic. Delicious!
For dinner, I had a special night out at Sasabune, a nondescript place in Glendale, which has the best sushi I've ever had outside of Japan. My boyfriend discovered this place and was like, "We have to go!" It's in a weird mall next to a California Pizza Kitchen. There's a funny sign when you walk in that says, "No California roll. No spicy tuna roll." We always have the chef's special. And I like that it's not fancy at all — I can wear whatever and can look like whatever. It's not see-and-be-seen. Whenever I feel like I've had a good day and worked hard, I go there. It's nice to treat yourself.