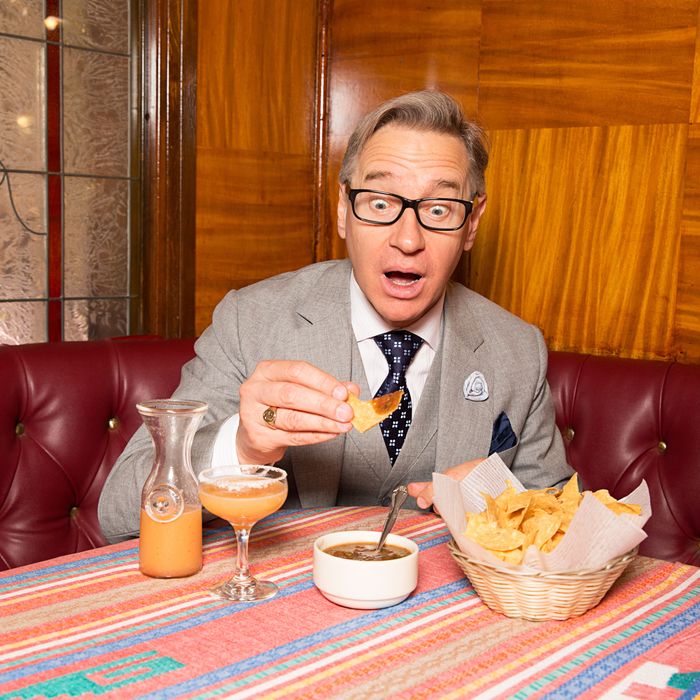 Feig at The Gardens of Taxco in LA. "Fries are my downfall, along with chips and salsa."
Photo: Bradley Meinz
The Grub Street Diet debuted ten years ago, and to celebrate, we've asked some of our favorite subjects to once again chronicle everything they eat and drink. Three years ago, Paul Feig feasted on tsukune chicken balls and filet mignon at Keens — which he particularly enjoyed — during a press junket in New York, but Los Angeles is the Ghostbusters director's home base. He recently celebrated his birthday there with baked Alaska, French fries, and chilaquiles.
Thursday, September 15
We're all trying to be healthy, so Laurie [his wife] has started making smoothies in the morning. To keep me from going to my usual coffee shop, she made me a strawberry smoothie with protein powder for breakfast. I've never been a huge breakfast fan anyway — I like the routine of it, sitting down and reading, more than the actual eggs and stuff.
I drank a mid-morning nonfat decaf latte. I can't have caffeine; I have Tourette's and all that. Any time I have it, it's not good! Ticks!
Lunch was a chopped salad with chicken made by Eliza, my wife's assistant, who also cooks for us. She gets very healthy stuff from the farmers' markets, so we have great ingredients in the house. Whenever I don't have a lunch meeting, she makes me lunch, which is great.
Another decaf nonfat latte during a meeting with Ana de Armas. I meet with various actors and actresses and writers during the day, and she's wonderful and from Cuba. God forbid I go to a meeting without holding a cup of something, so I can sip poignantly.
I had a glass of predinner Champagne at our friend's house, starting the birthday celebration early. I've been trying to cut back on my drinking, but I've been fully on the wagon the past week.
Then we headed off to dinner at Forma, a really good place in Brentwood. It's a showbiz haunt for anyone who lives in that area. It feels like a place in Italy. They have these scooped-out wheels of cheese, and there are certain pasta dishes where they stir the pasta inside the cheese. I'm trying to stay away from cheese, and I'm gluten-free, but I always take little bites of everything. And I've been gluten-free for eight years — not a fad! — trying to keep my blood pressure down and my joints healthy. I like any eating that's adventurous, though; I always want to try the most challenging thing on the menu because I was such a picky eater as a kid.
We ordered a lot of food for the table: fresh-mozzarella knots, pizza raspadura lodigiana (San Marzano tomato sauce, raspadura cheese), char-grilled Spanish octopus, gluten-free spaghetti, an assortment of eight different cheeses picked out by the owner, and then two free desserts — a banana-chocolate tart and raspberry panna cotta. The minute you go off sugar, suddenly everyone brings you free dessert.
Friday, September 16
I ate the "workout deck" breakfast at Patys: chicken breast, scrambled egg whites, and steamed broccoli, plus decaf coffee. And then, at the office, a mid-morning nonfat decaf latte.
I decided I was going to take our staff out to lunch at Morton's, which is right down the street, so we can all walk. It's a Valley/showbiz hangout. It feels slightly like Las Vegas in there, for some reason. We got a bottle of wine — Stags' Leap Meritage — which is always nice to have midday in Hollywood, as the days of the three-martini lunch are gone. I ate beefsteak tomatoes with red onions, a chicken sandwich without the bun or cheese, and French fries. Fries are my downfall, along with chips and salsa.
Dinner at home that night: Eliza made us turkey meatballs with grilled peaches, and [Yotam] Ottolenghi's chicken recipe with oranges and fennel, plus a chopped salad. We cracked open a bottle of Champagne and watched The Mermaid, which was really fun. I ended the evening with cold-pressed grapefruit juice.
Saturday, September 17
I drank a strawberry smoothie for breakfast, and then I had a massage that morning. When I was on the table, I thought of a turkey burger from Patys. I ended up eating what I call the "Illusion of Health" birthday lunch: decaf coffee, a turkey burger on a gluten-free bun, sweet-potato fries, coleslaw, and pickles. Coleslaw has the illusion of being a salad, right? Somehow I was able to assuage my guilt.
We drove to Santa Barbara and hit the worst traffic; it took us three hours to get there. There's this one Russian liquor store there that sells caviar that's very good but not terribly expensive. So we had a mid-afternoon celebration of caviar, potato chips, crème fraîche, and vegetable crudite with ranch dressing. Daniel Boulud apparently told my friend that the best way to eat caviar is with potato chips, and he's right. It was a revelation. We drank Laurent-Perrier rosé Champagne, which is our favorite non-vintage bottle, and prosecco.
We had dinner at Stonehouse for my official birthday dinner. It was really nice: martinis, gluten-free bread and olive oil, radishes, duck-and-goat-cheese spring rolls with Chinese slaw, pork chop, a bottle of Margaux for the table, and baked Alaska cake with a candle on it. I did not hold back! And, after dinner, Armagnac at the hotel bar.
Sunday, September 18
We enjoyed a big breakfast at the hotel: I had chilaquiles, which filled me up all the way through dinner. Plus decaf coffee and grapefruit juice.
I camped out at home and did some work. I'm writing a new script right now. Whenever I'm in the middle of a script, though, it feels like it's never going to end. I'm dying to make another film now that Ghostbusters is done. It was really hot that day — as you could see, everyone was sweating at the Emmys — and our friends invited us over for dinner. They have a housekeeper and chef who's Thai. She came on vacation with us in Greece once and made these incredible feasts. On Sunday, she cooked an unbelievable dinner of pad Thai, curry chicken, chicken larb, shrimp with vegetables, and fried rice. I also had two martinis, French Bordeaux, and chocolate birthday cake. I ate like a pig.
And then we all watched the Emmys. There was much celebration because Kate [McKinnon] won, and Leslie [Jones] did her bit, which was so very funny. And my friend Patton Oswalt won. It was a fun show, because I feel like they got it right. I'm at that fun point in my career that everyone I know and came up with is doing really well, and that's just great.