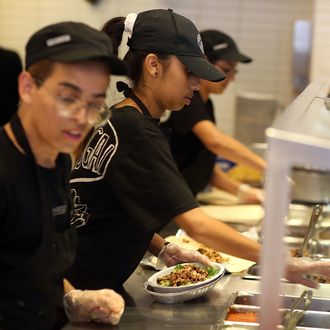 De Blasio calls it abuse.
Photo: Joe Raedle/Getty Images
Bill de Blasio is going after one of the fast-food industry's most bemoaned labor practices. From an event conspicuously held in front of a Brooklyn McDonald's yesterday, the mayor announced he's pushing legislation to end the game of work-schedule musical chairs that goes on at chain restaurants citywide. Employees often get left in a lurch — a last-minute reshuffling of their work hours, or a call the morning of telling them they're filling in for somebody. De Blasio is blasting the practice as abusive and says City Council will introduce legislation in the coming weeks that would require the chains to release work schedules at least two weeks in advance.
Shift work always involves an amount of unpredictability, but more workers — many of them affiliated with Fight for $15 — have started pressuring companies to make the situation more ideal, both in terms of steadier income and as a heads-up for juggling other stuff in life. One of the things workers are suing Chipotle for is inconsistent hours, and at Starbucks, where much has been said about the dreaded "clopening" (a.k.a. closing a store, then returning hours later to open it back up), 10,000 employees just signed a petition arguing schedules had gotten oppressively erratic. Although, really, they've been dealing with it for a while: The New York Times wrote two years ago that "fluctuating hours" and "limited resources" were turning employees' lives into "a chronic crisis over the clock."

Starbucks has since promised to give baristas more "consistent and reliable" schedules, but that doesn't help the vast majority of the city's 65,000 fast-food workers. De Blasio's proposal would penalize chains by making them pay workers more money for last-minute shifts, or for any shifts with less than ten hours between closing and reopening the store. Speaker Melissa Mark-Viverito released a statement saying City Council "expects the legislation will be introduced."
The always-scrappy New York State Restaurant Association wasted no time pushing back. It's attacked de Blasio's proposal as "troubling" and asks why the city's franchisees have been "singled out yet again."