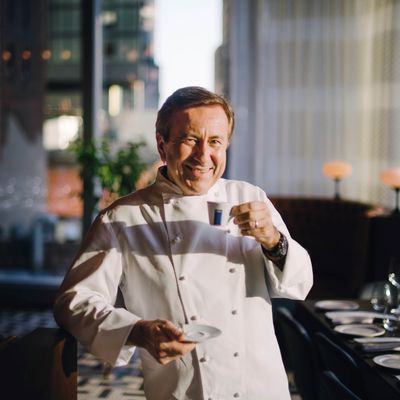 Boulud at Eataly Downtown, where he cooked with Mario Batali this week.
Photo: M. Cooper
The Grub Street Diet debuted ten years ago, and to celebrate, we've asked some of our favorite subjects to once again chronicle everything they eat and drink. When he chronicled his diet in 2007, Daniel Boulud ate at many of his own restaurants — and, this time around, he still relies on his staff for lobster rolls, salt-crusted snapper, and veal with butter beans. Just don't forget the Frosted Flakes at breakfast.
Monday, September 12
Breakfast is the one meal of the day that is quiet (or as quiet as it can be with a toddler!) and that I spend with my family. I like it to be really healthy, so it's either oatmeal or cereal — Frosted Flakes or Cheerios — and milk or yogurt, and always a lot of fresh fruit. The only thing I don't take are bananas. Today, I had steel-cut Irish oatmeal with caramelized Honeycrisp apples, figs, and prunes. Double espresso.

Lunch was at Boulud Sud: the "Tunisian Brik." It's one of the longest-running dishes on the menu, and for good reason. "Brik" is common Tunisian street food that consists of meat or fish and vegetables served inside a crispy, phyllo-dough crust, and is traditionally served with harissa for dipping. Our brik is filled with crushed potatoes, preserved lemon, capers, Gruyère, confit tuna belly, and a whole hen's egg. After the brik is built, it's pan-fried in oil, which puffs the pastry and creates a crispy, golden brown shell. One of our bartenders was Tunisian, and his mother taught chef Travis Swikard how to make this the completely traditional way, and I'm very glad she did.
To raise funds for a new Roger Vergé scholarship at the Culinary Institute of America, Herb Karlitz organized a fundraising dinner. Roger Vergé was one of the great mentors of my career, having worked at Moulin de Mougins as a young cook. He was one of the first chefs to celebrate Mediterranean ingredients, as well as one of the few who recognized that, rather than guarding trade secrets, sharing his knowledge would better the industry as a whole.
A taste of the many dishes served — and which I ate: Francis Mallmann's striped bass en croute de sel (incredibly silky, firm, flavorful fish from a master); Michael White's langoustine with butternut squash "spaghetti" and caviar mousseline; grilled duck thigh, spinach croquette, orange sauce, stuffed onions, and Cinderella potatoes, which I made with Emeril Lagasse (I prepped, he cooked, we compromised on the recipe); Remy Funfrock's Guanaja chocolate mousse with Blue Mountain Coffee sabayon — a traditional Vergé dessert.
Tuesday, September 13
Breakfast was a palmier from Épicerie Boulud — caramelized puff pastry with vanilla. Rather than taking a croissant and putting jam and butter with it, I'd rather have a palmier, which is caramelized on the outside. It's crispy and delicious, and you can soak it in your coffee.
I had a noon lunch meeting in the Skybox with a couple of my chefs, and we ate salad with mixed greens, herbs, smoked salmon, tomato, and avocado. Fiji water. The "Skybox" is my office, overlooking the kitchen at Daniel. It's quite the luxury to have a very light, healthy, and beautiful lunch delivered directly upstairs.
At 5 p.m., I had a tasting at Café Boulud. When I arrived, chef Aaron Bludorn was working on a dish of butter-poached Maine lobster with New Jersey corn, black-trumpet mushrooms, lobster-mushroom agnolotti, and crème de homard. Sometimes, in dealing with lobster, the cream can be too sweet. Also, with the pasta, there are thin and thick parts, and I need to make sure that the thick part gets cooked enough, and the thin part doesn't get overcooked.

Wednesday, September 14
My wife, Katherine [Gage], prepares breakfast for me every morning. Growing up, Katherine's mother always made "submarine eggs," and it's a tradition that we've continued. We call them submarine eggs because of the hole in the center, and she always makes them in a heart shape. When we serve them, we keep the cutout piece of toast on top of the egg, like a hatch you open when you're ready to eat. I just bought a new egg cup and a little spoon for my son, so I let him play with that as well.
As you can imagine, I travel very frequently. This week, I went to Boston to cook for a private event, and it was also a great chance to meet with our on-site chef team at Bar Boulud Boston. I tasted the steamed PEI mussels — a new dish.
I had dinner at Bar Boulud Boston, too: haddock and chips. Generally, I eat pretty healthily, but I also have a soft spot for hot dogs, fish and chips, and the types of foods I survived on as a young cook. Whenever I go to Boston or London, I need to have my fish and chips, and one of my chefs in Boston is actually British.
Thursday, September 15
Thursday breakfast was a glass of grapefruit juice in my hotel, plus yogurt and Frosted Flakes. There was a basket of food in my room with some dry food, so I add almonds and dried apricots and figs.

For lunch, I ate a lobster roll at Bar Boulud Boston. We make a killer lobster roll. I also had a small Greek salad with cucumber, tomatoes, feta cheese, and a hot-pepper dressing.
I was cooking for a private event at Bar Boulud Boston, so my dinner was leftover scraps of the snapper and veal dishes. The veal dish included rosemary, chanterelle mushrooms, butter beans, and mashed potatoes, and the red snapper was baked in a lemon-thyme salt crust, which we carved out in the dining room. My team and I shared the same meal, standing up in the kitchen, having little tastes. You know, chefs don't often get to sit down. They eat standing up — a lot.

Friday, September 16
For breakfast I had coffee, low-fat yogurt, two six-minute eggs, and Frosted Flakes with berries.

I was at the Épicerie Boulud prep kitchen around lunchtime, which worked out nicely. I tasted a few salads; the salade niçoise is one of my long-standing favorites. I live on hearty salads.
I volunteered to help Mario Batali with a fundraising dinner for Italian earthquake victims at Osteria della Pace, a new restaurant inside Eataly Downtown. It was a very successful event, with both of our teams collaborating in the kitchen, and I got to taste a little of everything, including fried risotto balls with meat ragù, zucchini fritters, antipasto, ravioli, porchetta, and chicharones made with veal tendon.
I'm conscious of what I eat, and I try to be careful, but then as soon as I go out and I'm with friends and we party and the wine is good and the food starts coming … then I'm not very conscious at all.