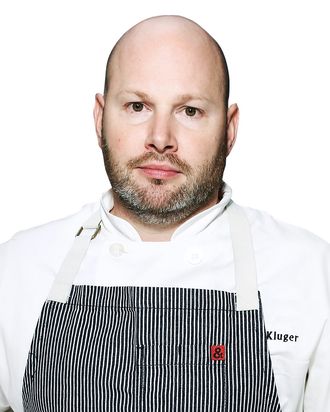 The restaurant's name is a tribute to the chef's father.
Photo: Cindy Ord/Getty Images
After chef Dan Kluger left ABC Kitchen in 2014 and announced he'd open his own restaurant on a stretch of W. 8th Street near Fifth Avenue, the project became one of the year's most anticipated openings — both last year, and this year. Delays are all too common for new restaurants in New York, yet Kluger's still felt conspicuous, since the project was so high-profile, and because the place didn't yet have a name. Now, though, with the restaurant set to finally open this fall, the chef says he's got a name, too: Loring Place. He talked to Grub about all the thinking that went into the decision, and why it took so long to figure out.
This restaurant has been a while in the making — when did you first get the keys?
March 2015.
How does the public anticipation impact you, emotionally? Does it make you feel more excited or is it more like, Oh my god, people are waiting and I'm letting them down?
I'm honored and flattered. But because all of the delays — we were in New York Magazine's "Fall Preview" last year, and then again this year — so it's kind of embarrassing. It makes me feel like, Oh, I screwed up, even though we didn't screw up. And then, in all honesty, you know, not trying to play the humble card, but I just want to open a restaurant. It's wonderful to get the press, but I just want to open a restaurant.
So, let's talk about the name, clearly a very important decision. What took so long?
I didn't sign a deal with my partners saying, "Here's the restaurant we're doing and it's going to be black-and-white checkered floor and I'm serving diner food and the restaurant's name is Dan's Diner." I had a vision, but it would adapt, and as I got further, I started asking my partners to give me their thoughts, and I think it just made it that much harder to discuss something so personal as a name among a number of people.
How many partners?
Four or five. And, you know, I think, for me, it was a very, very personal thing, and I wanted to find a way for it to be personal, but also not have a huge long story or something, like some of the names. Like, if I named the restaurant after one of my kids? Very personal to me, but other people might not give a shit. So I didn't want to go down that road. Then we looked at ingredients that were really personal and exciting, and there were ones that we loved, but you know, there were ones where you'd read it and pronounce it one way, and someone would would read it and pronounce it another way. So we didn't want to go that route.
Or it was something that was too easy for someone else to do. So, let's say it was "Salt." We know there's going to be another "Salt," or there already is another "Salt." Out of 100 names, there were probably 20 that were really good, and then there were trademark issues, etcetera. I also kept saying I want to find the name serendipitously, like I want us to uncover something in the basement, or decide on the name of the steel, or choose a paint color that leads to the name. Again, especially if it wasn't going to be as personal as my kids' names, let it be fun!
One of my favorites, which everybody else hated, was Thoroughfare, because this block was originally known as a huge thoroughfare … We found farming phrases that we loved, but then you're forced to always have it be about the farm-to-table thing, and, not that we're stepping away from that, but we just don't want to talk about it anymore.
At this point, it's like, for a restaurant of this caliber, it's expected that you're buying ingredients locally and seasonally.
Exactly. So why make it so front and center? My father passed away at the end of last year very unexpectedly, and my sous-chef said, "What did your father like to read? What street did he grow up on?" Literally the next day, my cousin — we never really talk, but since my father passed away we've had a bit of communication — he sent me a picture of something he found of my father's, which was like a high-school yearbook. It's blue and orange and it says, Arthur Kluger, 1905 Loring Place. Loring Place. There's a story behind it, but it doesn't really mean anything. Loring Place is not Park Avenue. Loring Place is not Fifth Avenue. Loring Place is like Macdougal, you know, not necessarily the best block.
But as we started talking more about the concept, it was very clear that this restaurant was a very New York–driven restaurant. I've only worked in New York. I've worked for the best chefs and restaurateurs in New York. This was going to be a culmination of everything I've learned from working front of the house with Danny Meyer, to working with Floyd Cardoz, to working with Michael Romano, to working with Tom Colicchio, to working with Jean-Georges. And then, almost kind of owning ABC in a sense, right? Like really making that restaurant about me.
… So for me, when I heard Loring Place, I kept thinking about my father as a young kid — cobblestone streets, stickball in the streets, opening the fire hydrant in the summer. His father had a green grocery, and he worked there. They weren't wealthy. I mean, it was nothing special, but I can't help but just picture that young kid playing street ball also playing street ball on 8th Street. It just felt kind of meant to be. And it didn't have a ton of meaning. There wasn't this cachet to it. There wasn't a feeling of now that I'm using the name Carrot I always have to use carrots. We decided in mid-July, and then started working on the branding and everything, and got hung up with legal stuff.
What kind of legal stuff?
Basically, there's another business in another part of the country using part of the name.
I think it's probably like getting a tattoo: You want it to have meaning, but you also have to realize that it just needs to look nice, too.
Yeah, and it needs to transfer well to the marketing and branding side of it. The guy doing the branding traced over my father's letters in the yearbook. Again, there was a big part of me that didn't want to make this an homage to him, but you know, the one person that I wanted to show the restaurant to can't be there, so this was a way of saying, "Thank you." You know, that was the other thing with naming it Kluger — there's more meaning to it today than just me.
Naming your kids must have been easier.
So much easier.