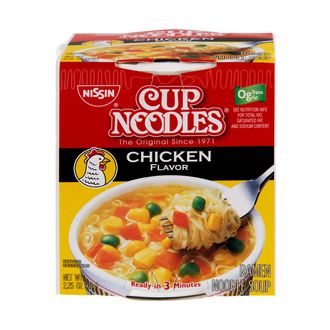 Nissin promises it's still "convenient" and "affordable."
Instant-ramen-maker Nissin Foods is leaping aboard the sudden new trend of bringing Americans natural versions of items often found in vending machines. The brand says Cup Noodles is undergoing a recipe change, the first in the 45-year-old college staple's history, that will give the product an "improved nutritional profile" by reducing sodium, cutting out the added MSG, and removing all artificial flavorings.
Those are some bold changes for a freeze-dried product that comes in Styrofoam and sets you back about 13 cents, and a sign of how sweeping the all-natural craze has become. According to Nissin, the eight Cup Noodles flavors, once tweaked, will have 15 to 20 percent less sodium. The popular chicken version (1,430 milligrams of sodium, previously) now clocks in at 1,070 milligrams, or only about 45 percent of the daily recommended amount. Hydrolyzed vegetable protein has replaced MSG, and the company says it's adding natural ingredients like turmeric, paprika, lime, and green cabbage juice.

If Nissin's press release is any indication, the brand's biggest worry is that Cup Noodles eaters — 99 percent of whom are 18 and live in a dorm, granted — might feel these changes are "sacrificing taste." Nissin actually ran "a series of blind taste tests with people who frequently consume the product" to prove this isn't the case, and reports that these human guinea pigs in fact "liked the new version of Cup Noodles just as much as the current." So all that's missing now to assuage consumer doubts is conflict-free shrimp and a cup made from a fully compostable foam alternative.